First Incident Command System for Schools
iPhone and Web
First Incident Command System for Schools
iPhone and Web
Countability is a team of professionals dedicated to the ongoing work of enhancing school security procedures by harnessing existing and emerging technologies
The Challenges
In a case of an emergency, teachers need to respond to the situation as quickly as possible while making sure their student headcount is accurate. The emergency response officials need to be notified immediately and verify the headcount.
The Solutions
A component ecosystem for the school and emergency services that provide teachers with a system enabling them to account for every student. The authorities need to be alerted immediately and need access to a checklist of students for a headcount.
Alarm
A state of emergency triggers the alarm system or a school personnel raises the alarm
Teacher/ Admin
Teachers initiate the emergency protocol and begin student headcount using an app.
Response Officials
The response team can see student headcount information and can account for students at their end



Teacher, Admin or Dispatch center could raise the alarm to initiate an emergency protocol.
Teachers initiate the emergency protocol and begin student headcount using an app.
Ensure that everyone is accounted and carry out post emergency analysis to identify areas of improvement.
Central dispatch system that alerts the Teachers and notifies Authorities
Visitor Monitoring
Allows school administrators to monitor visitors; how long they were on the premises, whether they returned their visitor pass or not. The admin can approve or deny visit requests based on the person's historical data.
Robust Notification System
The app ensures no notification is missed by sounding an alert even if the phone is placed on silent.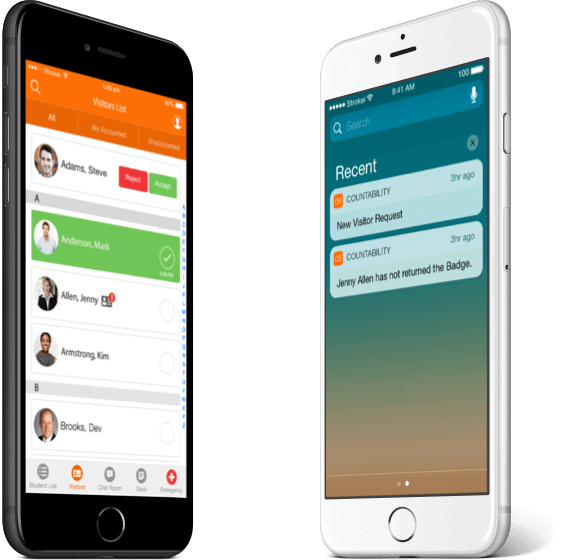 PowerSchool Integration
By integrating with the PowerSchool API, the app maintains a real-time list of students who were present in the class.
Student Headcount
Teachers can mark students accounted for on the app; the response officials can track each student. They can verify or manually account for a missing student in their Countability app.
The Result
The web dispatch center hub and the app work complementary to each other to keep the flow of information consistent and clear. The teachers do the headcount and provide the authorities with clear information about students to help communicate better during an emergency.
Paul Amador, Solutions Specialist
(877) 801-8115, paul@leewayhertz.com
Hi, please answer the following questions to get an estimate.
Tools & Technologies used