Solutions
Stellar Remittances Solution
Step into the new era of payments with our Stellar remittances payment solution and experience frictionless low-cost cross-border payments. With our services, you can launch your remittance payment gateway on Stellar blockchain and offer users a robust platform to fulfill their money transfer needs.
Traditional remittances using
MTOs (Money Transfer Operators)
rely on local agents to pay out cash and take days to confirm payment. Moreover, the settlements between MTOs and agents are not in real-time. The intermediaries banks charge high fees and profit on foreign exchange across currencies, leading to increased operating costs. Therefore, it becomes challenging to provide remittance services where intermediaries are involved and they cause slow settlement time and charge extra operating costs.
Our Stellar remittance solution helps businesses facilitate cross-border transactions without involving any intermediaries. We help businesses to directly connect to fully licensed fiat acceptance and distribution partners called anchors. Stellar remittance payment platform provides users numerous benefits like quick transactions, traceability of transactions, trusted gateway and many more.
Do you want to integrate the Stellar remittances solution into your business?
Benefits of Stellar Remittance Network
Varied Currency Support
Users can transact different currencies, including USD, ARS, BRL, MXN, NGN and more. Moreover, other new digital currencies that are being created can also be added to the platform.
No Pre-funding Requirement
With real-time transactions in digital
currencies,
working capital requirements are minimized.
Tracking
Our Stellar remittance platform allows users to track the transactions in real-time.
Global Scale
The Stellar network being distributed worldwide allows businesses providing remittance services to scale up to the international level.
Compliant
Built-in features enable unified KYC/ AML through partners and integrate with the application.
Speed
Transactions on the Stellar network are completed in 3-5 seconds.
Open-source
The open-source developer's resources of Stellar provide comprehensive documentation and SDKs.
Start a conversation by filling the form
Once you let us know your requirement, our technical expert will schedule a call and discuss your idea in detail post sign of an NDA. All information will be kept confidential.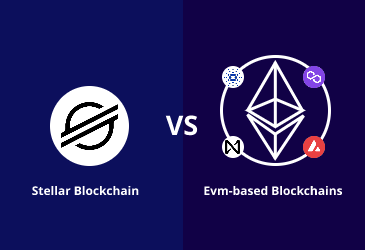 Stellar and EVM-based blockchains are decentralized, open-source platforms designed to develop smart contracts and decentralized applications.
read more