Services
Stellar Token Development Services
We help you tokenize any asset on the Stellar platform and trade them on a secure decentralized network. Leveraging token development services, you can increase the liquidity of your assets and enable users to have complete ownership of digital assets.
Our Custom Stellar Token Development Services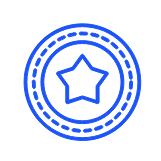 Token Creation
Our Stellar Blockchain Developers know how to create optimized and robust tokens on the Stellar ecosystem based on the client's requirements.
Token Listing
Our Stellar Blockchain Development Experts guide you on how to list tokens on leading decentralized exchanges.
Cold Storage
We ensure that the tokens are kept safely and are free from any compromises using cold storage mechanism.
Token Wallet Development
Our efficient developers optimize Smart Contracts before deployment to help clients get the best results.
Our Approaching to Providing Stellar Token Development Services
Understand the client's requirements
Evaluating ideas based on operational feasibility
Token Development and Creation of Distribution Strategy
Start a conversation by filling the form
Once you let us know your requirement, our technical expert will schedule a call and discuss your idea in detail post sign of an NDA.   
 All information will be kept confidential.