At LeewayHertz, we continue to innovate even after years of proven success
We build future-ready web3 solutions for tech-savvy startups, scale-ups and enterprises using the most advanced web3 technologies.
We are an award-winning web3 development company with extensive experience building web3-focused solutions that include over 50 decentralized apps, SDKs, protocols and web3 ecosystem tools.
Total Years of Experience
We help you position your business for success in the growing web3 landscape
We build diverse web3-based digital solutions and products, including DeFi platforms, NFTs, NFT marketplaces, custom blockchains, smart contracts, crypto wallets, play-to-earn games, and metaverse spaces— carefully tailored to client needs. Opt for our web3 development services and enter the web3 realm to overcome the challenges of privacy, centralization, and financial exclusion.
Who We Are
LeewayHertz is a leading web3-focused software development company delivering tailor-made digital solutions to businesses worldwide. Our team of 250+ full-stack developers, designers and innovators has designed and developed 100+ digital solutions across industry verticals. As a close-knit team of web3 experts and blockchain full-stack developers, we undertake collaborative research and development to create next-gen applications and solutions perfectly suited to the evolving web3 space.
As a technology pioneer with deep knowledge and expertise in blockchain and related technologies, LeewayHertz believes in helping companies overcome their most complex tech challenges and drive business growth.
Our motto, 'You Dream It: We Build It,' reflects our business philosophy. From putting flesh on your idea to delivering the expected end product, we do whatever it takes to make your project successful. Having worked with 30+ top fortune 500 companies and created various on-demand solutions, we boast an impressive work portfolio demonstrating our expertise.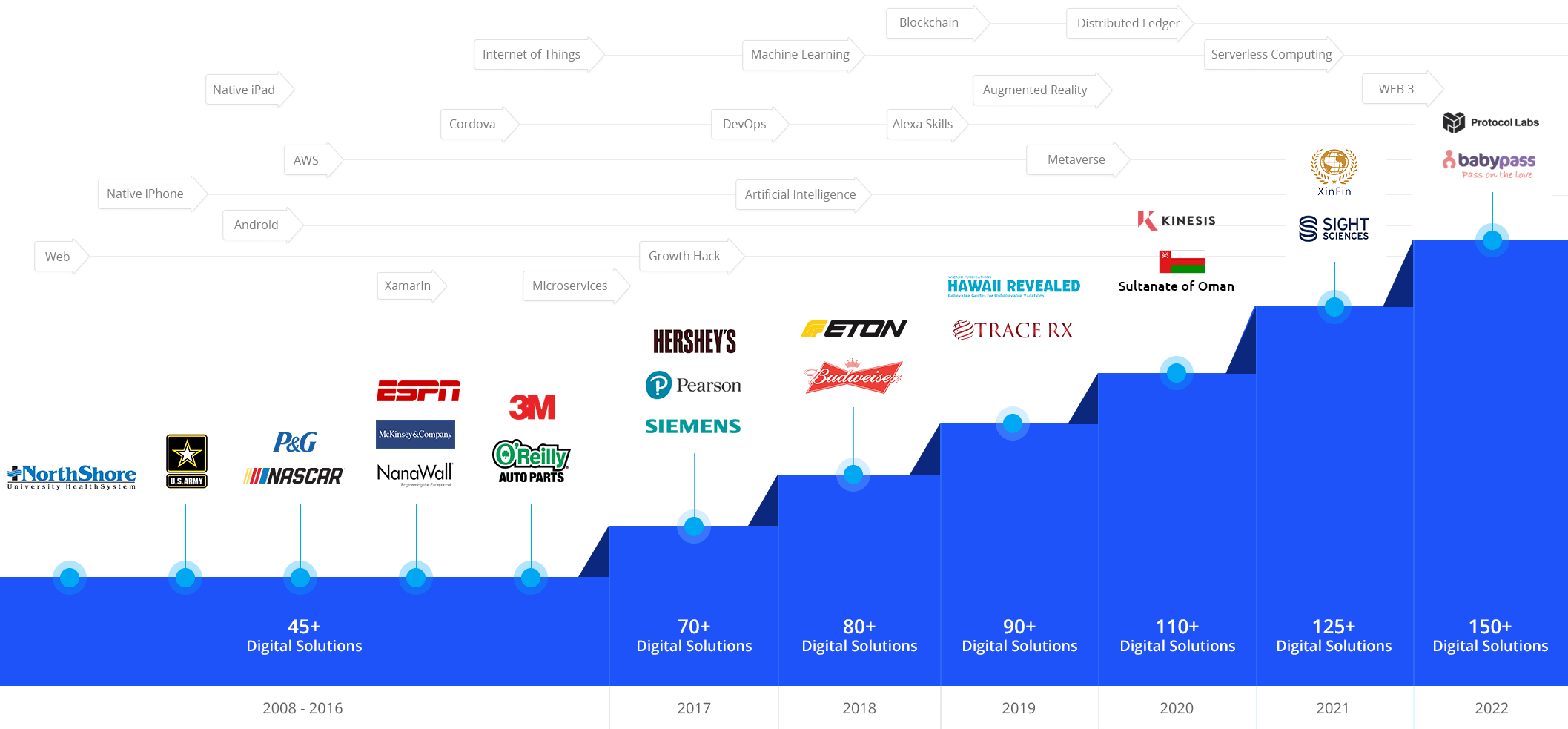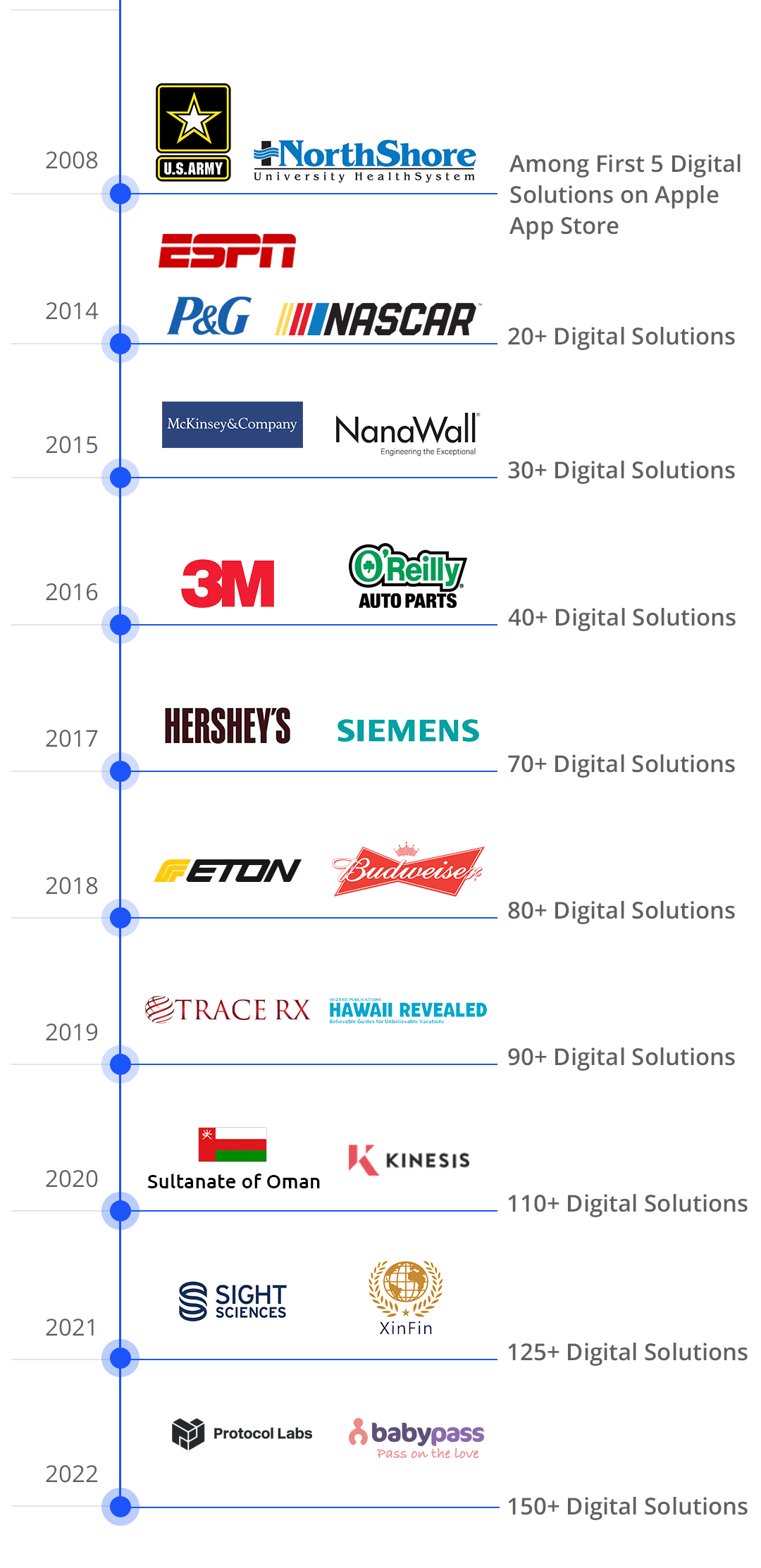 How we do it
We adopt an agile software development approach that consists of five main steps- strategy workshop, design and prototyping, product development, testing and optimization, deployment and support & maintenance. Our team performs never-ending research about the latest technologies and development strategies, achieving high client satisfaction results on every project.
Brands That Trust Our Work
Robotic Process Automation
"I came to LeewayHertz because of their reputation in the software development space. When we expanded the project to incorporate blockchain not only did they not flinch, they got more enthused. They have been stellar at every step of the way working towards solutions that worked straight to the heart of the idea on a micro and macro sense. I have already recommended them many times and I will continue to do so. The members of LeewayHertz have always promptly returned my calls or emails irrespective of the time. I have found them to be consistently available and committed to addressing my needs."
"To bring out the exceptional user experience of the speakers through a mobile app, we were looking for a tech company that understood our need and suggested recommendation on top of that to create a clean mobile app. We exactly got that. Our association with LeewayHertz was extremely rewarding; we continue to work with LeewayHertz on more audio products"
Pia Seeberger
Siemens
"LeewayHertz was flexible in adding smaller features along the way. We found something that might be useful to add to the app, and they responded and acted quickly. Their process worked well."

James Unwin
O'Reilly Auto Parts
"Leewayhertz knows its craft and the teams are experts at iPhone and Android app development. They're highly focused and they delivered what they proposed."
San Francisco
388 Market Street Suite 1300
San Francisco, CA 94111
New York
330 Muttontown Eastwood Rd Syosset
NY 11791
Chicago
825 S. Waukegan Road Suite A8-141
Lake Forest, IL 60045