Services
Stellar Blockchain Maintenance & Upgrade
Get our Stellar Blockchain maintenance services and be assured that your network is always up and running.
Our Stellar Blockchain Maintenance Services
Maintenance and Support
We offer the best maintenance and support services for the Stellar Blockchain network to ensure no downtime.
Upgrade Services
We ensure to keep the entire Stellar blockchain system upgraded and compatible with the operating devices.
Migration Services
We help our clients to migrate from legacy systems to Stellar Blockchain-based networks in a hassle-free manner.
Low Transaction Fees
Stellar has set a nominal transaction fee of 0.00001 XLM for its users. With such a low transaction cost, Stellar attracts millions of users.
Fast
Stellar performs transactions with the help of consensus through nodes. The consensus is reached within seconds on the Stellar network and thus makes the transactions possible in 3-5 seconds.
Secure
Stellar implements public-key cryptographic techniques to ensure the network's security.
Multi-currency Transactions
Stellar allows transactions in any currency of users' choice. The existence of Stellar Lumen enables Stellar to perform transactions in different currencies efficiently.
Start a conversation by filling the form
Once you let us know your requirement, our technical expert will schedule a call and discuss your idea in detail post sign of an NDA.   
 All information will be kept confidential.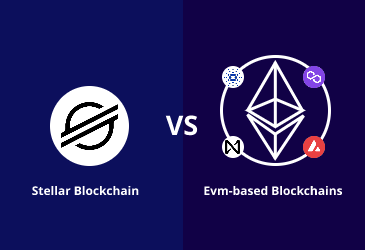 Stellar and EVM-based blockchains are decentralized, open-source platforms designed to develop smart contracts and decentralized applications.
read more