Stellar Payments Solution
Leverage our Stellar Payments Solution and carry out frictionless low-cost international payments.
Traditional payment systems usually face challenges due to slow payment processing, low security and transparency. International payments sometimes entail unpredictable currency exchange rates. Moreover, outdated operational systems make the execution of payment processes even more challenging.
Our Stellar Blockchain Payments Solution ensures to resolve all the prevailing challenges and provide a secure, low-cost and transparent payment system.
Do you want to integrate the Stellar remittances solution into your business?
Benefits of our Stellar Payment Solution
No Intermediaries
Our Stellar payment solution allows no intermediaries in the payment system. The Stellar blockchain itself acts as a source of trust; it confirms the integrity of transactions and ensures the system's transparency.
Low Cost
Our Stellar Payment Solution eliminates intermediaries; therefore, the commission amount is deducted from the transaction cost. So, we easily provide the benefit of low-cost transactions to the users.
Increased Security
All information is added with an associated secured hash, unique ID and timestamp. The immutable nature of Stellar blockchain makes the transactions tamper-proof, thus, eliminates all the risks of cyberattacks.
Unambiguous
Every record stored on the Stellar blockchain is unique and thus leaves no space for ambiguity or duplicate data on the chain.
High Speed
Our Stellar Payment Solution confirms transactions within seconds. The real-time processing of payments can assist the beneficiaries with early access and better utilization of funds.
Transparent
The participants of our Stellar blockchain network can access and view the ledger of transactions anytime.
Use cases of Stellar Blockchain in Payments
Cross-border Payments
Our Stellar payments solution handles cross-border payments efficiently without the requirement of any third-party authorizations.
Trade Finance
Trade finance refers to financial activities related to international trade. With our Stellar blockchain payments solution, trade finance processes become more easy and manageable.
Peer-to-peer Transfers
Our Stellar payment solution enables users to transfer funds from one account to another directly.
Start a conversation by filling the form
Once you let us know your requirement, our technical expert will schedule a call and discuss your idea in detail post sign of an NDA.     All information will be kept confidential.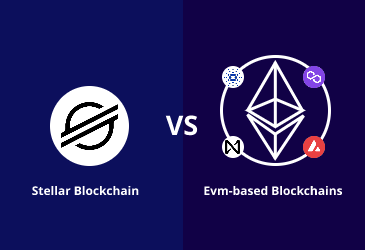 Stellar and EVM-based blockchains are decentralized, open-source platforms designed to develop smart contracts and decentralized applications.
read more