Solutions
Providing Solutions for Asset Management
We empower our clients by providing them solutions that help manage all their tangible or intangible assets. We leverage the Stellar distributed network to track, hold and transfer any asset.
The problem with the traditional asset management system is that it stores data related to asset transfer in multiple databases, resulting in conflicting data repository schemas, data synchronization, and reliability issues. Moreover, such systems do not allow traceability and have a complicated and long-tail onboarding process.
We offer solutions for efficient asset management on Stellar that overcomes all the prevailing challenges in the system. The Stellar blockchain enables institutions to trade and exchange assets using the decentralized exchange platform. It allows users to transfer, hold and track their assets simultaneously, making the entire operations reliable and efficient.
Looking to implement the Stellar asset management solution into your business?
 Benefits of Asset Management
Real-time Asset Tracking
It allows businesses to monitor assets across the entire organization effectively. It benefits asset managers by keeping them aware of revenue inflicting issues as they happen instead of waiting for a physical check or a report.
Ownership Control
Blockchain-based asset management allows users to control their data and ensure no one else can access or manipulate the data.
Traceability
The Stellar blockchain network maintains time-stamped records of transactions which makes it possible to trace back to the provenance of a transaction.
Risk Management
Asset management encompasses risk identification and management that helps organizations plan and prepare risk mitigation operations in advance.
Remove Ghost Assets
Sometimes stolen, lost or damaged assets get erroneously recorded on the ledger. Strategic asset management enables firm owners to be aware of the assets that have been lost and remove those from the ledger.
Start a conversation by filling the form
Once you let us know your requirement, our technical expert will schedule a call and discuss your idea in detail post sign of an NDA.       All information will be kept confidential.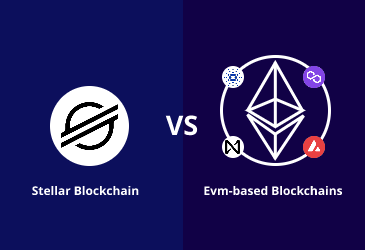 Stellar and EVM-based blockchains are decentralized, open-source platforms designed to develop smart contracts and decentralized applications.
read more