Metaverse


Virtual Events Solution
Interweaving the best of in-person event experiences and online event capacities, we offer the metaverse virtual events solution to cater to the new age of hybrid event needs, such as 3D immersive platforms, customizable avatars, NFT-powered registration and ticketing, live streaming, global networking, and audience engagement.
The event industry is steadily progressing and today, outstrips the era in which the majority of events were held in person. Currently, online or virtual events provide access to masses beyond geographic boundaries and facilitate global networking. However, to achieve true audience engagement, the pivotal key is that virtual events must deliver the essence of a personal atmosphere, just like the in-person events do. Therefore, the trend that is likely to persist in the long run is that of hybrid events. However, hybrid events are subject to such challenges as attendee engagement, personalized networking, integration difficulties, monetization opportunities, event management, security, and privacy.
Metaverse is the true solution to hybrid event needs. Although using the metaverse for hosting events is a relatively new concept, forward-thinking event organizers are already probing how the metaverse can be applied to events. In fact, metaverse concerts on blockchain-based 3D virtual platforms are happening across the globe.
Our metaverse virtual events solution is much more than a live-streamed presentation. It provides a platform for attendees, exhibitors, and speakers to connect through immersive experiences across channels to increase the return on investment.
Our metaverse virtual event solution incorporates technologies such as blockchain, AI, NFTs, holograms, 3D designing, digital twinning, and cryptocurrencies to facilitate the hosting of feature-packed events that delight the audience with an integrated event experience. Our immersive and lifelike 3D virtual venues—live or prerecorded webinar streaming, networking rooms, chat tools, picture booths, dApps, and NFT avatars—provide the attendees with an unsurpassed personalized event environment. NFT ticketing enhances the security and transparency of the ticketing processes, NFT marketplaces help create innovative monetization opportunities, and crypto wallets promote a crypto-powered digital economy for seamless value exchange among global attendees.
Fully Immersive Environments
We create immersive and elaborative 3D designs and animations to provide event attendees with the allure of vivid realism in their virtual experiences, allowing them to experientially feel as though they are at an event, in person.
Global Reach
Our metaverse virtual events solution enables a locally hosted event to connect with a global audience across different time zones by powering persistent and immersive virtual events.
Power of Blockchain
Our metaverse events solution, powered by blockchain technology, provides you with a decentralized platform that aligns with the future of Web 3.0 and inherently supports NFTs and cryptocurrencies.
Industry-Specific Events
From virtual trade shows, real estate expos, and automotive shows to virtual summits and product launches, we provide industry-specific metaverse event solutions that mirror the uniqueness of the live events and assist you in enticing the appropriate audience at a global scale.
Advanced Features
Our solution covers everything needed for hosting a metaverse event, including customizable avatars, stunning 3D venue designs, customized virtual booths mirroring live booths, chat rooms, video streaming, and alerts and notifications to keep audiences in the loop.
Maintenance and Upgrade
To ensure that your metaverse event platform retains its relevance among its users, we provide maintenance and upgrade services to ensure the timely integration of new functionalities and user roles into the platform.
Once you let us know your requirement, our technical expert will schedule a call and discuss your idea in detail post sign of an NDA.
     All information will be kept confidential.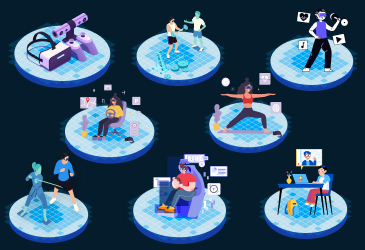 The disruptive innovation of metaverse mixed-reality learning environments can dramatically improve training, development and real learning.
read more