Generative AI Development Company
Unlock the transformative power of AI with our tailored generative AI development services. From consulting to crafting robust solutions seamlessly integrated with powerful foundational models like GPT-4, Llama, and PaLM-2, we aim to lead the forefront of AI technology, pioneering new possibilities in the world of artificial intelligence. Our generative AI solutions help businesses automate and streamline workflows for heightened productivity and efficiency.
Software Products Delivered
Total Years of Experience
Our generative AI development services are your gateway to the boundless possibilities of AI-driven creativity and innovation
Drawing from a wealth of expertise in a wide range of AI technologies, including deep learning, machine learning, computer vision, reinforcement learning, and natural language processing, we engineer custom, domain-specific generative AI models and solutions.
We work closely with your team to develop a customized generative AI adoption strategy that aligns with your objectives. Our consultants bring deep technical knowledge of generative AI models and technologies to the table, ensuring that you implement the most suitable solution for your specific use case.
Our data analysis service is designed to help businesses unlock valuable insights from their data. Whether you have structured data sets or unstructured text, our expert data analysts can extract, process, and analyze this information to uncover hidden patterns and provide actionable recommendations.
Domain-specific Generative AI Model Development
We build domain-specific generative AI models to ensure you can harness the full potential of AI in a way that is relevant and impactful to your business. Our process begins with a comprehensive assessment of your industry and business objectives, followed by the careful selection of a foundational model. We then fine-tune it by integrating it with your proprietary data and rigorously test it to ensure it meets your business requirements.
Generative AI Solutions Development
Whether you want a chatbot, a recommendation system or a predictive analytics tool, we have you covered. We build innovative generative AI solutions using foundational models as building blocks. These models, such as GPT-4, LLaMA and PaLM 2 serve as the cornerstone for creating intelligent, creative, and adaptable generative AI systems that offer a transformative approach to solving complex challenges.
We seamlessly incorporate generative AI solutions into your existing tech infrastructure, streamlining your internal workflows and customer-facing systems. We recognize the significance of a smooth transition and work diligently to ensure our integration process causes minimal disruption to your ongoing operations, empowering your organization to thrive in the rapidly evolving tech landscape.
Upgrade and Maintenance
Your success is our priority, which is why we provide post-deployment maintenance and upgrade services, keeping in mind the dynamic nature of technology and your evolving business needs. With regular maintenance and timely upgrades, we ensure that your generative AI solutions continue to operate smoothly, delivering consistent value and innovation and helping you excel in the competitive business landscape.
Leverage our GenAI expertise!
Get ready to script a digital future where our generative AI solutions amplify your operational efficiency.
The Process Our Developers Follow to Build Generative AI Solutions
Requirement Assessment
Identify and document the specific needs, objectives, and constraints of the project. Understanding what stakeholders expect from the final product or system is crucial.
Strategy Building
Develop a strategic plan outlining the generative AI model selection, training approach, resource allocation, and deployment strategy tailored to the project's goals.
Design and Development
Detailed specifications and architectural designs for the solution are crafted, followed by its development using a fine-tuned model, ensuring its alignment with the client's unique requirements.
Testing
Rigorously test the generative AI solution, improving it through iterative cycles to ensure better output quality and minimize biases.
Deployment and Optimization
The generative AI solution is deployed into the production environment, and continuous optimization efforts are undertaken to enhance its performance and output quality.
Integration and Support
Integrate the generative AI solution into the client's existing ecosystem, followed by ongoing support and maintenance to ensure its alignment with evolving requirements.
How You Can Lead the Competition With Our Generative AI Development Services
Increased Automation
Our generative AI development services empower you to stay ahead of the competition by significantly increasing automation across various aspects of your business. With AI-driven processes handling repetitive tasks, you can allocate your workforce more strategically, focusing on innovation and growth.
Increased Productivity
Our services boost your productivity by harnessing the power of generative AI to augment your team's capabilities. This translates to quicker decision-making, improved resource allocation, and streamlined workflows, enabling you to achieve more in less time and gain a competitive edge.
Enhanced Creativity
Leveraging generative AI allows you to foster innovation and creativity within your organization. Our build solutions that can generate content, ideas, and roadmaps that inspire new directions for your products or services, helping you stay ahead of the curve and captivate your audience.
Cost Optimization
By automating tasks, improving efficiency, and reducing the scope of errors, you can significantly cut operational costs while maintaining or even improving the quality of your products or services, ensuring a competitive advantage in today's dynamic market.
AI Models We Have Expertise In
GPT-4
A set of OpenAI models that can solve complex problems with high accuracy, thanks to its advanced reasoning capabilities and broader general knowledge.
LLaMA
LLaMA (Large Language Model Meta AI) is a foundational large language model designed to generate text, have conversations, summarize written material, solve math theorems or predict protein structures.
PaLM 2
The newest extensive language model from Google, stands out in performing intricate reasoning assignments, such as code interpretation, mathematical solutions, categorization, query responses, and translation with proficiency in multiple languages. This model highlights Google's commitment to responsible AI, surpassing previous capabilities in natural language generation.
Claude
Claude is a large language model (LLM) by Anthropic, trained as a virtual assistant that can be integrated with business workflows. Claude, accessible through both a chat interface and API in Anthropic's developer console, can perform an extensive range of conversational and text-processing tasks.
GPT-3
A set of OpenAI models capable of performing natural language processing tasks such as text generation, summarization, translation and question answering.
Davinci

Curie

Babbage

Ada
GPT-3.5
A set of OpenAI models, including the highly capable and cost-effective Gpt-3.5-turbo, that improve on GPT-3 and can generate text or code.
DALL.E
DALL·E by OpenAI generates realistic images and artwork based on text prompts. It can produce images of a specified size, modify pre-existing images and generate variations of user-provided images.
Whisper
Whisper is a general-purpose speech recognition OpenAI model that can perform language identification, speech translation and multilingual speech recognition.
Embeddings
OpenAI's Embeddings are numerical representations of linguistic units like words and phrases that capture the semantic meaning and relationships between them.
Moderation
Moderation models are machine learning OpenAI models designed to assist in content moderation tasks, such as identifying and removing inappropriate or harmful content from online platforms.
Stable Diffusion
Stable Diffusion generates detailed images from text prompts and can also be used for tasks like inpainting, outpainting, and image-to-image translations guided by text.
Bard
Google's Bard, powered by LaMDA, is a text-to-text generative AI chatbot designed to generate human-like responses to natural language prompts, making it capable of engaging in conversations with humans.
Our Generative AI Solutions Cater to a Wide Array of Industries
In the banking and finance sector, our generative AI solutions provide advanced data analytics, fraud detection, and personalized customer experiences. This helps financial institutions optimize their operations, manage risk effectively, and offer tailored financial products and services.
For the retail industry, our GenAI solutions enhance customer engagement, inventory management, and demand forecasting. This leads to improved customer satisfaction, reduced costs, and increased profitability by leveraging data-driven insights.
In healthcare, our solutions aid in medical diagnosis, treatment recommendations, and patient management. By harnessing AI, healthcare providers can enhance patient care, streamline administrative processes, and drive medical advancements.
Our AI solutions optimize supply chain and logistics operations by improving route planning, inventory management, and demand forecasting. This results in reduced operational costs, increased efficiency, and better customer service.
In the insurance sector, our solutions support underwriting, claims processing, and risk assessment. This enables insurance companies to offer more accurate pricing, faster claims processing, and improved customer experiences.
For the travel industry, our AI solutions enhance customer support, recommendation engines, and pricing strategies. This leads to better customer experiences, increased bookings, and improved revenue for travel companies across the board.
Generative Models
We have deep expertise in developing domain-specific models by fine-tuning foundation models, such as GPT-4 (Generative Pre-trained Transformer). This includes understanding the architecture, training processes, and applications of such models.
Natural Language Processing (NLP)
By leveraging our knowledge of NLP, we craft robust applications that handle tasks like text generation, sentiment analysis, text summarization, and translation.
Machine Learning
Our proficiency in diverse machine learning techniques, including supervised, unsupervised, and reinforcement learning, enables us to adapt and apply our AI solutions to a wide range of applications and address diverse business needs effectively.
Deep Learning
Our expertise in deep learning enables us to work with complex neural networks, implementing state-of-the-art algorithms, and tailoring customized solutions that help clients unlock the full potential of AI.
Data Collection and Annotation
Gathering and preprocessing large datasets is often a critical part of training generative models. We specialize in data collection and annotation to ensure high-quality training data.
Model Fine-tuning
We fine-tune pre-trained models, including GPT-3.5 and GPT-4, for specific applications and domains. This expertise empowers us to construct highly adaptable solutions based on these models, catering to clients' specific needs.
Our AI Development Technology Stack
Cloud providers
Image Classification Models
Generative AI Models
Generative Adversarial Networks
Transformer models (GPT3, GPT 3.5 Turbo,LaMDA, Wu-Dao)
Embedding Models
textembedding-gecko(Vertex AI)
Algorithms
Supervised/Unsupervised Learning
Alliances & Partners
We strategically collaborate with a diverse ecosystem of partners and platforms, ensuring unparalleled flexibility and swift outcomes while maintaining quality and excellence.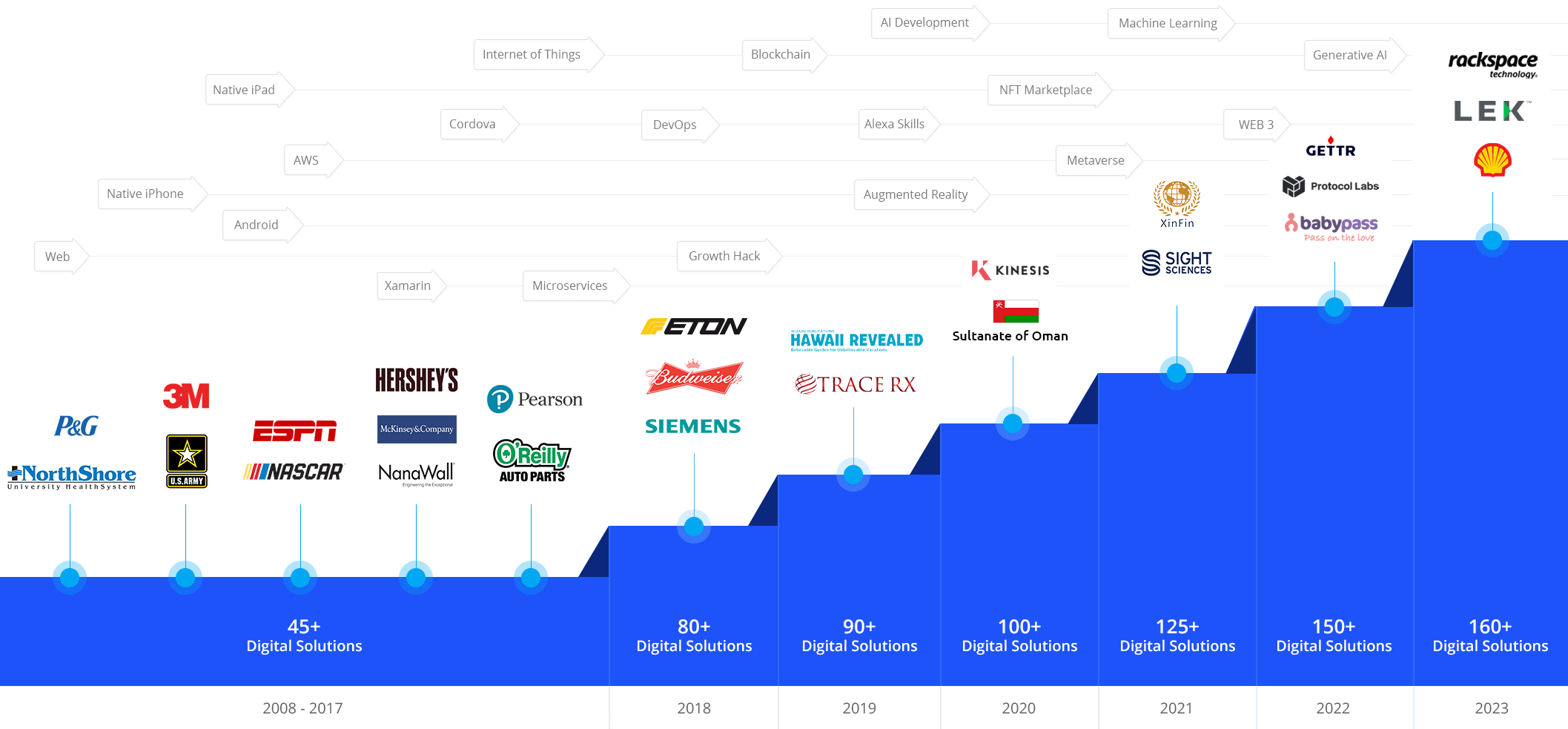 Dedicated Development Team
Our developers leverage cutting-edge cognitive technologies to deliver high-quality services and tailored solutions to our clients.
Team Extension
Our team extension model is designed to assist clients seeking to expand their teams with the precise expertise needed for their projects.
Project-based Model
Our project-oriented approach, supported by our team of software development specialists, is dedicated to fostering client collaboration and achieving specific project objectives.
1. Contact Us
Fill out the contact form protected by NDA, book a calendar and schedule a Zoom Meeting with our experts.
2. Get a Consultation
Get on a call with our team to know the feasibility of your project idea.
3. Get a Cost Estimate
Based on the project requirements, we share a project proposal with budget and timeline estimates.
4. Project Kickoff
Once the project is signed, we bring together a team from a range of disciplines to kick start your project.
Start a conversation by filling the form
Once you let us know your requirement, our technical expert will schedule a call and discuss your idea in detail post sign of an NDA.
All information will be kept confidential.
What is generative AI?
Generative AI, short for Generative Artificial Intelligence, is a subset of artificial intelligence that focuses on creating new, original content or data. It involves using algorithms and models to generate data that is not explicitly provided in the training dataset. This technology is capable of generating text, images, audio, and more, often by learning patterns and relationships from existing data. Generative AI has applications in a wide range of fields, including content generation, creative arts, data augmentation, chatbots, and even drug discovery. It's a powerful tool for automating tasks that require creative or novel outputs.
What are some common applications of generative AI?
Generative AI has a wide range of applications across various domains. Some common applications of generative AI include:
Text Generation: Generative AI can produce human-like text, making it useful for applications like content generation, automatic summarization, and even creative writing. Language models like GPT-3 and GPT-4 excel in this area.
Image Generation: Generative Adversarial Networks (GANs) are commonly used to generate realistic images. This technology finds applications in art creation, design, and even deepfake generation.
Voice and Audio Synthesis: Generative AI can create human-like speech and music, making it valuable in voice assistants, personalized audio content, and music composition.
Data Augmentation: Generative AI can generate synthetic data to augment real datasets, improving the performance of machine learning models, particularly in cases of limited training data.
Style Transfer: This involves changing the style or appearance of content, such as transforming a photograph into the style of a famous artist's painting.
Chatbots and Virtual Assistants: Generative AI is used to create conversational agents capable of generating responses and engaging in natural language conversations with users.
Content Recommendation: It can be used to personalize content recommendations in e-commerce, content streaming platforms, and marketing.
Anomaly Detection: Generative models can learn normal patterns in data and identify anomalies or outliers, which is useful in cybersecurity and fraud detection.
Art and Creativity: Generative AI is utilized to create art, generate music, and explore new creative frontiers.
Video Synthesis: It can generate video content, such as deepfake videos for entertainment or synthetic training data for computer vision applications.
Language Translation: Generative AI can assist in language translation by generating translations for text or speech.
Medical Image Generation: It can create synthetic medical images for training and testing diagnostic AI systems.
Game Design: Generative AI can be used to design levels, characters, and content in video games.
These are just a few examples, and the applications of generative AI continue to expand as the technology advances. Generative AI's ability to generate content that is creative, novel, and contextually relevant makes it a powerful tool in various industries and fields.
What generative AI development services does LeewayHertz offer?
We, at LeewayHertz, provide a comprehensive array of services in the realm of generative AI, including generative AI consulting, data analysis, domain-specific generative AI model development, generative AI solutions development, upgrade and maintenance, and generative AI integration.
How does LeewayHertz approach generative AI development?
LeewayHertz adopts a collaborative and iterative approach to generative AI development, aimed at delivering customized, high-quality, and scalable solutions. We begin by closely engaging with our clients to comprehend their specific needs and objectives. Leveraging the latest generative AI technologies, we craft tailored solutions, ensuring innovation and adaptability. Throughout the development process, we prioritize iteration and refinement, guaranteeing the continuous enhancement of our generative AI solutions to meet clients' evolving demands and achieve impactful results.
How does LeewayHertz approach domain-specific generative AI model development, and what are the key steps involved?
Our domain-specific AI model development process begins with a comprehensive assessment of your industry and business objectives, followed by the selection of a foundational model. This model is fine-tuned by integrating it with your proprietary data and put to rigorous testing to ensure alignment with your specific business requirements.
What types of generative AI solutions does LeewayHertz develop, and what are the foundational models used?
We develop a diverse range of generative AI solutions such as chatbots, recommendation systems, and predictive analytics tools. These solutions are based on foundation models like GPT-4, LLaMA, and PaLM 2, which serve as building blocks for the solutions developed.
Does LeewayHertz offer post-deployment support?
Yes, we offer post-deployment upgrade and maintenance services to ensure that our generative AI solutions continue to operate smoothly. Our upgrade and maintenance services are driven by a commitment to our clients' success. We recognize the dynamic nature of technology and businesses' evolving tech needs. Through regular maintenance and timely upgrades, we ensure that our generative AI solutions operate seamlessly, consistently delivering value and innovation to enable our clients to excel in a competitive business landscape.
Do you offer generative AI integration services?
We don't just build generative AI solutions, we also integrate them into your existing workflows. Our generative AI integration service offers significant benefits to our clients by streamlining their internal workflows and enhancing customer-facing systems. Our approach prioritizes a seamless transition, causing minimal disruption to ongoing operations. This empowers organizations to thrive in the rapidly evolving tech landscape while capitalizing on the transformative potential of generative AI.
Why hire LeewayHertz for generative AI development?
We have extensive experience and expertise in building high-quality generative AI solutions tailored to clients' specific business needs.
Our AI experts will work closely with you to build future-ready GenAI solutions, helping you realize the full potential of AI.
We build domain-specific generative AI models, tailored to clients' use case-specific needs.
We are flexible in GenAI project development methodologies to meet client requirements.
Our skilled team has built diverse GenAI solutions for startups as well as Fortune 500 companies.
Generative AI is reshaping asset management by incorporating advanced predictive capabilities, fundamentally altering decision-making in finance for more informed investments.
read more