AI Consulting Company
Whether you are looking to optimize workflows or enhance customer interactions, we are committed to helping you unlock the potential of AI within your organization. We devise tailored AI strategies by comprehending your business objectives, analyzing your data and implementing custom AI solutions to address your business challenges. With deep knowledge of ML, deep learning, NLP and other vital AI technologies, we fully empower you to harness AI's transformative capabilities.
Software Products Delivered
Total Years of Experience
What Can LeewayHertz's AI Consulting Do for You?
Use Case Identification and Assessment
Our AI consultants analyze your organization's unique landscape, industry trends, and data assets to uncover opportunities where AI can deliver transformative value. Our comprehensive process includes conducting feasibility assessments, competitor analyses and infrastructure evaluations, ensuring that the resulting custom solutions meet your unique business needs.
Data Preparation
We undertake comprehensive data audits and verifications to guarantee the integrity and quality of your data. Our service encompasses the entire data lifecycle, including meticulous data collection, thorough cleaning, and rigorous validation. By providing you with a foundation of reliable and high-quality data, we empower your AI solutions to perform optimally.
We thoroughly assess your specific domain, gaining insights into the intricacies and nuances that define your industry landscape. Leveraging this deep understanding, we select and fine-tune a foundation model like GPT-4 and integrate it with your proprietary data. Through rigorous testing and validation, we ensure that the model aligns perfectly with your business requirements.
AI Solutions Development
We offer a comprehensive end-to-end AI solution development service, covering everything from UX/UI design to model integration, ensuring a seamless and effective process tailored to your needs. Whether you want a chatbot/virtual assistant, recommendation system, or predictive analytics tool, our expertise in AI solutions development ensures we can bring your vision to life.
Our comprehensive service extends beyond AI solution development; we seamlessly integrate the solutions we build into your existing systems. Our expert team ensures a smooth transition, guaranteeing that AI seamlessly becomes an integral part of your operations, empowering your organization to effectively harness AI's transformative capabilities.
Maintenance and Support
We offer comprehensive maintenance and support services, including ongoing monitoring, proactive issue resolution and performance optimization, to ensure your AI solutions continue to excel. With 24/7 technical support, security enhancements, and scalability solutions, we prioritize your AI systems' performance, security and adaptability.
Why Choose LeewayHertz for AI Consulting Services?
Deep Experience and Expertise
With a commitment to excellence, LeewayHertz is your trusted partner for AI development and consulting. Our extensive expertise and experience sets us apart, enabling us to offer a full spectrum of AI development and consulting services that cater to various industries.
Extensive Technical Skills
We have deep knowledge of ML, programming languages like Python, AI frameworks like TensorFlow, data engineering tools like Hadoop and other vital AI technologies. Our proficiency in foundation models, such as GPT-4, LLaMA and PaLM 2, enables us to create robust GenAI solutions.
End-to-end Development
We align our AI solutions with your business goals by following a structured plan encompassing everything from use case identification and risk management to prototype creation, solution development and maintenance, ensuring the solutions align with your strategic objectives.
Responsible AI Development
We are committed to creating ethical and transparent artificial intelligence solutions. We prioritize fairness, accountability, and privacy in AI systems, ensuring they benefit society without harm and ensuring technology stays a positive force.
Your AI journey starts with us!
Explore how AI can benefit your business. Request a free consultation and discover your opportunities.
Our Approach to AI Consulting
Assessment Phase
Understanding your organization's current state and needs to lay the foundation for a successful AI strategy.
Strategy Development
Crafting a clear AI strategy for your use case, covering aspects like cost, time frame, security and privacy.
Data Collection and Preparation
High-quality, relevant data is critical for AI success. Thus, we collect your data and prepare it for model training.
Custom Model Development
We create a domain-specific AI model by fine-tuning it with your proprietary data to ensure it meets your business-specific needs.
Model Integration/Solution Development
Using the fine-tuned model, we then build a solution like a chatbot or recommendation system to enhance your workflows.
Integration Into Workflows
We streamline the process of AI adoption for you by seamlessly incorporating the solution into your current infrastructure.
Monitoring and Maintenance
Continuous oversight and maintenance ensure that the AI solution remains effective over time and adapts to changes.
AI Models We Have Expertise In
GPT-4
A set of OpenAI models that can solve complex problems with high accuracy, thanks to its advanced reasoning capabilities and broader general knowledge.
LLaMA
LLaMA (Large Language Model Meta AI) is a foundational large language model designed to generate text, have conversations, summarize written material, solve math theorems or predict protein structures.
PaLM 2
The newest extensive language model from Google, stands out in performing intricate reasoning assignments, such as code interpretation, mathematical solutions, categorization, query responses, and translation with proficiency in multiple languages. This model highlights Google's commitment to responsible AI, surpassing previous capabilities in natural language generation.
Claude
Claude is a large language model (LLM) by Anthropic, trained as a virtual assistant that can be integrated with business workflows. Claude, accessible through both a chat interface and API in Anthropic's developer console, can perform an extensive range of conversational and text-processing tasks.
GPT-3
A set of OpenAI models capable of performing natural language processing tasks such as text generation, summarization, translation and question answering.
Davinci

Curie

Babbage

Ada
GPT-3.5
A set of OpenAI models, including the highly capable and cost-effective Gpt-3.5-turbo, that improve on GPT-3 and can generate text or code.
DALL.E
DALL·E by OpenAI generates realistic images and artwork based on text prompts. It can produce images of a specified size, modify pre-existing images and generate variations of user-provided images.
Whisper
Whisper is a general-purpose speech recognition OpenAI model that can perform language identification, speech translation and multilingual speech recognition.
Embeddings
OpenAI's Embeddings are numerical representations of linguistic units like words and phrases that capture the semantic meaning and relationships between them.
Moderation
Moderation models are machine learning OpenAI models designed to assist in content moderation tasks, such as identifying and removing inappropriate or harmful content from online platforms.
Stable Diffusion
Stable Diffusion generates detailed images from text prompts and can also be used for tasks like inpainting, outpainting, and image-to-image translations guided by text.
Bard
Google's Bard, powered by LaMDA, is a text-to-text generative AI chatbot designed to generate human-like responses to natural language prompts, making it capable of engaging in conversations with humans.
Our AI Development Technology Stack
Cloud providers
Image Classification Models
Generative AI Models
Generative Adversarial Networks
Transformer models (GPT3, GPT 3.5 Turbo,LaMDA, Wu-Dao)
Embedding Models
textembedding-gecko(Vertex AI)
Algorithms
Supervised/Unsupervised Learning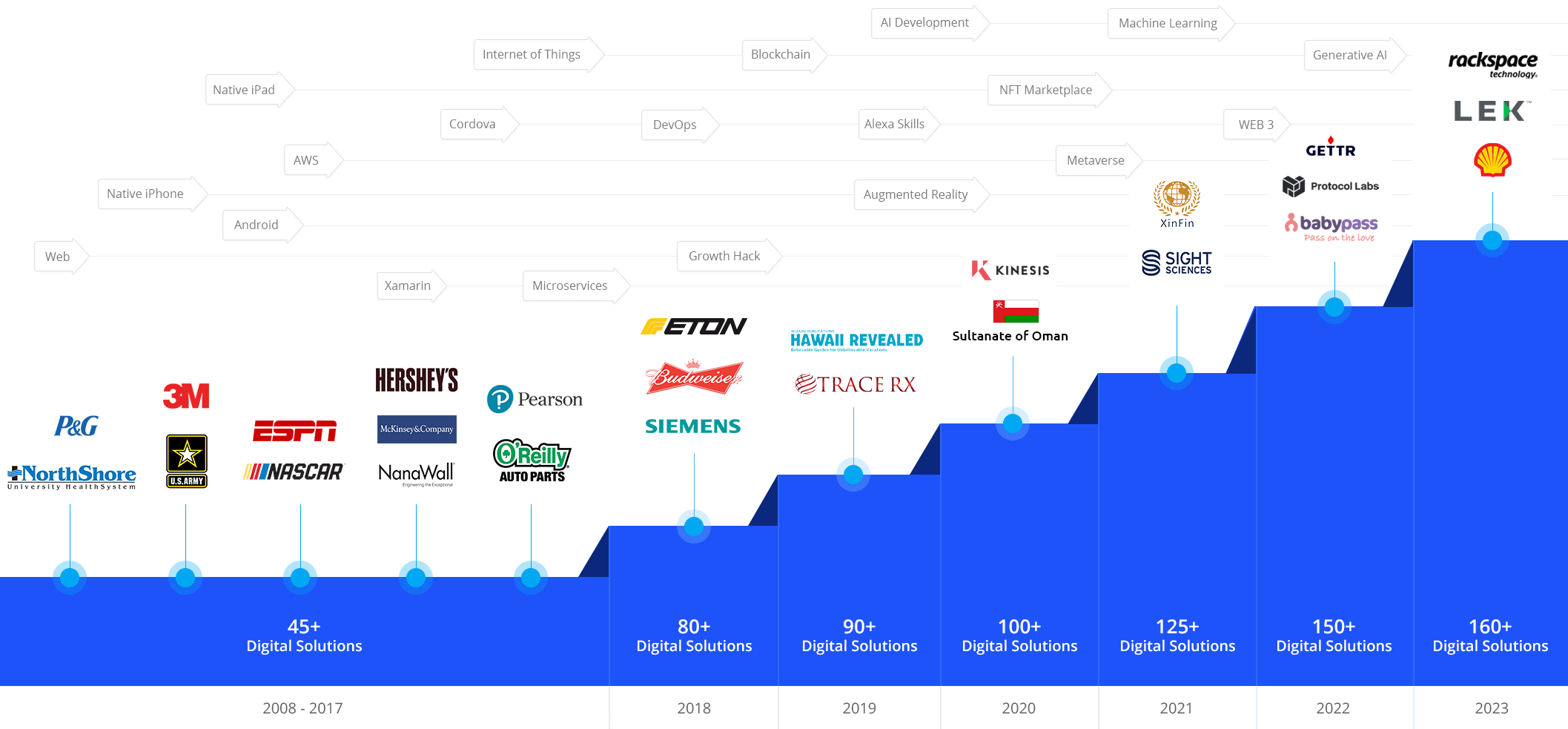 Dedicated Development Team
Our developers leverage cutting-edge cognitive technologies to deliver high-quality services and tailored solutions to our clients.
Team Extension
Our team extension model is designed to assist clients seeking to expand their teams with the precise expertise needed for their projects.
Project-based Model
Our project-oriented approach, supported by our team of software development specialists, is dedicated to fostering client collaboration and achieving specific project objectives.
1. Contact Us
Fill out the contact form protected by NDA, book a calendar and schedule a Zoom Meeting with our experts.
2. Get a Consultation
Get on a call with our team to know the feasibility of your project idea.
3. Get a Cost Estimate
Based on the project requirements, we share a project proposal with budget and timeline estimates.
4. Project Kickoff
Once the project is signed, we bring together a team from a range of disciplines to kick start your project.
Start a conversation by filling the form
Once you let us know your requirement, our technical expert will schedule a call and discuss your idea in detail post sign of an NDA.   
 All information will be kept confidential.
What is AI consulting, and why do you need it?
AI consulting involves working with an experienced team of AI experts who can help your business identify and implement artificial intelligence solutions to improve your operations and help you achieve your goals. If you want to automate repetitive tasks, analyze large amounts of data, or improve customer experiences through chatbots or other AI-powered tools, contact LeewayHertz's AI consultants today.
What industries do you serve?
LeewayHertz provides AI consulting services to a wide range of industries, including healthcare, finance, retail and transportation. Our team of experts boasts diverse experience across various industries, and we customize our approach to cater to each client's unique requirements.
How do you approach AI consulting?
We start by understanding your business goals and analyzing your existing data and technology infrastructure. Then, we work with you to identify opportunities for AI-powered solutions that will help you achieve those goals. We create a roadmap for implementation and provide ongoing support and maintenance to ensure that your AI solutions continue to deliver value.
What kind of AI solutions do you provide?
How can AI consulting companies assist in data-driven decision-making for my business?
AI consulting companies specialize in harnessing the power of Artificial Intelligence to transform raw data into actionable insights for your business. They assist in several ways:
Data assessment: First, they evaluate your existing data infrastructure and sources to identify gaps and opportunities, ensuring data quality and relevance.
Customized AI models: Depending on your business goals, AI consultants develop tailored models that analyze your data, detect patterns, and predict future trends.
Real-time insights: With AI, businesses can gain real-time insights into operations, customer preferences, and market shifts, allowing quicker, more informed decisions.
Strategy formulation: AI consulting companies use the derived insights to craft strategic recommendations that align with your business objectives.
Risk management: Predictive AI-powered predictive analytics can anticipate potential challenges, allowing businesses to devise preemptive solutions.
Continuous learning: As your business evolves, AI models adapt by learning from new data, ensuring your decision-making process remains optimized.
AI consulting companies equip businesses with the tools and strategies to make informed decisions, driving growth, efficiency, and innovation.
What measures does your AI consulting company take to ensure data security and compliance with privacy regulations?
Our AI consulting company prioritizes data security and adherence to privacy regulations. To ensure the utmost protection of client data and compliance with prevailing legal standards, we have instituted the following measures:
Data encryption: All data, whether at rest or in transit, is encrypted using industry-leading encryption standards to safeguard against unauthorized access or breaches.
Access control: We employ stringent access controls, ensuring only authorized personnel can access sensitive data. Each access is logged, time-stamped, and regularly audited.
Regular audits: Our systems undergo frequent security audits to identify potential vulnerabilities and rectify them proactively.
Compliance training: Our team undergoes regular training sessions to stay updated on the latest data privacy laws, ensuring our processes align with global standards like GDPR, CCPA, etc.
Data retention policies: We maintain clear data retention policies, storing client data only for the duration necessary and ensuring its secure deletion after the completion of our engagement.
Anonymization and pseudonymization: Whenever feasible, we anonymize or pseudonymize data, which ensures that individual identifiers are separated from the dataset, adding a layer of privacy.
Transparent communication: We maintain open communication channels with our clients about how their data is used, ensuring complete transparency in our operations.
Incident response plan: In the unlikely event of a security incident, we have a comprehensive response plan to address and mitigate risks promptly.
Continuous updates: Our cybersecurity infrastructure is continuously updated to protect against the latest threats and vulnerabilities.
Collaboration with legal counsel: We work closely with legal experts to ensure our protocols comply with the ever-evolving privacy landscape.
Rest assured, protecting your data's integrity and privacy is at the core of our operations, and we are committed to upholding the highest standards in all our engagements.
How do AI consulting companies tailor their solutions to meet the unique needs of clients?
At our AI consulting company, we understand that each client has distinct challenges, goals, and operational landscapes. As such, we have cultivated a tailored approach to ensure that our AI solutions align seamlessly with each client's unique needs. Here's how we customize our services:
Client discovery session: Our engagement begins with a comprehensive discovery session where we delve into understanding your business objectives, current technological infrastructure, challenges, and desired outcomes.
Data assessment: We analyze the available data sources, evaluating their quality, volume, and relevance, ensuring our AI models are built on solid foundations.
Industry-specific expertise: Leveraging our cross-industry experience, we draw upon best practices and domain-specific knowledge to craft solutions that resonate with the nuances of your industry.
Collaborative development: Our consultants work hand-in-hand with your internal teams, ensuring our solutions integrate smoothly with your existing processes and systems.
Custom algorithm development: Rather than employing a one-size-fits-all approach, we design and refine algorithms specifically tailored to address your unique challenges and use cases.
Scalable solutions: We architect AI models that not only cater to your present needs but are also scalable, accommodating future growth and changing market dynamics.
Continuous feedback loop: We maintain a continuous feedback mechanism throughout the project lifecycle, adjusting and optimizing the solution based on real-time inputs and results.
Post-implementation support: Beyond the solution deployment, we offer support and training to ensure that your teams can harness the full potential of the AI tools and make data-driven decisions effectively.
Regulatory and ethical compliance: Recognizing the varied regulatory landscapes across industries and regions, we ensure our solutions are compliant with pertinent regulations and uphold the highest ethical standards.
Iterative enhancement: As AI is a dynamic field, we believe in iterative enhancement. Post-deployment, we regularly revisit the models to refine them based on new data and evolving needs.
By prioritizing a client-centric approach, we ensure that our AI solutions are not just technologically advanced but also strategically aligned with the unique aspirations and challenges of each client we serve.
Digital Transformation in Retail Industry provides retailers an opportunity to use technology for improving business models and acquiring new customers quickly.
read more