Enterprise Metaverse – The new way of business
As the metaverse matures from a concept to a practical application, businesses are becoming increasingly interested in learning how to make the metaverse work for them. It is already in the public domain that many brands are boldly embracing the metaverse to lead their ways in the digital world. Gucci, Coca-Cola, Balenciaga, H&M, Nike, Warner Bros, and many leading enterprises have teamed up with metaverse projects like Roblox, Tafi, and Fortnite to stir up new opportunities around marketing, branding, global reach, and revenue generation.
The craze of the metaverse is influencing businesses of all sizes, especially technology-enthusiast enterprises that believe in early adoption of digital transformation. Businesses are comprehending how they can take advantage of the metaverse's potential, what the output will be, and if they should construct their own metaverse or explore existing metaverse platforms. To help out businesses, this insight paints a vivid picture of how businesses can employ metaverse capabilities to their benefit.
What is enterprise metaverse?
An enterprise metaverse, by definition, is a metaverse that enables business growth opportunities for an enterprise. Enterprise metaverses refer to immersive virtual spaces for businesses to promote their digital tools and services. They offer new digital possibilities for enterprises to reach global audiences, drive engagement, create meaningful connections, develop leadership opportunities, train employees, and do a lot more. As a new-age sophisticated virtual platform, an enterprise metaverse entices millennials and Gen-Xers.
Meta is working on one sort of metaverse, whereas other software-focused groups are working on alternative types of metaverse environments. For instance, Decentraland is a virtual real-estate metaverse for buying and selling land; IMVU offers social networking, shopping, and hangout opportunities; and Roblox allows building of one's own virtual worlds (e.g., Nike has its own sports-themed Nikeland). Similarly, businesses of all kinds can create specialized metaverses to power their operations at various levels. Fashion houses, lifestyle brands, IT organizations, real estate firms, and other large and small businesses can seek creative and new-age commercial prospects in the metaverse.
Enterprise metaverses are a work in progress. As they become mainstream, they will evolve as a way of creating brand differentiation. Through customizations, enterprises will be able to make metaverses work for them in the most rewarding way. Marketplaces within metaverses will become key sources of revenue production. New types of digital services and products will enter the market, and the pursuit of global customers will drive economic gains.
What are metaverse opportunities for enterprise businesses?
Experts believe that the metaverse will enhance the mobile-internet-powered trend of user experience personalization. Consumers will use the metaverse as a more advanced virtual space to enhance their physical world experiences.
Because there is a buzz all around that the metaverse is the next iteration of the internet, enterprises understand that, eventually, the metaverse may become the most preferred digital space for consumers to engage with businesses. Thus, enterprises with an eye on the future must track and monitor changing consumer behavioral trends to avoid delays in metaverse adoption. Like any other trend, the shift to the metaverse will be gradual and continuous, with no real line demarcating the start of the metaverse era. The metaverse is already here, and it will change the ways consumers interact with businesses.
Let us look at what opportunities an enterprise metaverse can provide in light of today's metaverse capabilities.
Reach a global audience
Perhaps the greatest appeal of the metaverse to a business is its offering of global reach. Thanks to the internet, businesses have come a long way in overcoming geographical boundaries and reaching out to new markets. However, there is still a gap between virtual and real-world experiences. Visiting a store and physically testing out a product differs from selecting a product based on photographs and videos. By producing interactive and immersive 3D experiences at hyper-scale, metaverse tools and technology can fill this gap. This will enable businesses to not only access clients worldwide but also have a greater impact on them, similar to a regional company. Prospective customers from all over the world may easily walk into the metaverse and explore products and services in a more lifelike manner, experience personalization, and interact with the company on a deeper level, just as they would with any regional company.
Build meaningful connections
Every business attempts to improve its relationships with customers, prospects, and other businesses. By introducing realism into digital connections, an enterprise metaverse aids in forming more meaningful ties. Customers and businesses may connect, communicate, and participate in totally new ways.
Enterprises may use the metaverse to track consumer requirements in real time and adjust their experiences to best meet those requirements. Enterprise metaverses, free of technological and design constraints, can provide clients with fully configurable and hyper-scalable experiences via immersive 3D virtual environments.
Drive engagement
Like e-commerce platforms and social media channels, the metaverse is also an innovation aimed at driving strong engagements between customers and businesses for mutually beneficial opportunities. Metaverses are designed to drive new ways of engagement through methods such as
Personalization of avatars
Real-time communication
Ecommerce features
Built-in payment
Self-sovereign identity authentication for personal data security
Buying, selling and trading opportunities with NFTs
A universal economy powered by cryptocurrency.
Comprehensive development services to help you lead the future-ready Metaverse projects.
Launch your metaverse project with LeewayHertz
How can businesses use a metaverse?
Enterprises can use metaverses for any or all of the following goals, depending on the nature of their business, the portfolio of their customers, and their business objectives.
Gamification
Many firms are using gamification for not only consumers but also for staff and training. Gamification improves customer loyalty and employee retention by increasing engagement. Enterprises are currently gamifying experiences for their customers through mobile apps, but the metaverse will take gamification to the next level. Metaverse gamification can be used for learning, entertainment, loyalty programs, campaigning, skill learning, and employee training.
Content distribution
Content distribution will become more streamlined and diverse thanks to the metaverse. What is currently confined to text, photographs, and videos will become more visually elaborate and real time in the near future. Maybe a digital-twin-powered real-time demo will replace a prerecorded product demo. The scope of personalization in terms of time preference, language preference, avatar personalization, democratization of content, and so on will further enhance how content is distributed or consumed.
Event management and sponsorship
The metaverse will certainly revolutionize the scope of enterprise events and conferences. The metaverse can interweave the best of in-person and online events as a platform. It can deliver virtual-event solutions that meet new-age hybrid event needs such as 3D immersive platforms, NFT powered registration and ticketing, livestreaming, customizable avatars, global networking, and audience engagement.
Metaverse virtual events are much more than a livestreamed presentation. They incorporate technologies such as blockchains, NFTs, holograms, AI, 3D designing, digital twinning, and cryptocurrencies to host feature-packed events that delight the audience with an integrated event experience. 3D virtual venues, networking rooms, live or prerecorded webinar streaming, chat tools, picture booths, dApps and personalized avatars, and NFT tokens provide attendees with a personalized event environment.
Digital marketing
Any platform capable of attracting people eventually emerges as a marketing medium; the same is true for the metaverse. With the metaverse, digital marketing will find a wider canvas to go creative. However, it is too early to paint a clear picture of what digital marketing will look like in the metaverse. Metaverse digital marketing advancements will undergo constant evolution, a process that has already begun. Currently, metaverse platforms such as Fortnite and Roblox provide brands with advertising opportunities that would otherwise be unattainable in the real world.
Metaverse provides digital marketers with a platform to conduct attractive interactions with audiences, build stronger bonds, boost visibility, and improve engagement marketing. However, there are also some challenges, such as verification of intellectual properties and digital asset ownership. NFTs can tackle this to a major extent. Besides, security issues will also require focus.
Yet the metaverse will be lucrative for marketing because:
It will attract millennials and Gen Z audiences in a novel way.
Metaverses can handle exponentially large size of audiences.
Enterprise metaverses will be a great platform to support the merging trend of influencer marketing as it will enable influencers to build more realistic interactions with their followers.
What features a metaverse should offer?
Let us say you are thinking about investing in enterprise metaverse development to achieve breakthroughs in how you communicate with customers and prospects or conduct employee training and promote digital marketing. In that situation, you should clearly understand exactly what features your metaverse project needs.
Scalable worlds
Your project needs to be equipped with the tools and technology to facilitate creating dynamically immersive and scalable worlds.
Customizable avatars
Your metaverse should have a well-designed avatar system that gives your users the freedom to customize their avatars to better express themselves.
Live streaming
Your metaverse should have provisions for including real-world content, speakers, and artists and facilitating content streaming in real time or in prerecorded sessions.
Immersive
A metaverse is as effective as its capacity to merge realism into virtual experiences. Thus, your enterprise metaverse should be capable of functionalities like providing human support to avatars, including metaverse content in real-world databases, connecting 3D experiences to real-world events, and so on.
Real-time chat
Your metaverse should support multiple networking mediums for users to connect, communicate, and share with each other, just like in real life. Engaging one-on-one, group, and private conversations through unique chat features helps improve user engagement.
Ecommerce
The metaverse must help create economic opportunities through payment processing and e-commerce tools. For instance, it should be functional as a platform for launching a product, selling merchandise, offering rewards to customers, or collecting donations.
Branding
Provisions for brand promotion, products, and services should be well integrated within your metaverse through tools such as billboards, posters, and videos.
On-boarding
Onboarding of users should be simplified and secured with a well-designed, fully integrated registration and login system. During avatar interoperability and transaction, identity authentication should be well anchored to security protocols.
How can LeewayHertz help in metaverse development?
We at LeewayHertz are ecstatic to be a part of mega-futuristic initiatives such as metaverses. Our developers have extensive expertise and experience with blockchains, NFT, crypto, and 3D development tools such as Unity and the Unreal Engine. Our team provides various services to support the development of metaverse projects pertaining to gaming, social media, and NFT marketplaces. Our metaverse services include
We are happy to partner with you if you are looking to optimize or build a decentralized Blockchain metaverse project. Please connect with our metaverse experts to discuss more.
Start a conversation by filling the form
Once you let us know your requirement, our technical expert will schedule a call and discuss your idea in detail post sign of an NDA.
All information will be kept confidential.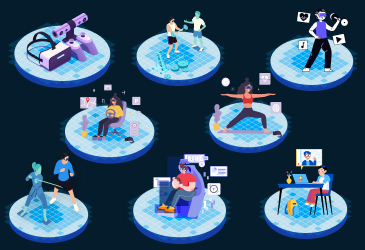 The disruptive innovation of metaverse mixed-reality learning environments can dramatically improve training, development and real learning.
read more