Software Consulting Services
By providing Software Consulting Services, we help you emphasize what you need and which technology can align with your operational and financial objectives. Our Software Consultants aim to maximize your ROI and convert your idea into reality with our expertise across emerging technologies, including Blockchain, AI, IoT and Cloud Computing.
Software Consulting Company to fuel your Digital Transformation Journey
We have experienced software consultants who deliver expert insights by identifying the technology gap
into 
your business to bridge the gap between your business and leading technology. Our Software Consulting Team blends technological expertise and industry best practices to help clients transform their digital journey with adequate planning and competent execution of the outlined IT strategy.
Our Software Consulting Services
Software Launch Consulting
We help you plan a new software solution (mobile, web, desktop or SaaS) or assess your existing solution for enhancements. Our Software Consulting Experts assist you in choosing the right tech stack, improve designs and estimate expected ROI and time and costs.
Technology Stack Identification
If you have no idea or do not have time to explore which technology fits better for your business, we are here to guide you in selecting the right technology to scale your business to a new level of market edge.
Software Integration & Enhancement Consulting
We help you augment existing software application, enhance their features and value and transform it with emerging technologies like blockchain, IoT, AI and cloud computing. We ensure to make your solution more secure and scalable than before.
Software Compliance Consulting
Our aim is to develop and deliver industry-grade custom software applications that comply with standards and regulations. We help you make software development and QA processes compliant with industry standards and regulations.
Technologies that our software development team works on
Artificial Intelligence
With our expertise in Machine Learning, RPA, Image Processing and Deep Learning models, we transform businesses with next-generation AI software solutions.
Augmented Reality
Utilize the guarantee of AR to transform essential tasks and become progressively proficient. We turn ideas into real-world AR Applications.
Mobile & Web Apps
Being one of the first few companies to launch a commercial app on the App Store, our team can help you launch a successful mobile/web app from scratch, providing you complete assistance from ideation through launch. 
Internet of Things
With broad expertise in IoT systems and innovations, our IoT specialists structure and create secure IoT solutions that enable you to gather enormous information, and enhance important procedures.
Looking for Software Consulting Services?
Our IT Consulting Services cater to various industries
Startup
Converting business ideas into user-friendly technology solutions for startups with the next level of innovation.
Automotive
Digitize the automotive industry with connected mobile apps to manage vehicles remotely and enhance the manufacturing process.
Logistics
Utilizing the latest technology to simplify logistics processes and minimize operational hurdles.
Manufacturing
Delivering custom software solutions to automate production processes and reduce operational cost.
Retail & E-Commerce
IT consulting company With an engaging digital solution, innovate the shopping experience for your customers and business.
Travel & Hospitality
Developing custom travel technology solutions to make traveling more efficient and comfortable for passengers, parcels and personnel.
FinTech
Automating the complicated processes by Quick payment settlements and drive speed and security to financial transactions.
Healthcare
Improving healthcare services for patients and healthcare professionals by automating health checks with reduced cost and time.
Multi-Room Speaker Controls App
RIVA is a powerful multi-room audio solution controlled by iOS and Android devices to stream multiple speakers without any acoustic latency. Our team of developers, designers and architect teamed up with the OEM and platform provider to offer a robust and scalable app experience.
RIVA speakers are Google and Apple certified and have won the CES awards.
CMS and Mobile App Development
Digital Solution for Award-Winning Island Guidebooks
We worked with Wizard Publications to convert their series of four island guidebooks into a mobile app. Our team created a CMS for them using which they can create, update and publish content to the mobile app. The app is being used by people planning to travel to Hawaiian islands.
Our 5-Step IT Consulting Process
We discuss the feasibility of your project with our IT Consulting Service team and define the business goals and workflow for your system
Our IT consulting advisors study your IT supports services and understand how it can be migrated to new technologies to achieve your business goal.
Design a roadmap and strategy that will help your business leverage the latest technologies and de-clutter your software infrastructure. Then, they set software and employee KPIs.
Our IT Consulting Service team will build the product with industry best practices to help clients garner the optimum benefits of the IT.
There is always room for improvements. We always strive to be on cutting edge to get first-mover advantage by updating the latest IT technology.
Dedicated Development Team
Our developers leverage cutting-edge cognitive technologies to deliver high-quality services and tailored solutions to our clients.
Team Extension
Our team extension model is designed to assist clients seeking to expand their teams with the precise expertise needed for their projects.
Project-based Model
Our project-oriented approach, supported by our team of software development specialists, is dedicated to fostering client collaboration and achieving specific project objectives.
1. Contact Us
Fill out the contact form protected by NDA, book a calendar and schedule a Zoom Meeting with our experts.
2. Get a Consultation
Get on a call with our team to know the feasibility of your project idea.
3. Get a Cost Estimate
Based on the project requirements, we share a project proposal with budget and timeline estimates.
4. Project Kickoff
Once the project is signed, we bring together a team from a range of disciplines to kick start your project.
Start a conversation by filling the form
Once you let us know your requirement, our technical expert will schedule a call and discuss your idea in detail post sign of an NDA.   
 All information will be kept confidential.
What is a Software Consulting Company?
Software Consulting is defined as the activity of providing expert knowledge in the software space to a third party. Software Consulting Services are offered when any organization requires an expert opinion regarding a business idea or decision. 
A company that provides Software Consulting is known as a Software Consulting Company. 
What is the difference between Software Consultant and Developer?
A Software Consultant helps you design the roadmap of a software product customized for a specific industry use case. The role of consultants is to analyze your existing system if there is any and identify how implementing new technologies can make it more efficient. 
On the other hand, the role of a software developer is to convert ideas discussed and requirements gathered during consulting into reality by building a software solution. 
What software consulting services do consultants provide?
Software Consultants offer a wide range of services, including:
Software Launch Consulting
Software Technology Consulting
Tech Stack Identification
Software Compliance Consulting
Software Integration and Enhancement Consulting
What are the benefits of hiring Software Consulting Company?
Here are some of the benefits of hiring a software consulting company:
Minimize downtime
More time to focus on core business functions
Improved Productivity
Cost-effective
Improved security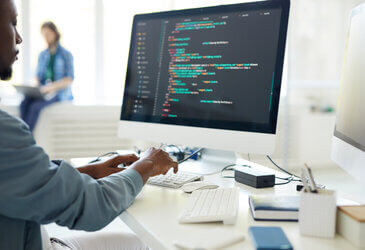 Serverless Architecture is a software design model where a third-party service hosts applications and removes the need for server hardware and software management.
read more