8 Reasons Why You Need Healthcare Technology Consulting
We are living in the era of digitization. Every sector, irrespective of its successes or shortcomings, is shifting its work to technology-driven models. Even the industry as critical as healthcare has been gradually implementing more technology solutions in their everyday processes.
Because of its sensitive nature, the healthcare industry needs to be very cautious before implementing any new technology. Even minor loopholes can cause healthcare institutes to lose a lot of money and patient lives. Hence, they need to be fully aware of all the aspects, costs, pros and cons of technology before shifting their procedures to it. This is where Healthcare Technology Consulting steps in.
But what is healthcare technology consulting? Is it necessary? Will it be helpful? We will resolve all your queries regarding healthcare technology consulting in this article by answering the following questions:
Let's begin by understanding the meaning of healthcare technology consulting.
What is Healthcare Technology Consulting?
The process of sharing technical expertise, advising, guiding healthcare institutes and organizations to make technical decisions and implement technologies is known as Healthcare Technology Consulting. The purpose of healthcare technology consulting is to help organizations grow and improve their healthcare procedures with various technologies.
As healthcare procedures are delicate, it is vital to ensure professional guidance while making any significant changes. Receiving good quality healthcare technology consulting can do wonders for an organization. But how can it do so? Let's answer this question by looking into the benefits of healthcare technology consulting.
How can Healthcare Technology Consulting benefit your healthcare business?
Eight reasons why you need healthcare technology consulting are as follows:
Better Understanding of Loopholes in your Existing System
Improved Patient Care
Quick Access
Enhanced System for Tracking and Reporting Information
Move Towards Achieving Patient-Centered Medical Home (PCMH) Standards
Better Management of Records
Easy Workflow
Better Communication
Let's discuss them in detail.
1. Better Understanding of Loopholes in your Existing System
Before considering implementing any technology in your healthcare procedures, it is essential to evaluate your present system. Assessing your existing system can help you understand the loopholes which you need to take care of. Consulting healthcare technology professionals will help you to:
detect these loopholes efficiently
identify the technologies which will be most suitable for your business use case
As technical healthcare solutions require significant monetary investments, it is important to ensure that you make a well-informed decision. Thus, getting healthcare technology consulting acts as a safety precaution that you should take to ensure that you are getting a technical solution worth the money you invest.
2. Improved Patient Care
Good quality patient care is the USP of all healthcare businesses. It is by far the most important aim of every healthcare institute. However, it is also the most challenging aim to achieve. Since most healthcare professionals lead excessively busy schedules, it becomes very tough for them to do the small things which ensure good quality patient care, such as:
regular follow-ups
updating medical records timely
communicating critical information to other members of the healthcare team, etc.
With the help of healthcare technology consulting, healthcare institutes can develop effective solutions that can help professionals conveniently participate in the tasks that assure good quality patient care. They can also come up with solutions to automate these processes, which will allow doctors to focus more on better treatment of the patients.
3. Quick Access
The inability to gain quick access to healthcare services is a problem that everyone faces. Even if the professionals in your organization are working numerous shifts, they still cannot be available quickly. Delay in their availability leads to increased waiting time for patients, even if they need immediate attention.
By consulting healthcare technology experts, you can implement diverse technology solutions to help your staff be quickly available in times of need. This step will increase your healthcare staff's productivity and ease out many procedures for them and the patients.
4. Enhanced System for Tracking and Reporting Information

Like all other industries, businesses in the healthcare industry also evaluate their performance time-to-time to ensure their growth and meet their goals. However, they struggle with inappropriate systems for tracking such information or cannot establish a performance reporting process. Healthcare technology consulting can help you streamline such processes by developing the right communication platforms for you and your employees.
5. Move Towards Achieving Patient-Centered Medical Home (PCMH) Standards

Patient-Centered Medical Home (PCMH) is an effort to enhance primary care, which requires fulfillment of standards like community support, improved access, managed care, etc. Healthcare Technology Consulting can help you to achieve these standards by developing and integrating or implementing customized software in your organization. These software can have features specific to the goals you're trying to achieve. It can also speed up the processes to help your healthcare business grow.
6. Better Management of Records
Every healthcare institute requires a lot of paperwork to run its procedures smoothly. This paperwork can consist of:
patient's medical records
prescriptions
forms
checklists
patient's insurance records, etc.
Managing all of this becomes a very tedious and time-consuming task for medical professionals. With the help of healthcare technology consulting, various technologies like EHR systems, E-prescribing systems, etc. can be implemented to help medical professionals with this task. With the help of suitable technology solutions, such tasks can be done in minimum time, leaving your healthcare staff with a fair amount of time to focus on other matters that require their quick attention.
7. Easy Workflow
Easy workflow is a goal that every business wants to achieve. Due to the sensitive nature of the healthcare industry, it is of utmost importance that the workflow is easy for medical professionals to entirely focus on treatments of patients instead of worrying about other things. By getting healthcare technology consulting, you can work out ways to ensure easy workflow in your healthcare institute by implementing various technical solutions to deal with this challenge.
8. Better Communication
Smooth communication is a significant issue that healthcare organizations have been facing for a long time. Whether it is communication among the staff or with patients, it can have grave implications if it is not effective. A study carried out in the late 1990s concluded that poor communication led to 44,000 – 98,000 patient deaths per year in American hospitals alone.
Hence, it is essential to ensure that communication in a healthcare organization is smooth and effective. By getting healthcare technology consulting, you can develop technical solutions most suitable for your business's inner workings to ensure that there are appropriate platforms to facilitate smooth communication.
By learning about the benefits of healthcare technology consulting, you must have gathered an idea of how important it is. But whom can you approach to get healthcare technology consulting? There are numerous Healthcare Technology Consulting Companies in the market that can help you grow your healthcare business. Let's learn more by discussing the various services which you can avail from healthcare technology consulting companies.
Automate medical workflows with our custom healthcare software development services
LeewayHertz Healthcare Software Development
What do Healthcare Technology Consulting Companies do?
Healthcare technology companies offer a variety of services to their clients. Even though these services may differ from company to company, here we have listed ten general services which mostly every healthcare technology consulting company provides:
Digitizing Healthcare Procedures
As the world is moving towards digitization, more and more people realize its advantages. Hence, the healthcare sector is also looking for ways to digitize its procedures to achieve:
optimum utilization of resources
increased productivity
efficiency in procedures
Many healthcare technology consulting companies offer this service to their clients, where they discuss the following things:
technology consultation to identify the most suitable solution for their business use case
costing of the solution
implementation and development of the solution
maintenance and upgrades
The solution can be customized as well, depending on the services of the company.
Modernization
Modernization refers to improving or modernizing the existing software of healthcare institutes. Many healthcare technology consulting companies offer this service to their clients. Modernization may include the following services:
Integrating new technology into the existing system.
Removing or adding new features to the current system.
Improving UI/UX designs
Improving the present system
Replacing or rebuilding the entire system
Re-hosting the current system/application
Upgrading the system to the latest version
Modernization services help you optimize your business by enhancing your system's functioning for the long term with low investments.
Technology Consulting
With technology consulting services, you can have an entire overview of:
new healthcare technologies present in the market
technologies suitable for your healthcare business
its features
ways in which it will enhance your business
its costing
the time period it will take to build or implement it
When you choose to avail the technology consulting service from a healthcare technology company, it will give you the complete list of technical areas in which they work and how they can help you improve your healthcare institute's functioning with those technologies. Healthcare technology consulting companies also help you identify the exact areas in your business that need technical assistance and find out which technology will act best for that loophole.
Technology Migration
Technology migration is a service where you migrate your system from one platform to another. There can be many reasons for the migration of technology, such as:
your existing health tech platform is unable to assist you in optimizing the results

you are facing a lot of bugs
a new technology has come up in the market that's caught your attention
you have security concerns with the present technology
Healthcare technology consulting companies can help you to migrate your system to the technology of your choice. For example, you currently use an on-site database for storing medical records, and now you wish to move that to a cloud database to make it more conveniently available. Healthcare Technology Consulting Companies can help you with the same.
Offering Emerging Technology Solutions
Healthcare Technology Consulting Companies are always up to date with new developments and innovations in the technology sector. They know about the emerging technologies, their benefits, their drawbacks and how they can help improve various industries. Hence, when you consult with them about your problems or the loopholes you wish to cover, they can offer you solutions based on some emerging technologies you were not aware of earlier.
It can be beneficial for you to consult with such companies because they help you identify the most appropriate technology for you. For example, suppose you are searching for a technical solution to share medical records with your patients securely. You are not aware of blockchain technology, but it can be of great help to your business. So when you consult a healthcare technology consulting company, they will tell you about the emerging technologies, including blockchain, which can help you efficiently solve your problem.
Payment Gateway Integration
If you already have a functioning healthcare application and need a new payment gateway integrated into it, healthcare technology consulting companies can help you. Integrating payment gateways is always the smart option when you're digitizing your healthcare services so that you can receive payments instantly without having to wait for a long time. Your patients or clients can pay you directly through your application before or after receiving a service from you.
If you wish to get payment optimization by CMS Bundle Payment Optimization, healthcare technology consulting companies can help you with that as well.
HIPAA Compliance
HIPAA Compliance is of utmost importance for any health tech solution, as it ensures the safety and confidentiality of patient records and data. If not followed, you might face legal implications. Healthcare technology consulting companies can help you ensure that every technological solution in your organization is HIPAA compliant so that you can provide your patients with all security measures.
Mobile and Web App Development
Healthcare Technology Consulting companies can help you develop robust web applications and mobile applications for both iOS and Android, with various features like:
video calling
appointment scheduling
sharing reports
e-prescribing
remote patient check-up, etc.
With mobile and web app development services, you can also get customized features developed in the applications.
Custom Healthcare Software Development
Custom healthcare software development refers to developing healthcare software with features of your choice. You can get software developed according to your healthcare business with features that you think will enhance your system, UI/UX designs you find convenient, and the technologies you prefer. Some companies offer you the option of selecting developers yourself from their team based on their experience to work only on your healthcare software. Getting a custom healthcare software is an excellent option if you are digitizing your existing system entirely for the first time.
Now that you are aware of the reasons you need healthcare technology consulting and what services you can get, let's discuss how you can find the best healthcare technology consulting and development company for you.
How to find a Healthcare Technology Consulting Company suitable for you?

To find a healthcare technology consulting and development company most suitable for you, you need to conduct proper research. Here, we have mentioned three steps through which you can find the best healthcare technology consulting and development company for your business:
Step 1: Fundamental Research
Fundamental Research is the first step you take while searching for a healthcare technology consulting company. In this step, you take the most basic approach – search on Google. You can google and look at different companies' profiles, go through their services, and look at their social media accounts. You can also talk to people in your network to get suggestions and unbiased reviews of various companies. It gives you an idea of the companies that seem legitimate and worth your time. Shortlist them and move on to the second step of research.
Step 2: Technology-based Research
Now that you have shortlisted companies you find genuine, you can conduct technology-based research on them. Conducting technology-based research refers to finding out the various technical aspects of their services, such as:
finding out the numerous healthcare technologies with which they work
the technology stack they use for their different services
assessing their project management techniques
reviewing their designs, work and reviews
doing an in-depth analysis of their previous work
All this research will help you identify the final options of efficient companies most suitable for your healthcare business.
Step 3: Communication
This is the final step that you may undertake. Here, you get in touch with the final companies you shortlist. You talk to them about your project requirements, establish your project goals, talk about costing and budget your funds. By consulting with the company, you will gain firsthand experience of how the team is, if its hardworking enough, if they communicate well, etc.
Avoid the cheapest options. Even though low costs may attract you, low prices reflect in the quality of the end product. It might end up costing you money and effort.
Taking these three steps will enable you to select the healthcare technology consulting company carefully, which will be most suitable for you. To make this research a little easier, let's take a look at some of the leading healthcare technology consulting companies and the services they offer.
Leading Healthcare Technology Consulting and Development Companies

Here, we have listed today's leading five healthcare technology consulting and development companies in the market. Let's take a look at their services as well.
LeewayHertz
LeewayHertz is a software development company based in San Francisco, USA. They build innovative solutions with emerging technologies for many industries, including healthcare. With their technology services, they aim to improve the way patients and doctors communicate while ensuring all regulatory standards are met.
Their healthcare technology services are as follows:
Healthcare Software Consulting
Custom Healthcare Software Development
Telemedicine Software and App Development
Patient Engagement Software Solutions
IoT Healthcare Software Development
mHealth App Development
Blockchain Healthcare Software Development
Remote Patient Monitoring System Development and Integration
EMR/EHR Integration
Streaming Telehealth Technology Integration
Integration with Pharmacy Services
Tech Fabric
Tech Fabric is a digital transformation company located in Phoenix, Arizona. They mainly focus on web, mobile and cloud-based applications. Launched in 2017, it builds healthcare software for many businesses to help them stay ahead in the healthcare industry.
Their healthcare technology services are as follows:
Data Science Solutions
Software Integration
Big Data & Analytics
AI and IoT Healthcare Solutions
Web and Mobile Healthcare Apps
Microservices and APIs
Zivtech
Established in 2008, Zivtech is a website design and development company located in Philadelphia, USA. They develop websites and applications for healthcare organizations to manage sensitive patient data.
Their healthcare technology services are as follows:
EMR/EHR Integration
HIPAA Compliant Systems
Customized Portals
Bluetooth-enabled Remote Patient Monitoring Systems
Healthcare Web and Mobile Application Development
ProviNET
Established in 1991, ProviNET is an IT company based in the USA. They provide managed services, software solutions, hardware solutions and consulting to their clients.
Their healthcare technology services are as follows:
EHR Systems Development and Implementation
IT Consulting
Business Integration
Hardware Management
Application Integration
ProIT
ProIt is a software development company. They develop unique applications for businesses in the healthcare sector. They specifically provide development services, testing and software robotics.
Their healthcare technology services are as follows:
Hospital Information System Development
Telemedicine Information System Development
Patient Registration Systems
Custom IT Solutions for Healthcare Clients
Conclusion
Healthcare Technology Consulting is one of the best ways for healthcare businesses to ensure that they invest money in the right technologies for their workplace. Undoubtedly, getting in touch with a good healthcare technology consulting company can boost your business to great heights and help you ensure that you're undertaking the best practices to make healthcare processes easier for your employees and patients.
Get in touch with experts at LeewayHertz to get healthcare technology consulting for your healthcare business.
Start a conversation by filling the form
Once you let us know your requirement, our technical expert will schedule a call and discuss your idea in detail post sign of an NDA.
All information will be kept confidential.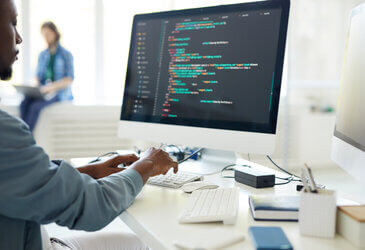 Serverless Architecture is a software design model where a third-party service hosts applications and removes the need for server hardware and software management.
read more