Non-fungible tokens and their underlying technology have surged the market value of digital assets. Digital assets like JPEG and PNG images are being sold for millions of dollars, legacy businesses accept payments via NFTs & cryptos, and brands seek more ways to leverage NFTs.
Under the influence of these changes, the NFT market has expanded and reached a market capitalization of $23 billion last year, according to the data provided by DappRadar. NFTs are gaining overwhelming popularity for their integrated value in metaverse projects metaverse, where most brands are investing.
From gaming to art and e-commerce, every industry has started to enter the metaverse horizon for enabling their audiences to explore their specific products and services across a 3D immersive and real-time parallel universe. So, how can a brand better showcase its products and services in the metaverse using NFTs? That's where the NFT marketplace comes in handy.
What is metaverse NFT marketplace?
As the name implies, a metaverse nft marketplace is a technical concept of creating and integrating NFT marketplaces into the virtual space of the metaverse. Metaverse is considered a parallel universe where avatars (representing the unique identity of users) can perform activities similar to the real world. So within a metaverse, avatars can socialize, work, travel, organize and attend live events, play games, engage in trading and do a lot more adventures. However, trading on metaverse is a more prevalent activity of all.
To facilitate trading, brands need to create a feature-packed nft marketplace and integrate it into their Metaverse projects, allowing the masses to tokenize their digital assets and seamlessly trade them. Metaverse nft marketplaces are built on a blockchain ecosystem, enabling a decentralized experience for the users.
Due to interoperability issues, nft marketplaces could not get mass adoption across various industries. Now that the third-generation interoperable blockchains such as Polkadot and XDC Network facilitate the development of cross-chain NFT marketplaces in their ecosystem, enterprises can allow their audiences to leverage cross-chain NFT trading and reach a broader audience.
What makes the best Metaverse NFT marketplace?
Following are the most-demanding features that make a metaverse NFT marketplace future-ready, capable of getting global mass adoption:
Storefront
A Metaverse NFT marketplace works similarly to an e-commerce website or shopping platform. Hence, it must offer an attractive and intuitive user storefront that provides the users with a wide range of details such as item-list, NFT ownership details, preview and price history. With these information, users can quickly verify the authenticity of the digital assets before buying.
Decentralization
The decentralized infrastructure of an NFT marketplace eliminates the need for any intermediaries in the process of trade & settlement. These marketplaces are regulated through blockchain technology, where events are automatically executed through smart contracts and information is stored across a distributed ledger in metadata. Moreover, blockchain-powered NFT marketplaces are sound in terms of security and speed.
Interoperability
Interoperability equips a Metaverse NFT marketplace with cross-chain connectivity. It's a crucial element that interconnects various independent marketplaces, providing the users with a unified experience and allowing them to explore different independent marketplaces and participate in their socio-cultural activities beyond any limitations. One of the prominent NFT projects, Decentraland, has started working on interoperability to make its services more relevant in other metaverse projects.
3D Immersive environment
Metaverse NFT marketplace must offer a realistic 3D immersive environment, allowing the users to socialize and engage in trade activities across a highly interactive ambiance. New-age tools like Unreal Engine and Unity equip the developers with the essentials required to create more realistic NFT marketplaces for the metaverse.
Seamless tokenization
A standard Metaverse NFT marketplace is designed to enable instant and seamless asset tokenization for the users. Abiding by the various token standards, user can tokenize their digital assets to gain unique ownership and trade the assets on the marketplace.
Dual-factor authentication
Two-step authentication ensures instant and safe user-login on the NFT marketplaces while protecting the users' credentials and the resource they access.
Peer-to-peer transactions
The method of recording transactions across a decentralized peer-to-peer network enables secure asset transactions on the NFT marketplace.
NFT wallets
NFT wallets are integrated into the Metaverse NFT marketplaces to allow the users to buy, send, and store digital assets besides providing connectivity to the metaverse.
Payment gateways
With a feature-complete payment gateway, an NFT marketplace can allow the storefront to accept payments in cryptos and native tokens, attracting more widespread users for mass adoption.
DAO integration
Most Metaverse NFT marketplaces adopted the DAO model to set up an autonomous organization free from any hierarchy. A DAO-enabled marketplace is regulated through the members where all the minor or major decisions are made through voting and proposals.
Comprehensive development services to help you lead the Metaverse NFT Marketplace projects.
Launch your metaverse nft marketplace with LeewayHertz
What are the different types of Metaverse NFT marketplaces exist today?
Metaverse gaming NFT marketplace
Metaverse games are based on the "play-to-earn" concept that continues to drive immense craze among the players. Such overwhelming popularity has encouraged many gaming brands to create their NFT marketplace and engage users with in-game assets, gaming characters, and accessories. Powered by metaverse technology, these marketplaces offer realistic and real-time navigation to everyone.
Metaverse real estate NFT marketplace
Real estate-based metaverse marketplaces regulate the events like buying, selling and live NFT auctions. Users can bid for a specific property or even a piece of digital land and pay its cost to gain ownership. A project like Decentraland is the best example of a metaverse real estate NFT marketplace, with the most intriguing features and high-cost selling virtual lands.
Some real-estate companies also showcase the NFT-powered digital version of their physical properties in the metaverse, allowing the avatars of potential buyers to visit the property, inspect it thoroughly and buy it; everything is done digitally. Once the contract is executed in the metaverse, buyers get the ownership of the original property in the real world.
Metaverse e-commerce NFT marketplace
Metaverse e-commerce NFT marketplace represents a virtual marketplace designed to enable the users to explore products on e-commerce shopping platforms, including outfits, cosmetics, and gadgets. For instance, buyers can enter such marketplaces through their VR devices and allow their avatars to try the personal product they are willing to buy. It makes their buying experience rich and realistic similar to the buying experience of the real world.
How does NFT marketplace work on the metaverse?
NFT marketplaces on the Metaverse work similar to the real-world marketplace, and hence they are known as the virtual version of the physical marketplaces. Different brands can create their niche-specific marketplace to showcase NFT-backed digital assets or the digital version of real products that users can buy in exchange of crypto tokens.
By connecting these marketplaces with the metaverse, brands can further allow the users to experience a sense of touch and sight, providing more lifelike experiences. Even though an NFT marketplace remains a part of a huge Metaverse, the creator of the NFT marketplaces holds the right to define rules, regulations, and types of digital assets eligible for trading.
With their unique avatars, users can enter the recreated virtual world of metaverse and indulge in their activities. NFT marketplaces in the metaverse bring the following considerable benefit to both the creator and the user:
Users can relish a live navigation experience on a persistent 3D platform and trade NFT round the clock.
Users can seamlessly connect their crypto wallet to the NFT marketplace and make instant payments.
Metaverse-based NFT marketplaces are more popular than other alternatives. With that, such marketplaces help enterprises attract more global audiences.
How to create a Metaverse NFT marketplace?
Before we start to discuss Metaverse NFT marketplace development, it's crucial to gain complete knowledge about the tool and technologies essential for the development. Check the below list of tools and technologies:
Tools:
Unity, Unreal Engine, Metaverse studio
Programming languages:
HTML, C++, RUST, Solidity, Javascript
Technologies:
Blockchain, 3D reconstruction, Augmented reality, Virtual reality, IoT, Artificial intelligence, and Cryptography.
Now, proceed to the Metaverse NFT marketplace development. Follow the given development stages, which are well-planned and strategic:
Step 1: Choose a blockchain network
The first step of NFT marketplace development is to choose your project-specific blockchain network on which the metaverse and marketplace will exist and run. While most metaverse projects currently exist on the Ethereum blockchain, you can choose to build your marketplace on the advanced third-generation blockchain ecosystems such as Cardano, Polkadot and Near protocol. These protocols support the development of a cross-chain NFT marketplace in the metaverse.
Step 2: Create a user-friendly interface
Once you select a blockchain network, proceed to design UI/UX to attract the users to the marketplace. Since the interface reflects the impression of your Metaverse marketplace, try to keep it simple and aesthetic and responsive, showcasing the features in the best way to the users and allowing them to have a great experience using the platform.
Step 3: Select features to add
Based on your project-specific requirements, add features to your Metaverse NFT marketplace. You can choose features from various options like storefront, decentralization, 3D display, social interaction element, interoperability, wallet integration, etc.
Step 4: Create smart contract
Metaverse smart contract runs on a blockchain protocol. Being decentralized, blockchain requires no intermediary to control the platform as it uses a smart contract to regulate and executes the operations. The smart contract you write should be reliable and aligned with the features that the marketplace intends to perform.
Step 5: Setup IPFS and database
The marketplace you create on the metaverse requires a decentralized storage for storing the user data and NFTs with high-end security, ensuring high efficiency and maximum security on the platform. For this, you need to set up IPFS and a database.
IPFS storage is set up to store the metaverse NFTs with their unique metadata and DB is set up for storing the user information and the NFT transaction information with its history.
Step 6: Integration
Once you create the required user interface as per the requirement and finish the smart contract coding to regulate the backend process, you need the marketplace backend with the front end by implementing buttons and various elements. Also, integrate other essential tools like wallet, browser extension, payment gateway, and dApps to make the marketplace operable.
Step 7: Testing, optimization and deployment
As the final step, you need to rigorously audit the smart contract to ensure that the marketplace serves the intended functions and there are no defects in the code. Before the mainnet deployment, the product should undergo multiple quality testing processes to identify bugs and other defects associated with the marketplace.
How can LeewayHertz help?
With extensive experience in creating Metaverse and NFT projects, LeewayHertz is committed to helping enterprises develop Metaverse NFT marketplace for diverse industries such as gaming, real estate, e-commerce, etc. Check out our complete range of Metaverse NFT marketplace development services:
NFT development
We enable the "token creation" feature in your Metaverse NFT to support the seamless creation of NFTs and tokens as per various token standards. The feature further allows the users to mint NFTs for digital assets.
NFT marketplace development
With keen expertise in the NFT marketplace development, our developers help enterprises create and launch various NFT marketplaces, including ready-to-deploy marketplaces. We design marketplaces that offer easy-to-use, keeping in mind both technical and non-technical users.
3D space development
We develop 3D immersive space using AR, VR, IoT, and 3D reconstruction technology. These spaces represent unique NFT marketplaces inside the metaverse, allowing the users to explore a more immersive persistent virtual environment.
Smart contract creation and optimization
To automate the execution of agreements on your Metaverse marketplace, we create a smart contract, test it, and perform optimization before the deployment.
Migration and upgrade
We help you migrate your NFT metaverse from one Metaverse project to another without affecting the performance or robustness of any process.
Conclusion
Metaverse and NFTs complement each other, generating better growth opportunities for businesses. Therefore, it's time for enterprises to invest in this futuristic technology and built NFT marketplaces and metaverses with high-end features. It helps them provide their users with a more enhanced experience of exploring the offered products and services across a 3D immersive and realistic world.
If you are looking to build or optimize a decentralized Metaverse project, we are happy to discuss your project requirements. Please connect with our metaverse experts to discuss more.
Start a conversation by filling the form
Once you let us know your requirement, our technical expert will schedule a call and discuss your idea in detail post sign of an NDA.
All information will be kept confidential.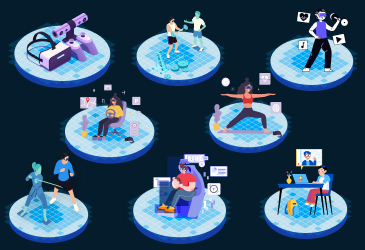 The disruptive innovation of metaverse mixed-reality learning environments can dramatically improve training, development and real learning.
read more