Evolution in technology is essential to improve various areas of the digital world and enhance our extended reality experiences. Metaverse is one of extreme technological progression. Just a decade ago, our capacity for digital communication was limited to voice calls and text messages, and now, with the metaverse, we're exploring possibilities on an entirely different tangent.
Big technologies together recreated the basic concept of the metaverse and introduced a more mature 3D world, which can enable an immersive digital experience for the people. Metaverse is now building a new age of the internet, encouraging the masses to gear up to gain benefit from the internet's next iteration.
Metaverse is currently trending with more people becoming aware of its application, yet people still struggle to understand the formation of the metaverse. Therefore, let's discuss all the technologies powering the metaverse and leading to the creation of futuristic metaverse projects. In addition, we will briefly examine the origin and the evolution of the metaverse.
Origin of the Metaverse
What is metaverse? Answering this question is not challenging for most people nowadays. One can now easily describe metaverse as a highly immersive internet where users can access augmented reality and virtual reality-based persistent environments and access the offered utilities through their unique avatars and other digital technologies.
However, people might seem confused if they are asked to demonstrate the origin of the metaverse. Hence, let's discuss it first. Although scientists have utilized the underlying 3D and VR concept of metaverse since the early 80s, the exact term "Metaverse" first appeared in Neil Stevenson's novel- published in 1982. The characters in this novel could visit a virtual world to escape the real world, which dominates them.
Later in the early 90s, a company named Sega introduced VR gaming devices, including the SEGA VR-1 motion circular, designed to create adventurous experiences for the players in arcades. All these inventions are considered the origin of the metaverse, but the metaverse became a common talk among the masses mainly when Facebook announced its rebranding to the Meta.
Evolution in the Metaverse
Evolution in the metaverse is consistent. Let's look at the changing metaverse trends to understand how technologies have aided metaverse development, allowing it to become better and feature-rich to align with the ever-changing industry requirements.
Facebook rebranded its name to Meta and invested millions of dollars in Reality Labs; a specific division focused on building mega Metaverse projects and content associated with it.
Microsoft announced its metaverse-based alternative, Microsoft Mesh, allowing the users to explore immersive 3D spaces and connect further on a common digital space where all the functionalities of Microsoft are integrated for the simplest utility.
Inspired by the popular crypto-based game- second life, a creative team of developers- Estaban Ordano and Ari Meilich, launched the first decentralized metaverse based on the gaming niche. Moreover, the platform is planning to enable interoperability elements in its mechanism.
After years, blockchain is now set to completely transform the centralized concept of metaverse projects, decentralizing the infrastructure of the metaverse. Many innovative metaverse projects continue to land in the metaverse's digital space, ranging from gaming and e-commerce to real estate.
Why understanding Metaverse technologies is essential?
Businesses are raving about the various advantages of the metaverse. They are ready to invest in building digitally enhanced immersive worlds to stay aligned with the latest industry trends and better showcase their products & services.
Regardless of their industry type, every enterprise should be aware of the various aspects of the metaverse, as it is essential to shallow point metaverse's driving force in the business ecosystems, what impact it provides on the users, and how it connects our real world with the virtual world.
Also, understanding the technical aspects of the metaverse development is required to look into the different angles of this shared, open and persistent virtual world for further development of innovation-rich and futuristic projects. With a perfectly-curated project, businesses can bring audiences into the Metaverse and engage them to discover more effective growth opportunities.
Businesses also need to keep up with the metaverse landscape to design their project that corresponds to the latest development trends for maximum impact on the users and targeted audiences.
What are the key technologies powering the Metaverse?
People often define metaverse as a combination of virtual reality (VR) and augmented reality (AR) technologies, but metaverse development is beyond these two basic technologies. Projects like Axie Infinity and Decentraland present the best example of utilizing mainstream technologies into converging the real world with the virtual world.
Among the various technologies powering the metaverse, blockchain plays a crucial role. From providing a decentralized infrastructure to metaverse to supporting the development of powerful use cases for its ecosystem, Blockchain technology has the potential to make metaverse projects compatible with Web 3, which is the next phase of the internet. For that reason, we will emphasize blockchain technology more and deeply examine it.
1. Blockchain
Metaverse can be centralized, such as Facebook and Microsoft's metaverse. However, blockchain technology and its use cases like NFTs and cryptos aim to replace the centralized concept of metaverse with a powerful and decentralized infrastructure.
Blockchain further plays a vital role in metaverse development because the future of the web, i.e Web 3.0 is all about decentralization. Thus, to sustain a decentralized web, even metaverse projects need to be built as decentralized platforms. Blockchain technology can impart decentralization into metaverse projects. Following are the decentralized elements that blockchain offers for the metaverse:
Storage
The decentralized blockchain database provides far more extended storage capacity than the centralized storage system. By utilizing users' unused hard disk space worldwide, blockchain avoids users in the metaverse running out of space. Decentralized storage also helps in fixing other shortcomings of the centralized storage system, like third-party involvement and potential unethical activities such as data stealing and file manipulation.
Security
Data on the metaverse is stored in exabytes, raising security concerns among the users regarding safe storage, data transmission, and synchronization. Blockchain addresses these concerns through its decentralized storage capacity and powerful data processing and validation nodes.
Trust
Information on the blockchain, such as user data, ownership details for the virtual content, authorization keys, and transaction details, are stored in an encrypted form. These data are verifiable through decentralized consensus, with no third-party having access to it. Only the nodes can read and verify these data to maintain trust and authenticity.
Complete decentralization
The decentralized ecosystem of metaverse enables thousands of nodes to run independently to allow synchronization. The metaverse can never experience issues like a single point of failure, limited scalability, or delay in process execution.
Smart contracts
Through smart contracts, metaverse can create and implement various rules related to the ecosystem's operation. These contracts are self-executing, which means the contract between two participants is marked as "Done" if the predetermined condition or rules inside the contract are met.
Interoperability
Blockchain enables interoperability across various metaverse projects, allowing them to interact seamlessly and perform actions like sharing arbitrary data, related information, and resources.
Blockchain use cases supporting the Metaverse
Blockchain can be applied in many ways to develop and operate a metaverse project. Below are some of the top use cases that enterprises should know:
NFTs
Gaming-based metaverse projects represent a major part of the overall metaverse projects existing on its horizon. For such projects, NFTs take up a vital role with their ability to offer immutable digital proof-of-ownership. When integrated into the metaverse, NFTs regulate activities related to the trading of digital assets, representing the users' unique avatars, building a digital economy through cryptos, etc.
Cryptos
Being the depiction of the real world, the metaverse enables users to perform every activity inside this virtual world that is possible around us. These activities can include meeting people, traveling to different places and engaging in trade activities. A global currency is required to power all such activities, which can be achieved with crypto. Any monetary transaction on a metaverse can be powered by crypto. Users can utilize this money to pay for utilities, both in the virtual and the real world.
Self-identity authentication
Verifying a person's identity requires any government-issued identity card, social security number, passport, etc. In the metaverse, users' self- identity authentication works quite similarly. All the data about the users, such as body appearance, activity, age, and other unique characteristics, are safely stored across the distributed ledger where nodes validate these data. It prevents the risk of false activities inside the metaverse. For instance, an Avatar can commit illegal actions by acting as someone else's avatar.
Technology stack for blockchain development 
Front-end development refers to the development aspect that focuses on visual elements of a decentralized application that users will interact with.
JavaScript-based framework; React-native.
HTML
CSS
Websocket
Web3js
Backend development- The backend of any blockchain-based solution is mainly the smart contract where the code runs across a decentralized peer-to-peer network to regulate the dApp.
Solidity
Rust
Node.js
React Native
DocumentDB
MongoDB.
Auth0
Web3js
2. AR and VR technologies
Augmented Reality and Virtual Reality are the access point for the metaverse. Both these technologies are the gigantic engines required to support the creation of the metaverse project that can facilitate immersive experiences and a more engaging three-dimensional digital world for the metaverse.
Virtual reality technology provides users with a connected experience in the metaverse. A shared meeting stands as one of the best examples demonstrating the use of VR technology in enabling connected experiences. With time, VR technology is utilizing other big technologies to evolve its existing application and enhance the ability of Metaverse to provide engaging and immersive 3D experiences.
On the other hand, augmented reality expands the use of virtual reality. Let's take an example of a brand selling racing cars in their VR showroom inside the metaverse. Through VR, brands can only offer a virtual representation of the cars inside the store available in the metaverse. However, augmented reality allows the buyers to go for a digital test drive and test the car personally before buying.
Comprehensive development services to help you lead the future-ready Metaverse projects.
Launch your metaverse project with LeewayHertz
Technology stack for extended reality- AR/VR development
Unity- A feature-packed development platform for creating real-time events while supporting multiple OS- Windows, macOS, and Linux as well as 14+ platforms, including desktop, mobile, console, and VR devices.
Unreal Engine- Open and advanced real-time 3D editor designed to create photorealistic and immersive events for diverse projects, from gaming to media & real estate.
ARToolKit- An open-source and free library that offers features like automated camera alignment, multi-language support, and compasses support to develop real-time applications.
Google ARcore- A Google-owned toolkit with features such as environmental comprehension, light estimation, and motion tracking that pair well with the new-age tools; Unity and Unreal to support the development of AR and VR solutions.
Apple ARkit- Toolkit enables the developers to activate image filters and facial expressions of the 3D characters, and it enhances lightening in digital objects.
Maxst AR- A plugin that allows the maps to extend as per the camera's movement and even beyond the camera to create an enhanced, vivid experience on extended reality solutions.
3. Artificial Intelligence
Artificial intelligence is another important powering the metaverse development. By implementing AI, enterprises replace human activities with computer-controlled automated actions. The most common application of AI for businesses is fast computing, identity verification through facial recognition, analytics, and scaling better strategies. Talking about the AI's application in the metaverse, it supports the creation of 2D and 3D based Avatars as per the specific characteristics of users.
AI again makes these Avatars realistic, powering them with the ability to learn human body language and conversation style. The same feature also helps metaverse build automated assistance to respond to the users' queries via chat in the VR spaces.
The application of AI makes language processing easy on the metaverse, allowing users of different languages to explore the metaverse's horizon and utilize its benefits. Information entered in any language will first undergo a breakdown performed by AI to transform the original language into machine-readable language, read it, and translate it into the desired language.
Technology stack for AI development
AWS sage maker: Amazon web service-based public cloud provides essential tools to build, optimize, and deploy artificial intelligence and machine learning models.
TensorFlow: An open-source library launched by Google for deep learning and traditional application development.
Scikit-Learn: A key library built to support Python programming languages, typically used in machine learning and artificial intelligence.
4. 3D Reconstruction
Since metaverse depicts the real world, it should offer realistic virtual spaces built using 3D reconstruction technology. This technology support creation of photorealistic objects like building, a high-definition 3D environment and physical locations inside the metaverse abiding by the basic laws of science and physics.
Although 3D reconstruction in virtual product development is quite a mature concept, its approach to the application has evolved throughout these years. Industries like real estate and e-commerce create natural and realistic virtual spaces and integrate them into the metaverse, allowing users to enjoy experiences close to the real world.
Companies can help their potential customers examine a property through virtual tours, evaluate it, and buy it for real estate. Metaverse allows real-estate owners to sell properties without the need for face-to-face interactions. Likewise, e-commerce brands have launched virtual stores where buyers can examine products and make a good buying decisions. For instance, a clothing brand can offer fitting rooms and showrooms that resemble the real showrooms.
Technology stack for 3D development
Unreal Engine
Unreal Engine is an open and advanced real-time 3D development tool for creating next-generation 3D projects, interactive visuals, and custom VR projects. The latest version of Unreal Engine 5 offers the following features:
Open world toolset
Next-generation real-time rendering
Built-in advanced animation tool and characters
Enhanced UI editor and much more
Unity
Unity is a complete solution for real-time 3D, AR & VR, from ecosystem tools, community, and support to assist professionals in creating immersive 3D projects. With Unity, you enjoy:
Unity pro- a most advanced 3D editor
Unity gaming services- tools and resources to take your gaming projects to the next- level
Inhouse artist tools and well-curated documentation.
CRYENGINE
CRYENGINE is a popular 3D development tool designed to assist game developers. This tool also works as a powerful VR development tool that can support many platforms and offer the following features:
Development of stunning visuals and lifelike characters.
Support the development of simple and feature-rich VR apps.
Offers built-in audio solutions to enable the creation of highly immersive digital experiences.
5. IoT- Internet of things
IoT is a technology that acts as a medium connecting the real world with the internet via sensors and devices. For the metaverse, IoT boosts the connection between the metaverse and real-world objects or devices. Once connected to the metaverse, these devices can seamlessly share and receive information to make the metaverse a more efficient replication of the physical world.
IoT further provides metaverse with the real-time data collected from the real world. By utilizing such data, the metaverse can enhance the accuracy of the activities happening inside its virtual world and make them relevant to the current atmosphere or the situation in the real world.
Regarding these roles of IoT in the metaverse, we can call them supplementary to each other. Some experts have even named them a technology-twin as they continue to find new ways to power each other. Both help the world make better data-driven decisions in less time with minimal energy and resources required.
Implementing IoT can seamlessly connect the 3D world to many real-life devices, enabling the creation of real-time simulations in the metaverse. For further optimization of the metaverse, IoT can pair with AI and machine learning technologies and effectively manage the data.
Technology stack for IoT development
MQTT
A standard messaging protocol designed to connect remote devices using minimal network bandwidth and minor code footprint.
Azure IoT hub
Azure IoT hud, commonly known as Microsoft's IoT connector for the cloud, is a fully Microsoft-owned cloud service that enables a seamless connection between many IoT devices to a solution backend.
AMQP
An advanced standard protocol that enables synchronization across a wide range of systems and applications, allowing them to work together and ensure that message reaches the intended customers.
Lorawan
Lorawan is a networking protocol with low-power features that enables more efficient IoT deployments and ensures uninterrupted communication across the end node and network gateway devices.
Conclusion
Metaverse is yet not completely mature in terms of development. Tech experts are researching strategies and testing the various technologies to develop ideas that provide the world with more feasible and intriguing metaverse projects.
Projects like Decentraland, Axie Infinity, and Sandbox are popular contemporary live metaverse projects. People behind these projects made perfect use of notable metaverse technologies, from blockchain and cryptos to NFTs.
As envisioned by top tech futurists, many new technologies will empower the metaverse in the future, which will support the development of a range of profolic use cases that will improve the ability of the metaverse towards offering real-life functionalities. In a nutshell, the metaverse is expected to bring extreme opportunities for enterprises and common users. Hence, it will shape the digital future.
If you are looking to build your decentralized metaverse project or build a virtual space to integrate into the metaverse. In that case, we are happy to connect with you and discuss further project requirements. Please connect with our metaverse experts to start the conversation.
Start a conversation by filling the form
Once you let us know your requirement, our technical expert will schedule a call and discuss your idea in detail post sign of an NDA.
All information will be kept confidential.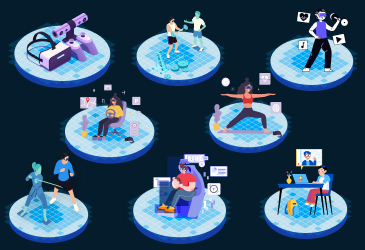 The disruptive innovation of metaverse mixed-reality learning environments can dramatically improve training, development and real learning.
read more