SwapNow
White label Crypto Swap Platform
Launch your own crypto swap platform with our white label solution- SwapNow. Reinforced with institutional-grade security and industry-leading features, our white label crypto swap exchange facilitates fast crypto swaps for limitless exchanges.
Launch Your Own Crypto Swap Platform
Our white label crypto swap platform is a ready-to-deploy solution, enabling rapid time-to-market. It offers a simple and user-friendly interface for your users to swap cryptocurrencies in a 1-2-3 process. Our white label crypto platform, designed for mass usage, does not overwhelm users with complicated graphs but provides Web2 familiarity in its UX.
How Our Crypto Swap Platform Works?
Give your users the convenience of 3-steps easy swap
1. Select an exchange pair
2. Confirm details to make a deposit
3. Receive exchanged crypto
Fast Transactions
Facilitates swap within exchange pairs in less than a few minutes
Limitless Swaps
There is no upper limit to how much crypto can be swapped.
Cross Chain Swaps
Allows for cross-chain swaps for all popular cryptocurrencies
Non-custodial
Retains user's privacy and guarantees security by not controlling funds
Fixed or Floating Rates
Provides users the flexibility to choose the floating rate or a fixed rate
Integration
Integrable with all kinds of wallets, DeFi exchanges, and trading platforms
Why Launch Your Crypto Swap Platform?
Crypto Mass Adoption
The convenience and ease of swapping enhance crypto liquidity, similar to fiat currencies, promoting crypto mass adoption.
Profitable Coexistence
Blockchain ecosystems need crypto swap platforms to co-exist and cater to dynamic market demands.
New Projects Interest
Swapping platforms attract new crypto projects to list their tokens in trading pairs to widen their markets.
Swap
With just one click, users can conveniently initiate the swap while previewing information like the conversion rate for the exchange pair and the amounts paid and received.
Market
Users from a single dashboard can view the market insights and learn about the most popular tokens, the top exchange pairs, total value locked, etc.
Pool
Users can monitor the entire pool value, volume, fees, and returns for any chosen exchange pair. The contribution by each token in the pair is highlighted by the pool composition.
Bridge
Users can conveniently create bridges for their swaps simply by selecting the 'source' and 'target' chains, the token, destination address and amount.
Once you let us know your requirement, our technical expert will schedule a call and discuss your idea in detail post sign of an NDA.
All information will be kept confidential.
What is a cryptocurrency swap platform?
A cryptocurrency swap platform allows users to exchange one cryptocurrency for another without the need to go through a centralized exchange. Users can directly do this or can use smart contracts for exchanging.
How do cryptocurrency swap platforms work?
Cryptocurrency swap platforms connect buyers and sellers of cryptocurrencies and facilitate the exchange of one cryptocurrency for another. In some cases, the platform may hold onto the cryptocurrencies during the exchange process to ensure the security and fairness of the transaction. 
What fees are involved in using a cryptocurrency swap platform?
Fees for cryptocurrency swaps primarily depend on the platform and the specific transaction it performs. Some platforms charge a percentage of the transaction as a fee, while others may charge a flat fee. Hence, it is important to carefully review the fees associated with a platform before using it.
What is a white-label cryptocurrency swap platform?
A white-label cryptocurrency swap platform can be branded and customized by a third party for its own use, while it can add its own branding with design features and functionality. You can build it on top of an existing cryptocurrency swap platform.
Why would a company use a white-label cryptocurrency swap platform?
Reasons to use a white-label cryptocurrency swap platform:
Save time and resources: Building a cryptocurrency swap platform from scratch can be time-consuming and expensive. A white-label platform allows a company to get a fully-functional platform up and running more quickly.
More control: A white-label platform allows a company to have more control over the branding and functionality of the platform, allowing them to better align it with their own business goals and objectives.
Offering a new service: Through a white-label platform, a company can enter the cryptocurrency market to offer a new service to its customers without investing in developing its own platform.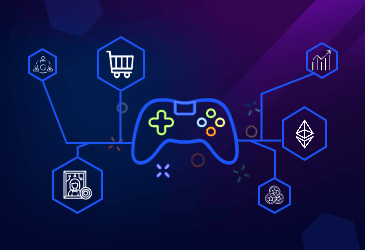 The core idea of web3 in gaming is decentralization. By incorporating blockchain technology, web3 games are all set to redefine gaming.
read more