Facebook's Libra Coin: Everything You Need to Know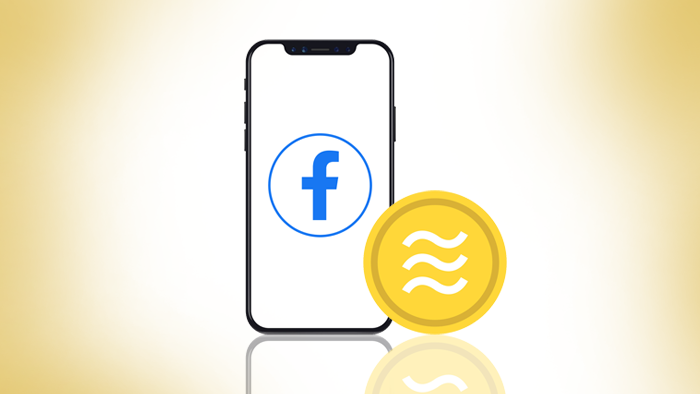 Facebook has recently announced its long-awaited cryptocurrency, Libra Coin which will be backed by low-volatility financial assets to maintain stability.
The cryptocurrency, Libra will allow people to buy things at local grocery stores or transfer money to others with nearly zero fees. While revealing the details, Facebook released its whitepaper, explaining their plans for a less volatile cryptocurrency, smart contracts platform and a new decentralized blockchain.
The newly announced cryptocurrency will also allow people to spend it via interoperable third-party wallet apps or Facebook's own Calibra Wallet that will be integrated into Facebook Messenger, Whatsapp and more of its apps.
Many people are thinking that Facebook fully controls Libra. There is a governance for the project called "Libra Association that also has other founding members, including Visa, Andreessen Horowitz and Uber. That is the reason why Facebook does not own full control over the Libra.
Each of these members has invested at least $10 million each into the project's operations, therefore, everyone has got a single vote in its governance to oversee the reserve of real-world assets giving its value, development of token and governance rules of the Libra Blockchain.
Along with cryptocurrency Libra, Facebook is also planning to launch a subsidiary company, Calibra that will manage the crypto dealings and protect users' privacy by never integrating Libra Payments into the Facebook data to prevent ad targeting. However, Calibra/Facebook and other members of the Libra Association will earn interest on the money users cash in and held in reserve to maintain the stability of Libra.
Facebook considered both a threat and an opportunity with a cryptocurrency. They kept the promise of disrupting the way the things are sold and bought by eliminating transaction fees associated with credit cards. This is quite close to Facebook's ad business which influences what is sold and brought.
It costs around 7% on average to transfer money internationally. Yet cryptocurrencies such as Ethereum and Bitcoin were not scaled to become a medium of exchange. The volatility rate in prices of these currencies made it difficult for merchants to accept it as a payment method.
It is the reason why cryptocurrencies miss out on much of their capability to transform financial services unless there is a criterion that will consider it as the dollar and experience of selling and buying is easy for the audience.
Facebook's relationship with 90 million small business groups and 7 million advertisers was well-poised to handle such issues. Therefore, Facebook considers making Libra the evolution of Paypal.
Libra is expected to become simpler to set up, more efficient with fewer fees, long-lasting with decentralization, more flexible and accessible to unbanked individuals.
Quoting the flexibility of the Libra, Facebook said in the Libra Documentation:
"Success will mean that a person working abroad has a fast and simple way to send money to family back home, and a college student can pay their rent as easily as they can buy a coffee."
Today, people usually get stuck paying rent via insecure checks while remittance services cost an average of 7% to send money abroad, charging $50 billion from users every year.
How does Facebook's cryptocurrency Libra Coin work?

By now you must have understood the fundamentals of Libra Coin. So, it's the time to understand it in much more details like what governs it, how will payments work and the wallets users will use.
Facebook came up with a governance team, known as Libra Association to bring the trust among users.
Libra Association
Facebook thought people would not trust the project and therefore, it recruited the founding members of the association to oversee the development of token and the reserve of real-world assets.
Each member of the Libra Association has invested a minimum of $10 million to connect to the network and become a validator node. Also, members of the association have gained one vote and are entitled to a share of the dividends from earned interest from the Libra reserve where users pay fiat currency to get Libra.
The Libra Association comprises of 28 soon-to-be founding members that include:
Technology and Marketplaces: eBay, Farfetch, Booking Holdings, Facebook/Calibra, Mercado Pago, Lyft, Uber Technologies, Inc. and Spotify AB.
Blockchain: Anchorage, Xapo Holdings Limited, Bison Trails, Inc. and Coinbase.
Payments: PayU, Mastercard, Paypal, Visa and Stripe.
Telecommunications: Vodafone Group and Iliad.
Nonprofit and multilateral organizations and academic institutions: Kiva, Women's World Banking, Mercy Corps and Creative Destruction Lab.
Venture Capital: Breakthrough Initiatives, Thrive Capital, Andreessen Horowitz, Ribbit Capital and Union Square Ventures.
Facebook expects to reach 100 founding members before it officially launches the Libra Coin and it's open for anyone meeting the requirements, including competitors such as Twitter and Google.
Based in Geneva, Switzerland, the members of the Libra association will meet biannually. They selected the country because of its strong support for financial innovation including blockchain.
What requirements should be met to join the Libra Association?
Must have a half rack of server space.
Internet connection of 100 Mbps or above.
Must reach 20 million people every year and/or be recognized as a top industry leader by a group like the S&P or Interbrand Global.
Must have enterprise-grade security and a full-time site reliability engineer.
Must have $500 billion in customer balances and hit two of three thresholds of a $1 billion USD market value.
The Libra Association will also recruit more funding members who will act as validator nodes for the blockchain. The association will also be responsible for fundraising to kick off the ecosystem, performing social impact grants and creating incentive programs to reward early adopters.
A representative from each member organization will help select the association's managing director who is responsible for electing a board of 5 to 19 top representatives and appointing an executive team.
Each member within the association will get 1% of total votes or only one vote, providing a level of decentralization that protects the ecosystem against anyone hijacking Libra for their own profits.
Avoiding dominion and sole ownership over Libra, Facebook avoids the need for extra scrutiny from regulators who investigate for privacy abuses. To prevent criticism from lawmakers, the Libra Association states:
"We welcome public inquiry and accountability. We are committed to a dialogue with regulators and policymakers. We share policymakers' interest in the ongoing stability of national currencies."
It is now clear how Libra Coin works and how the underlying association contributes to the Libra cryptocurrency.
Let's discuss the Libra Currency in a more detailed way.
The Libra Currency

The Libra coin is represented by a Unicode character of three wavy horizontal lines, ≋ like $ represents dollars. The value of Libra will always remain stable and therefore it is considered as a good medium of exchange.
Its value is associated with a basket of short-term government securities and bank deposits for historically stable international currencies like the dollar, euro, yen, pound and Swiss franc.
It is the responsibility of the Libra Association to maintain the basket of assets and they can even modify the balance of its composition if required to offset huge price fluctuations in any foreign currency to keep the value of Libra consistent.
Libra will be used in a way that you will cash some money and keep it in the form of Libra that you can spend for various purposes like online services and payment to merchants. It will provide you with the ability to trade in local currency for Libra and vice versa via wallet apps, including third-party apps, Facebook's Calibra wallet and local resellers like grocery stores.
How does Libra reserve work?

Each time a user cashes in dollar or their native currency, the money goes into the Libra reserve and Libra coins are minted based on that specific amount and are transferred to that user.
In case someone cashes out money from the Libra Association, the coins are burned and they get the equivalent in their local currency back.
Unliked pegged stablecoins that are tied to a specific currency like USD, Libra manages its own value that should cash out to the same amount of a cashed in currency over time.
Facebook teams played a significant role in the establishment of Libra Association and the Libra Blockchain. Also, they created a regulated subsidiary, Calibra to ensure isolation between financial and social data and to execute services on the top of the Libra network.
Blockchains are either permissioned or permissionless with respect to the ability to participate as a validator node, In a permissioned blockchain, access is provided to run a validator node. On the other hand, access is provided to anyone who meets the technical requirements to run a validator node in a permissionless blockchain.
In that way, Libra will initiate as a permissioned blockchain. But it is the goal of the association for the Libra network to become permissionless.
In both permissioned and permissionless state, the Libra blockchain will be an open network to everyone, be it a developer, a software development company, consumer or business. Anyone can develop products on the top of Libra blockchain.
We shall now discuss the features of Libra Blockchain and how it will bring transformation to the businesses.
Libra Blockchain

The Libra Blockchain will serve as a solid foundation for financial services. Based on the process of examining existing blockchain platforms, the Libra team decided to come up with a new blockchain platform on the basis of three requirements:
Highly secure to ensure the safety of financial data and funds.
Ability to scale to billions of accounts that require low latency, high-capacity storage system and high transaction throughput.
Flexibility to power the Libra ecosystem's governance and future innovation in financial services.
The Libra blockchain has been designed to address all these requirements and build on the learnings and innovative approaches from existing projects.
Following are the significant features of the Libra Blockchain:
It uses a Byzantine-Fault-Tolerant (BFT) Consensus Approach.
It can iterate on widely adopted blockchain data structures.
It uses Move Programming Language to implement custom transaction logic.
The Libra implemented the BFT approach to facilitate consensus among all validator nodes on the transactions to be executed and their order of execution. BFT brings trust in the networks as they are designed to operate correctly when some validator nodes, upto one-third of the network, are failed or compromised.
Move is a programming language that has been designed to implement custom transaction logic and smart contracts on the Libra Blockchain. With the Libra's goals to serve billions of people, Move is built with security and safety as the crucial priorities.
Also, Move can prevent assets from being cloned. It enables "resource types" that restrict digital assets to retain the same properties as physical assets. For example, a resource has a single owner, it can only be used once and the building of new resources is constrained.
Merkle trees, the data structure used by other blockchains, protect the data on the Libra Blockchain to store transactions securely. Unlike other blockchain platforms that view the blockchain as a chain of blocks of transactions, the Libra Blockchain is a single data structure that can record the history of transactions and states.
Being pseudonymous, Libra Blockchain allows users to have one or more addresses that are not associated to their real-world identity.
In order to encourage merchants and developers to work with the Libra, the association has planned to issue incentives to validator node operators.

The Libra Documentation has made everyone more excited and thrilled about their cryptocurrency, Libra that will be launched in the first half of 2020. Our team of blockchain developers is researching in-depth about the Libra Blockchain and planning to experiment with its potential in the coming months.
Start a conversation by filling the form
Once you let us know your requirement, our technical expert will schedule a call and discuss your idea in detail post sign of an NDA.
All information will be kept confidential.
Explore our curated list of top AI development companies and find the perfect partner to work with in order to make the most of the capabilities offered by AI.
read more