ICO Launch Services from Start to Finish
We design, develop and launch ICOs. Start outreaching in just 2 weeks.
Contact Us
Successfully raised over $20M for our clients and still counting
We are an end-to-end ICO services provider for all types of cryptocurrency startups. We do a 2-week sprint with you and your team to kickstart development and marketing efforts to go live and start raising funds. In first 2 weeks, our team develops smart contracts for pre-sale and crowd-sale. In parallel, we develop the website, landing page and also make a custom marketing plan to achieve the goals.
We have partnered with top ICO listing sites, forums, PR sites and therefore guarantee to get your ICO maximum visibility and quick traction. Our support team works round the clock to give you top notch service and answer every query that your investors might ask before being involved with your startup.
Decentralized "Identity Management System" on the Hedera Hashgraph to solve the global problem of Identity Management. Current identity management process hinders the access to basic and advanced services, like banking, health, insurance, immigration, utilities, etc. due to the common problems of Identity Thefts and Frauds.
LeewayHertz is managing the end to end ICO launch. Starting from Token creation, community management, and marketing, LeewayHertz is working closely with the MyEarthID team to complete a $30M initial coin offering.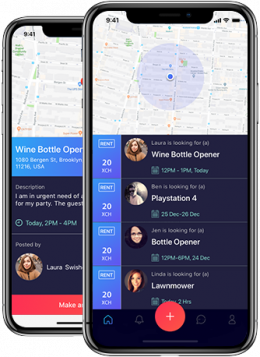 XChange is a barter system dApp developed on blockchain. XChange app is one of the biggest and revolutionary ideas in the shared economy on the blockchain platform.
We have completed website, app designs, Smart contracts, Crypto Wallet and Bounty program.
To launch a successful ICO you will require a professional landing page for token sale. A well-developed landing page consists of many informative sections and professional design to match the current cryptocurrency startup standards. Usually a crypto-landing page consist tokenomics, team, ICO schedule, product overview and timelines. We also integrated the landing page with the smart contract to display the live investor count, supply and amount raised.
Unique Design
Graphic Assets
Website LIVE
Result Manual  and Automated Testing
Our team consists marketing experts who can help you design a well-planned Bounty program. We understand that additional efforts like article writing, bug reporting, and language translation needs external help. We help you create a Bounty program that will get your tasks completed externally. We also provide an admin panel to manage the complete bounty campaign.
Bounty Program Document
Unique Designs
Graphic Assets
Website on Live Environment for admin and bounty seekers
Private Sale without Smart Contract
Private-Sale is a critical phase for an ICO. Before you move to the crowrdsale, our team of designers, developers and marketers will make sure that you are well prepared for the private sale and ready to pitch your startup to the investors.
Microservice for uploading the files on S3
Microservice for user authentication and management
Microservice for managing the other core features
Private-Sale Landing page
Design Assets
Admin Web portal
Smart Contract for Pre-Sale/Crowd Sale Token
Smart contract definition consist of various attributes Like Ownable, Mintable, Burnable, Transferable Soft Cap, Hard Cap, ICO Date, Bonus, and refund which will be finalized as part of the token definition document
Token Definition Document
Launch smart contract on 2 Test Network
Launch smart contract on Live Network
Github Setup
Result of Testing  on test network
White Paper is the most important document which should be precisely written to explain the Platform. We work as a team on the whitepaper development.
Final Design and layout of the white paper
Detailed White-paper
Light Paper
One Pager
Business Deck
Social Media setup involves setting up a clean and crisp profile with custom graphics and content.
Set up social media accounts
Graphic Assets
Website LIVE
Set up of ticketing system(Zendesk) and config the workflow
Set up the Hotline number
Support Community Management
Support the community on different social media platforms and crypto forums. Respond to helpdesk tickets and build the community trust.
Respond to queries by customers on various social media channels and blogs.
Reply to the comments on various communication channels
We will set up an emergency helpline number to be used by the client team internally but not for the external investors or customers
Growth Hack / ICO Marketing Services
Growth hacking is a process of rapid experimentation across marketing channels, and other areas of the business to identify the most efficient ways to grow a community and sales
Digital Strategy
Content Strategy
Influence Marketing
Website Marketing
Campaign Management
Email Marketing
PR & Outreach
Performance Marketing
Please fill the form, and we will contact you for a 30 minutes free consultation.