Machine Learning Development Company
Unlock the potential of data-driven intelligence with our machine learning development service. Whether you require data engineering expertise, need a pre-trained LLM fine-tuned, or seek to build and deploy powerful ML-based applications for optimizing operations, predicting trends, or enhancing customer experiences, our machine learning development service is meticulously designed to meet your unique demands.
Software Products Delivered
Total Years of Experience
Our ML Development Services
ML Consulting & Strategy Building
Whether you are looking to streamline processes, enhance customer experiences, or gain a competitive edge through ML, our expertise is what you need. We assess your existing tech infrastructure, identify opportunities for ML integration, and create tailored strategies for the successful implementation of ML solutions.
We help organizations adopt MLOps best practices and streamline workflows to ensure faster and more reliable development/deployment of ML models. We help select and configure tools for version control, testing, deployment, and monitoring, cutting model transition time from development to production.
Data Engineering
Our data engineering service ensures that your data used for machine learning model training is high quality and appropriately prepared for specific machine learning tasks. It entails a comprehensive suite of data engineering tasks that encompasses everything from data collection and cleaning to feature engineering and data augmentation.
Custom ML Model Development
We create domain-specific ML models by fine-tuning pre-trained models to address the unique needs of your business domain. Whether it's BERT, GPT or Llama 2, our team of experts ensures that your models deliver context-aware responses with the highest level of accuracy and precision.
ML-powered Solutions Development
Our data scientists and AI developers craft customized ML solutions to meet your unique needs. Our expertise lies in designing and implementing predictive models, recommendation systems, and other data-driven applications that optimize operations, elevate user experiences, and enable data-driven decision-making.
Integration Into Workflows
We ensure that our ML solutions seamlessly integrate into your existing workflows, making AI adoption effortless and efficient. We also offer comprehensive support and maintenance services designed to uphold peak performance for your ML systems, addressing any evolving needs or challenges that may arise over time.
Deep Learning
We specialize in deep learning, building solutions that imitate human cognition, making sense of complex data, and enabling breakthroughs in image recognition, natural language processing, and more.
Big Data Technologies
Our proficiency in big data technologies, including Hadoop and Spark, equips us to handle vast datasets and perform distributed computing, ensuring that no data challenge is too large for you to conquer.
Machine Learning Algorithms
We have a deep understanding of various ML algorithms, from supervised and unsupervised learning to reinforcement learning. This expertise allows us to select the most suitable algorithms for specific use cases.
Data Preprocessing
Our data preprocessing knowledge is your key to unlocking the full potential of your ML endeavors. With expertise in cleaning, transforming, and structuring data, we ensure your datasets are primed for effective model training.
Machine Learning Frameworks
Our proficiency in ML frameworks like TensorFlow, PyTorch, and scikit-learn empowers us to create and optimize models efficiently, accelerating the development and deployment of intelligent solutions.
AutoML
Our expertise in AutoML equips us with the capabilities to provide our clients with streamlined AI solutions that are not only efficient but also cost-effective, reducing the barriers to entry for businesses seeking AI integration.
Our Approach to Building Innovative Machine Learning Solutions
Assessment Phase
We assess your organization's existing state and needs to establish a sound ML strategy, laying a strong foundation for future success.
Strategy Development
We then formulate a coherent AI strategy tailored to your specific use case, encompassing critical considerations such as cost, timeline, security, and privacy.
Data Collection and Preparation
High-quality, pertinent data plays a pivotal role in ensuring ML success. Our meticulous data collection and preparation processes are designed to set the stage for effective model training.
Custom Model Development
We adapt an ML model to your business's specific needs by fine-tuning it with your proprietary data. This ensures that the model is attuned to your business's unique challenges and objectives, delivering optimal performance.
Model Integration/Solution Development
After fine-tuning the model, we leverage it to create solutions such as chatbots or recommendation systems, effectively streamlining and enhancing your workflow processes.
Integration Into Workflows
We make AI adoption a seamless experience for your business by integrating the solutions into your current tech infrastructure.
AI Models We Have Expertise In
GPT-4
A set of OpenAI models that can solve complex problems with high accuracy, thanks to its advanced reasoning capabilities and broader general knowledge.
LLaMA
LLaMA (Large Language Model Meta AI) is a foundational large language model designed to generate text, have conversations, summarize written material, solve math theorems or predict protein structures.
PaLM 2
The newest extensive language model from Google, stands out in performing intricate reasoning assignments, such as code interpretation, mathematical solutions, categorization, query responses, and translation with proficiency in multiple languages. This model highlights Google's commitment to responsible AI, surpassing previous capabilities in natural language generation.
Claude
Claude is a large language model (LLM) by Anthropic, trained as a virtual assistant that can be integrated with business workflows. Claude, accessible through both a chat interface and API in Anthropic's developer console, can perform an extensive range of conversational and text-processing tasks.
GPT-3
A set of OpenAI models capable of performing natural language processing tasks such as text generation, summarization, translation and question answering.
Davinci

Curie

Babbage

Ada
GPT-3.5
A set of OpenAI models, including the highly capable and cost-effective Gpt-3.5-turbo, that improve on GPT-3 and can generate text or code.
DALL.E
DALL·E by OpenAI generates realistic images and artwork based on text prompts. It can produce images of a specified size, modify pre-existing images and generate variations of user-provided images.
Whisper
Whisper is a general-purpose speech recognition OpenAI model that can perform language identification, speech translation and multilingual speech recognition.
Embeddings
OpenAI's Embeddings are numerical representations of linguistic units like words and phrases that capture the semantic meaning and relationships between them.
Moderation
Moderation models are machine learning OpenAI models designed to assist in content moderation tasks, such as identifying and removing inappropriate or harmful content from online platforms.
Stable Diffusion
Stable Diffusion generates detailed images from text prompts and can also be used for tasks like inpainting, outpainting, and image-to-image translations guided by text.
Bard
Google's Bard, powered by LaMDA, is a text-to-text generative AI chatbot designed to generate human-like responses to natural language prompts, making it capable of engaging in conversations with humans.
Our ML Development Technology Stack
Data Processing and Preparation
ML Libraries and Frameworks
Monitoring and Tracking Tools
Alliances & Partners
We strategically collaborate with a diverse ecosystem of partners and platforms, ensuring unparalleled flexibility and swift outcomes while maintaining quality and excellence.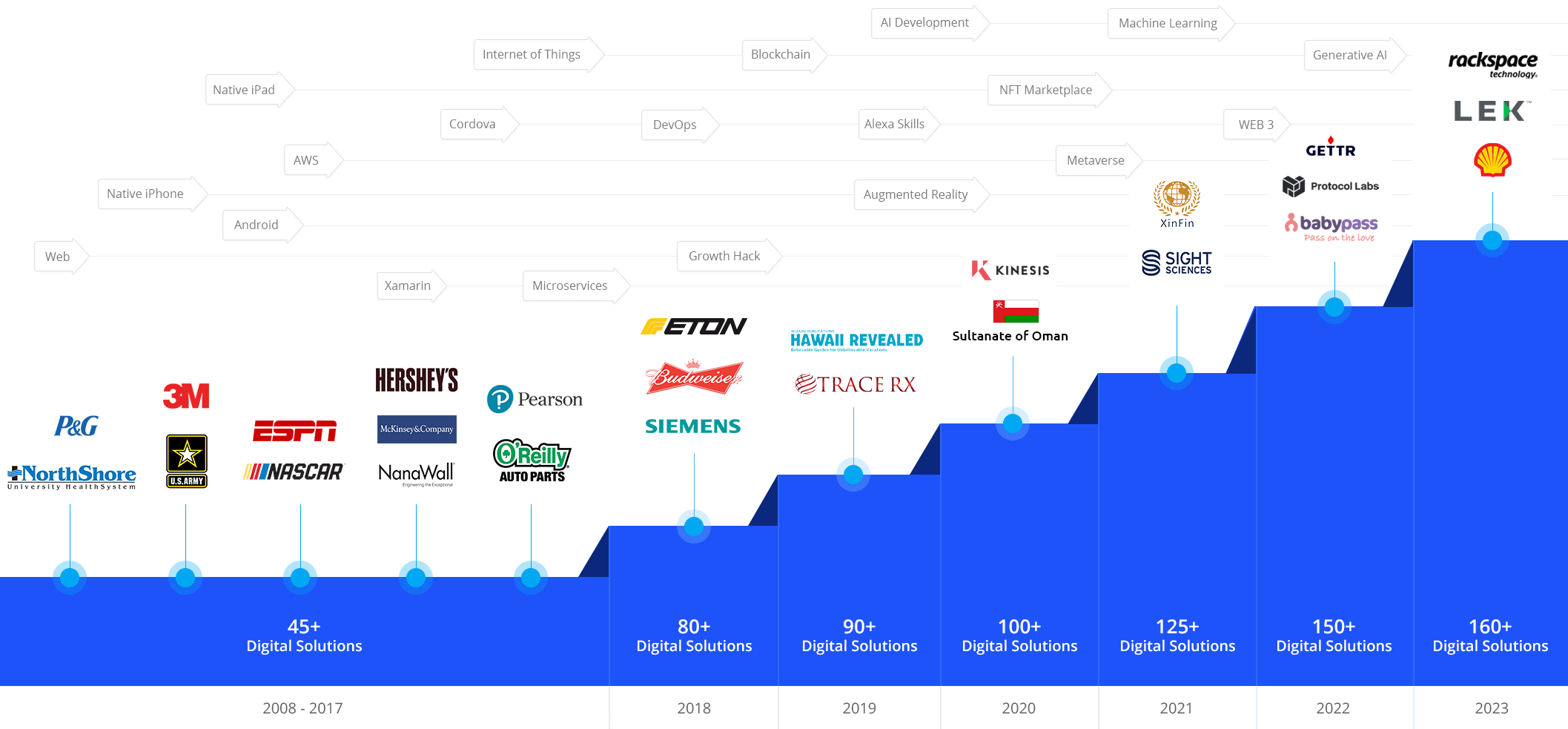 Dedicated Development Team
Our developers leverage cutting-edge cognitive technologies to deliver high-quality services and tailored solutions to our clients.
Team Extension
Our team extension model is designed to assist clients seeking to expand their teams with the precise expertise needed for their projects.
Project-based Model
Our project-oriented approach, supported by our team of software development specialists, is dedicated to fostering client collaboration and achieving specific project objectives.
1. Contact Us
Fill out the contact form protected by NDA, book a calendar and schedule a Zoom Meeting with our experts.
2. Get a Consultation
Get on a call with our team to know the feasibility of your project idea.
3. Get a Cost Estimate
Based on the project requirements, we share a project proposal with budget and timeline estimates.
4. Project Kickoff
Once the project is signed, we bring together a team from a range of disciplines to kick start your project.
Start a conversation by filling the form
Once you let us know your requirement, our technical expert will schedule a call and discuss your idea in detail post sign of an NDA.
All information will be kept confidential.
How can LeewayHertz help my business with machine learning development?
LeewayHertz boats extensive expertise in developing tailored machine learning solutions. We work closely with you to understand your unique needs, design custom models, and implement them to drive efficiency and innovation within your organization.
What industries can benefit from your machine learning development services?
Our services cater to a wide range of industries, including healthcare, finance, retail, manufacturing, and more. Machine learning can be applied to virtually any domain to optimize processes and uncover valuable insights.
What types of machine learning solutions do you develop?
We develop a variety of machine learning solutions, including predictive analytics tools for forecasting, classification tools for categorization, recommendation systems, natural language processing solutions, and more, tailored to your specific requirements.
What is the typical timeline for a machine learning development project?
The timeline can vary depending on the complexity and scope of the project. We work closely with you to define project milestones and provide estimated timelines during the initial consultation.
In what ways do you handle challenges related to the scalability of ML models when working with large datasets?
For large datasets, we employ distributed computing frameworks like Hadoop and Spark, ensuring scalability. We also leverage cloud-based solutions and parallel processing techniques to handle data challenges effectively.
What measures do you take to ensure that ML models remain accurate and relevant as industry trends and data evolve over time?
We regularly retrain and fine-tune models to adapt to changing data and industry trends. Our continuous monitoring identifies drift, and we maintain a strong feedback loop with clients to ensure model accuracy and relevance.
How do you manage the potential bias in machine learning models, and what steps are taken to ensure fairness and inclusivity in your solutions?
We actively address bias through data preprocessing and algorithm selection. Our team is trained to identify and mitigate biases. We also conduct fairness audits and employ techniques to promote fairness and inclusivity in our solutions.
Can you provide examples of the types of ML frameworks and algorithms you have successfully utilized for specific use cases?
We have a deep understanding of frameworks like TensorFlow, PyTorch, and scikit-learn, as well as various ML algorithms. For instance, we have used convolutional neural networks for image recognition and decision tree algorithms for predictive analytics tailored to specific use cases.
What level of customization and flexibility do you offer in terms of integrating ML solutions into an organization's existing technology stack or infrastructure?
Our solutions are designed to seamlessly integrate into your existing infrastructure, with customization options available to meet your specific tech stack and infrastructure requirements.
What data sources and formats do you typically work with, and how do you ensure data quality and integrity throughout the development process?
We work with a wide range of data sources and formats. Our data engineering expertise ensures that data is cleaned, transformed, and structured appropriately for ML tasks, maintaining data quality and integrity throughout the development process.
Do you provide ongoing support and maintenance for the machine learning solutions you build?
Yes, we offer ongoing support and maintenance to ensure that your machine learning solutions continue to perform optimally. We monitor and update models and solutions as needed to ensure they adapt well to changing data and business requirements.
AI-driven development seamlessly integrates artificial intelligence, particularly through machine learning algorithms and natural language processing, to comprehend, assist, and even generate code, thereby streamlining a developer's tasks and fostering the creation of superior-quality software.
read more