Blockchain Supply Chain
We offer Blockchain Supply Chain Solutions for startups and enterprises, helping them drive greater transparency and enhance traceability across the supply chain.

Why do you need blockchain for supply chain?
Leveraging the blockchain's potential to enhance transparency, scalability, and security, we help businesses transform their supply chain ecosystem. Our blockchain solutions add new value to the supply chain regarding inefficiencies of lack of interoperability and inconsistent data. We further focus on traceability and transparency as they are the most important logistics and supply chain foundations at scalar and global business networks.
LeewayHertz's Blockchain Supply Chain Project
Problem Statement:
TraceRX was looking to build a distributed ledger platform to provide end-to-end traceability across the supply chain of medicines through blockchain.
TraceRx CEO's Statement
I came to LeewayHertz because of their reputation in the software development space. When we expanded the project to incorporate blockchain not only did they not flinch, they got more enthused. They have been stellar at every step of the way working towards solutions that worked straight to the heart of the idea on a micro and macro sense. I have already recommended them many times and I will continue to do so. The members of LeewayHertz have always promptly returned my calls or emails irrespective of the time. I have found them to be consistently available and committed to addressing my needs.
Problem in the existing Supply Chain Management
Benefits of Blockchain for Supply Chain
Secure Interactions
Tracking of shipment to the right customer has been one of the major concerns for the shipment team. Blockchain acts as a single point of interaction between all parties in the supply chain where only chosen participants can access the data. Hence, shipment tracking can be assigned to a specific individual with permission access.
Fair Trading
Blockchain-based Supply Chain Solutions can verify the product's origin, materials, manufacturer, and more. Blockchain can help reduce counterfeit goods and support ethical trade, environmental protection, and human rights.
Resilient Supply Chain
Supply chains are usually restricted by one-down/one-up visibility. However, a blockchain supply chain solution offers a single, shared version of the truth and provides greater visibility at every step of the supply chain process.
Our Blockchain Supply Chain Work

LeewayHertz has successfully created a drug supply chain network, TraceRx, on blockchain for Humanitarian Disaster Relief Industry. Also called a Richmond SCORE award-winning platform built on Blockchain, TraceRx is a distributed ledger platform for tracing shipments of Drugs. It allows the UNO to trace the distribution of free drugs and identify inefficiency and losses. Built on the top of Hyperledger Sawtooth, the supply chain platform provides end-to-end transparency and reduces the distribution cost at all levels.
Blockchain Supply Chain Development Solution
LeewayHertz deploys blockchain in the supply chain that offers each network participant an updated and validated shared ledger. It enables transparency in activities and reveals where an asset is at any point in time, who owns it, what condition it is in.
Identify On-Chain and Off-Chain data
Brainstorm business entities involved

Define on and off-chain business entities

Define technical component

Roadmap of the product
Identify User Persona
Super Admin

Company Admin

Procurement Manager

Country Manager

End-user
Identify Components
Web Interface for Super Admin

Web Interface for Company Admin

Web Interface for Procurement Manager

Web Interface for Company Manager

Mobile Apps(Android / iOS) For Company Manager

Microservices

Blockchain Node – HyperLedger Sawtooth
Technology Stack
HyperLedger Sawtooth
Mobile Apps in Native SDK (iOS/Android)
WebApps in Andgular.JS/Node.JS
Microservices(Node.JS/MongoDB/MySQL)
Blockchain Platforms we work on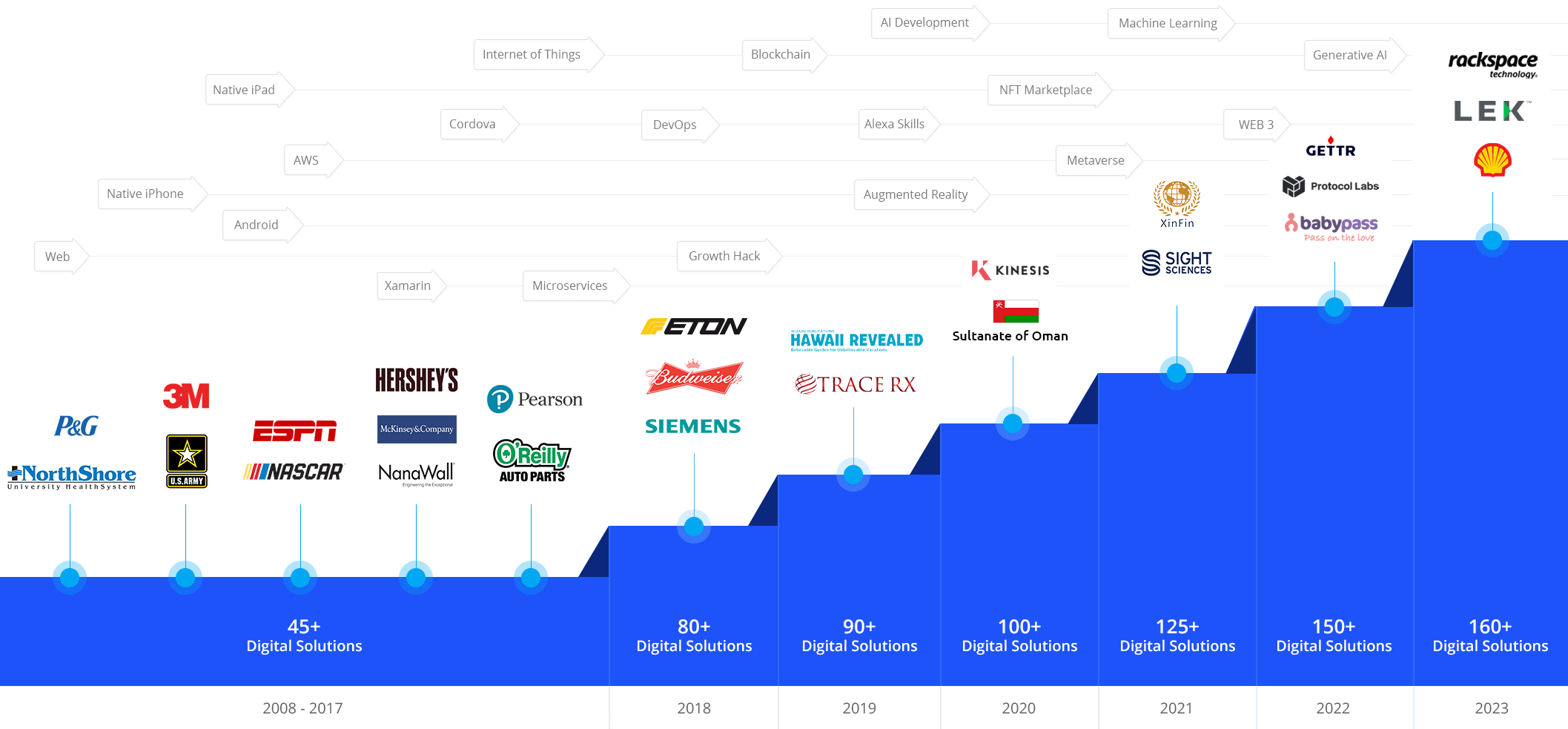 Meet Our Blockchain Experts
Dedicated Development Team
Our developers leverage cutting-edge cognitive technologies to deliver high-quality services and tailored solutions to our clients.
Team Extension
Our team extension model is designed to assist clients seeking to expand their teams with the precise expertise needed for their projects.
Project-based Model
Our project-oriented approach, supported by our team of software development specialists, is dedicated to fostering client collaboration and achieving specific project objectives.
1. Contact Us
Fill out the contact form protected by NDA, book a calendar and schedule a Zoom Meeting with our experts.
2. Get a Consultation
Get on a call with our team to know the feasibility of your project idea.
3. Get a Cost Estimate
Based on the project requirements, we share a project proposal with budget and timeline estimates.
4. Project Kickoff
Once the project is signed, we bring together a team from a range of disciplines to kick start your project.
Start a conversation by filling the form
Once you let us know your requirement, our technical expert will schedule a call and discuss your idea in detail post sign of an NDA. 
All information will be kept confidential.
Featured as Top Blockchain Development Company
Unreal Engine supports the development of highly immersive VR projects, especially gaming. Check the step-by-step tutorial on building an immersive virtual world.
read more