Hire Generative AI Engineers
Hire our team of generative AI engineers to explore and leverage the expansive capabilities of generative AI for your business. From developing domain-specific generative AI models, creating robust GenAI solutions, and integrating them within your infrastructure to providing expert consultation, our skilled generative AI engineers lead you through every facet of your AI journey. With deep knowledge of foundation models like GPT-4, LLaMA, and PaLM 2, our GenAI engineers are poised to craft a future of limitless possibilities through the seamless integration of technological advancements and human ingenuity.
Software Products Delivered
Total Years of Experience
Our Generative AI Engineering Services
Data Analysis
LeewayHertz's versatile generative AI engineers are proficient in data analytics and machine learning model training. Leverage their expertise to fully unravel the possibilities within your data. With expertise spanning statistics, programming, and data visualization, our GenAI engineers empower enterprises to navigate complex data, extract insights, and refine data strategies effortlessly.
Domain-specific LLM Development
Experience AI that speaks your business language with domain-specific LLMs. We start by understanding your specific domain, data and business requirements. Our experts then fine-tune a foundation model with your proprietary data, ensuring it grasps the intricacies of your industry's language and provides unmatched relevance in understanding and generating content within your domain.
Generative AI Solution Development
Whether you aim to streamline intricate workflows, tailor your engagement strategies, or enhance your customer-facing systems, our generative AI solutions can cater to your needs. Our generative AI development process encompasses everything from conceptualization and design to extensive testing and deployment, all aimed at ensuring that the solution meets your specific needs.
Strategy Development and Consulting
Our generative AI engineers offer strategy building and consulting services to help you make informed decisions about your AI endeavors. From assessing technologies and crafting implementation roadmaps to mitigating risks and ensuring scalability, we cover everything to empower your business with strategic insights, all while staying attuned to evolving trends and your business needs.
Integration and Optimization
Our generative AI engineers meticulously weave genAI solutions into your existing workflow, ensuring a seamless fit within your organization's processes. Moreover, their expertise goes beyond integration, as they optimize the solutions for peak performance and maximum value, delivering an all-encompassing approach to enhance your organization's efficiency and productivity.
Performance monitoring and maintenance
Our experts specialize in the ongoing care and optimization of the GenAI systems we build for our clients. We provide comprehensive services that encompass regular model updates, fine-tuning, and performance monitoring to keep your GenAI systems at their peak efficiency. This enables them to remain a valuable asset for your business, delivering high-quality results and adaptability to meet your evolving needs.
Why Hire LeewayHertz for Generative AI Engineers?
Collaborative Excellence & Problem-solving Skills
Hire our generative AI engineers for their collaborative excellence and adept problem-solving skills, ensuring innovative solutions and seamless teamwork for your project's success.
Knowledge of ML and Other Relevant Technologies
Our generative AI engineers have deep knowledge of technologies like ML, deep learning, and neural network architectures to create genAI models/solutions that can generate creative and contextually relevant content.
Proficiency in Key Generative AI Tools
With expertise in Python, frameworks like TensorFlow and PyTorch, and advanced models like DALL-E, Midjourney and ChatGPT, our generative AI engineers build top-notch generative AI solutions and custom models.
Expertise in Generative AI Algorithms
Our generative AI engineers possess profound expertise in key machine learning algorithms, including GANs, VAEs, and RNNs, guaranteeing solutions meticulously customized to your specific requirements.
Knowledge of Data Mining and Analytics
Our generative AI engineers exhibit a robust grasp of mathematical fundamentals, encompassing linear algebra, calculus, probability, and statistics, pivotal for proficient data mining and analytics.
Commitment to Excellence
Driven by a passion for innovation and excellence, our generative AI engineers are dedicated to ensuring optimal outcomes for every generative AI project from its inception to completion.
The Process Our Engineers Follow to Develop Generative AI Solutions
Requirement Assessment
Identify and document the specific needs, objectives, and constraints of the project. It's crucial to understand what stakeholders expect from the final product or system.
Strategy Building
Develop a strategic plan outlining the generative AI model selection, training approach, resource allocation, and deployment strategy tailored to the project's goals.
Design and Development
Detailed specifications and architectural designs for the solution are crafted, followed by its development using a fine-tuned model, ensuring its alignment with the client's unique requirements.
Testing
Rigorously test the generative AI solution, improving it through iterative cycles to ensure better output quality and minimize biases.
Deployment and Optimization
The generative AI solution is deployed into the production environment, and continuous optimization efforts are undertaken to enhance its performance and output quality.
Integration and Support
Integrate the generative AI solution into the client's existing ecosystem, followed by ongoing support and maintenance to ensure its alignment with evolving requirements.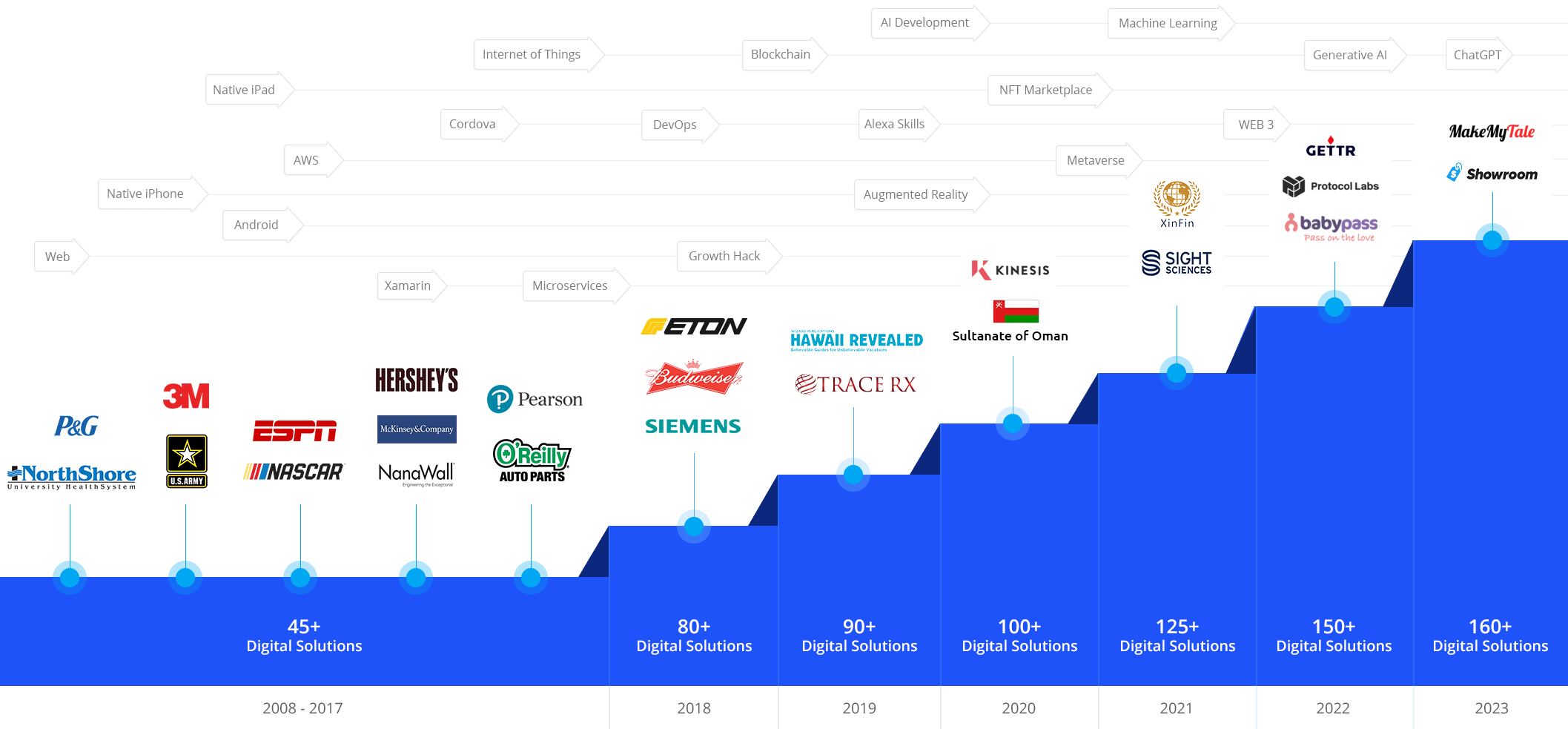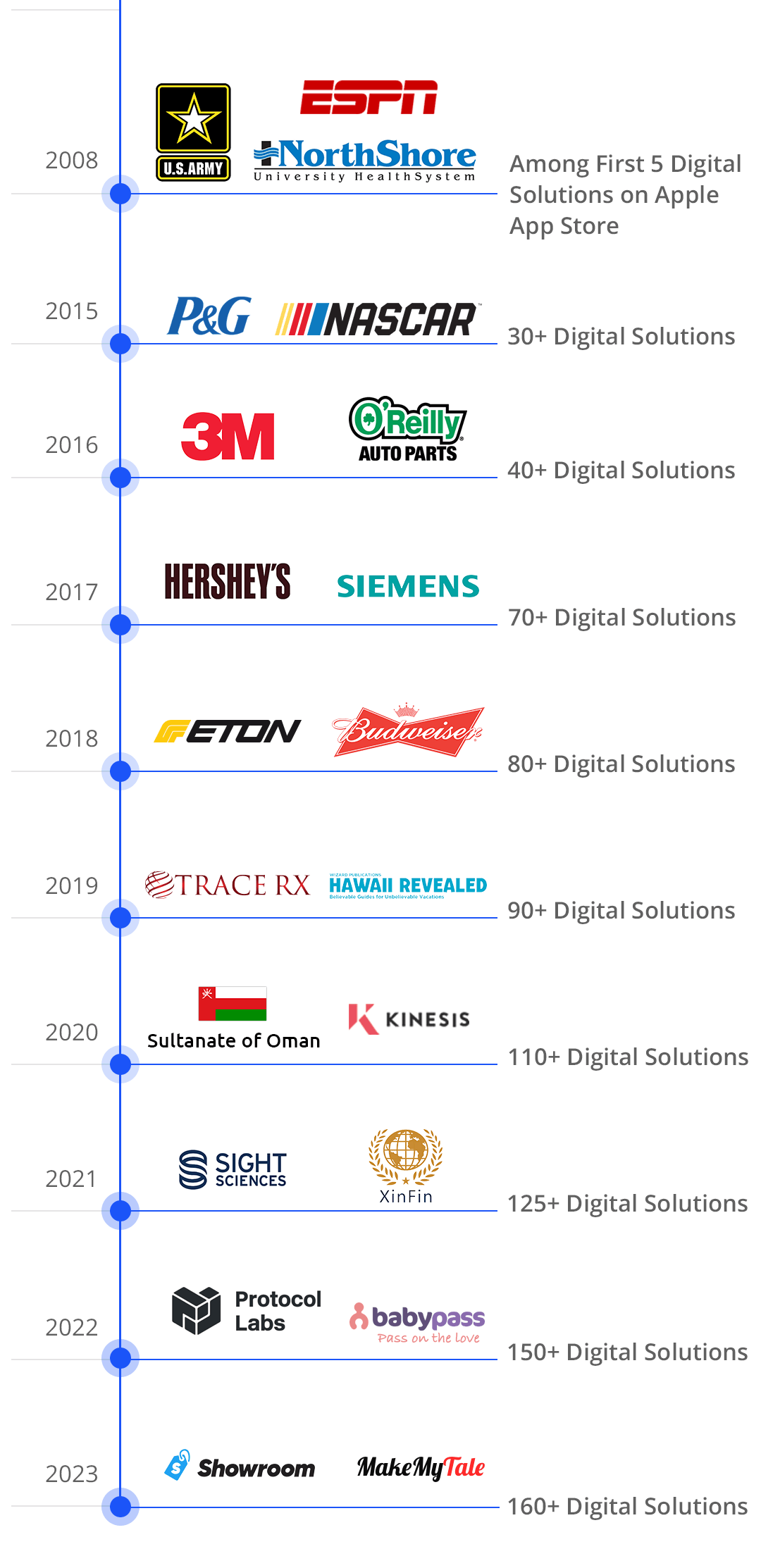 AI Models We Have Expertise In
GPT-4
A set of OpenAI models that can solve complex problems with high accuracy, thanks to its advanced reasoning capabilities and broader general knowledge.
LLaMA
LLaMA (Large Language Model Meta AI) is a foundational large language model designed to generate text, have conversations, summarize written material, solve math theorems or predict protein structures.
PaLM 2
The newest extensive language model from Google, stands out in performing intricate reasoning assignments, such as code interpretation, mathematical solutions, categorization, query responses, and translation with proficiency in multiple languages. This model highlights Google's commitment to responsible AI, surpassing previous capabilities in natural language generation.
Claude
Claude is a large language model (LLM) by Anthropic, trained as a virtual assistant that can be integrated with business workflows. Claude, accessible through both a chat interface and API in Anthropic's developer console, can perform an extensive range of conversational and text-processing tasks.
GPT-3
A set of OpenAI models capable of performing natural language processing tasks such as text generation, summarization, translation and question answering.
Davinci

Curie

Babbage

Ada
GPT-3.5
A set of OpenAI models, including the highly capable and cost-effective Gpt-3.5-turbo, that improve on GPT-3 and can generate text or code.
DALL.E
DALL·E by OpenAI generates realistic images and artwork based on text prompts. It can produce images of a specified size, modify pre-existing images and generate variations of user-provided images.
Whisper
Whisper is a general-purpose speech recognition OpenAI model that can perform language identification, speech translation and multilingual speech recognition.
Embeddings
OpenAI's Embeddings are numerical representations of linguistic units like words and phrases that capture the semantic meaning and relationships between them.
Moderation
Moderation models are machine learning OpenAI models designed to assist in content moderation tasks, such as identifying and removing inappropriate or harmful content from online platforms.
Stable Diffusion
Stable Diffusion generates detailed images from text prompts and can also be used for tasks like inpainting, outpainting, and image-to-image translations guided by text.
Bard
Google's Bard, powered by LaMDA, is a text-to-text generative AI chatbot designed to generate human-like responses to natural language prompts, making it capable of engaging in conversations with humans.
Machine Learning Frameworks
Natural Language Processing
Dedicated Development Team
Our developers leverage cutting-edge cognitive technologies to deliver high-quality services and tailored solutions to our clients.
Team Extension
Our team extension model is designed to assist clients seeking to expand their teams with the precise expertise needed for their projects.
Project-based Model
Our project-oriented approach, supported by our team of software development specialists, is dedicated to fostering client collaboration and achieving specific project objectives.
1. Contact Us
Fill out the contact form protected by NDA, book a calendar and schedule a Zoom Meeting with our experts.
2. Get a Consultation
Get on a call with our team to know the feasibility of your project idea.
3. Get a Cost Estimate
Based on the project requirements, we share a project proposal with budget and timeline estimates.
4. Project Kickoff
Once the project is signed, we bring together a team from a range of disciplines to kick start your project.
Start a conversation by filling the form
Once you let us know your requirement, our technical expert will schedule a call and discuss your idea in detail post sign of an NDA.
All information will be kept confidential.
What roles LeewayHertz's generative AI engineers perform?
LeewayHertz's generative AI engineers excel at crafting domain-specific generative AI models that generate unique outputs relevant to your business, spanning visuals, text, and music. Through advanced techniques such as deep learning, our experts enable machines to emulate human-like creative abilities. Beyond this, our team specializes in building genAI solutions tailored to your specific needs. We seamlessly integrate these solutions into your existing tech infrastructure and provide comprehensive consultation to ensure their optimal utilization.
How can generative AI benefit my business?
Generative AI can help in automating content creation, optimizing designs, personalizing user experiences and more. Thus, engaging generative AI engineers can enhance various facets of your business, not just content production. They create custom genAI models and solutions that help streamline processes, enhance productivity and efficiency, resulting in considerable cost savings. Drawing from their extensive experience collaborating with a wide array of industries, our generative AI engineers can assist you in harnessing the full potential of this technology, irrespective of your industry.
What sets LeewayHertz's generative AI engineers apart?
LeewayHertz's team of generative AI engineers stands out due to their vast expertise in crafting and deploying generative AI models and solutions for diverse use cases. Their collaboration with clientele from multiple sectors give them a nuanced insight into the intricacies and hurdles of integrating generative AI models into practical situations across industries.
What skills do your generative AI engineers possess?
Our engineers are proficient in programming languages like Python, frameworks such as TensorFlow and PyTorch, and tools like DALL-E and ChatGPT. Their knowledge extends to data handling, machine learning fundamentals, effective problem-solving, and collaborative teamwork. Furthermore, they remain dedicated to continuous learning, staying abreast of the latest advancements in the ever-evolving field of AI. With their diverse skill set, our engineers are well-prepared to address a wide array of AI challenges and deliver customized solutions tailored to the unique requirements of clients across various industries.
Why hire LeewayHertz's generative AI engineers?
Choosing LeewayHertz for generative AI engineers offers:
A skilled team with hands-on experience in diverse AI projects.
Careful selection of engineers to ensure top quality work.
Flexible hiring plans to match client needs.
Proven track record in delivering successful AI solutions.
Continued support and collaboration post-hiring.
Customized approaches tailored to individual project requirements.
How do you ensure the competence of your generative AI engineers?
We have a rigorous selection process and provide ongoing training to our generative AI engineers to ensure they are updated with the latest AI advancements.
How to hire LeewayHertz's generative AI engineers?
Reach out to us with your requirements, and we will connect you with potential candidates. Once you are satisfied with the selection, we will finalize the hiring details.
How do you handle data privacy and security?
We prioritize data privacy and security. All projects are bound by strict non-disclosure agreements, and we adhere to the best practices in data handling and storage.
Incorporating generative AI promises to be a game-changer for supply chain management, propelling it into an era of unprecedented innovation.
read more