AI Development Company
Our advanced AI development services help automate business processes and overcome difficult business problems quickly. Our team of experts assists in automating iterative tasks, and this reduces downtime for complex processes and speeds up decision-making. Our AI offerings help to integrate automated solutions for new business opportunities.
Software Products delivered
Total Years of Experience
Leverage our AI development services to create next-generation enterprise solutions
We augment business app performance with data-driven AI solutions leveraging deep learning, machine learning, computer vision and natural language processing.
Our AI App Development Expertise
We unveil patterns and trends in large data sets through the use of advanced machine-learning techniques.
Deep Learning
We implement Deep learning-based solutions for advanced speech and facial recognition, automation, and business intelligence.
Predictive analytics
Our data-driven and machine learning-based predictive analytics help your business by providing insight into future trends.
Our expert AI developers adept at utilizing Amazon Rekognition and Deep learning-based visual search for image recognition and classification.
AI Conversational Tools
We develop generative AI tools similar to chatGPT, Midjouney, Dall-E and chatbots, with industry-leading NLP and NLU accuracy through our custom hybrid AI model.
Voice Assistant
Our AI developers also build voice assistants using NLP and voice recognition that enhance brand awareness and boost productivity through voice search.
How can you lead the competition with our advanced AI development solutions?
Our AI Development Technology Stack
| DL FRAMEWORKS |   |   | PyTorch • MXNet • Nvidia Caffe • Caffe2 • Chainer • Theano • Keras |
| --- | --- | --- | --- |
| MODULES/TOOLKITS |   |   | Microsoft Cognitive Toolkit • Core ML • Kurento's computer  vision module |
| GENERATIVE AI MODELS |   |   | Generative Adversarial Networks • Transformer models (GPT3, LaMDA, Wu-Dao) |
| IMAGE CLASSIFICATION MODELS |   |   | VGG-16 • ResNet50 • Inceptionv3 • EfficientNet |
| LIBRARIES |   |   | OpenNN • Neuroph • Sonnet • TensorFlow • Tensor2Tensor • tf-slim |
| ALGORITHMS |   |   | Supervised/unsupervised learning • Clustering (density-based, Hierarchical, partitioning) • Metric learning • Few-shot learning |
| NEURAL NETWORKS |   |   | CNN • RNN • Representation learning • Manifold learning • Variational autoencoders • Bayesian networks • Autoregressive networks |
Our Artificial Intelligence Portfolio
World's First Robotic Tea Maker
Arya is the First Chai making robot having the capabilities of AI. It can detect a user's face using computer vision and reply back with an exact recipe name by predicting the user's behavior using Machine Learning(ML). It uses Speech recognition and NLP to interact with the user to take the next order.
Marketplace for AI applications
AppsStore.ai is a computer vision marketplace that allows you to link your camera feeds to AI applications. We created a marketplace comprising computer vision apps that can be used to generate users' reports, solve complicated business issues and detect faces using any IP camera.
Our Artificial Intelligence Development Process
Evaluation
We examine your requirements and prepare a roadmap based on those requirements.
Exploration
We collect the required data and process it to identify patterns and correlations that are relevant to your requirements.
Pilot Project
We roll out pilot projects for businesses to identify gaps between existing and newly designed capabilities.
Development and Deployment
We integrate the developed model with your app and test it thoroughly to ensure it delivers accurate results.
Elevate your industry to the next level with our AI Development solutions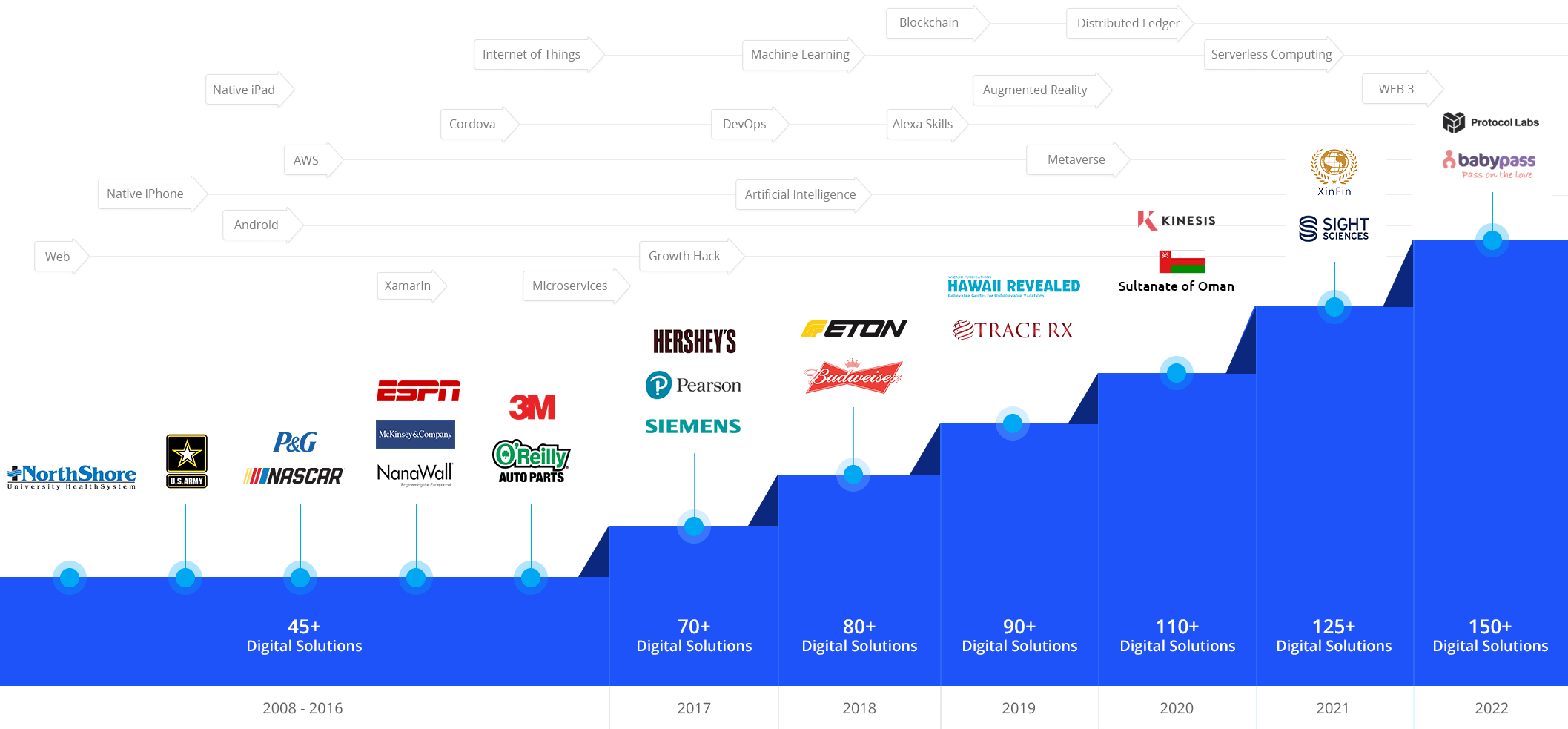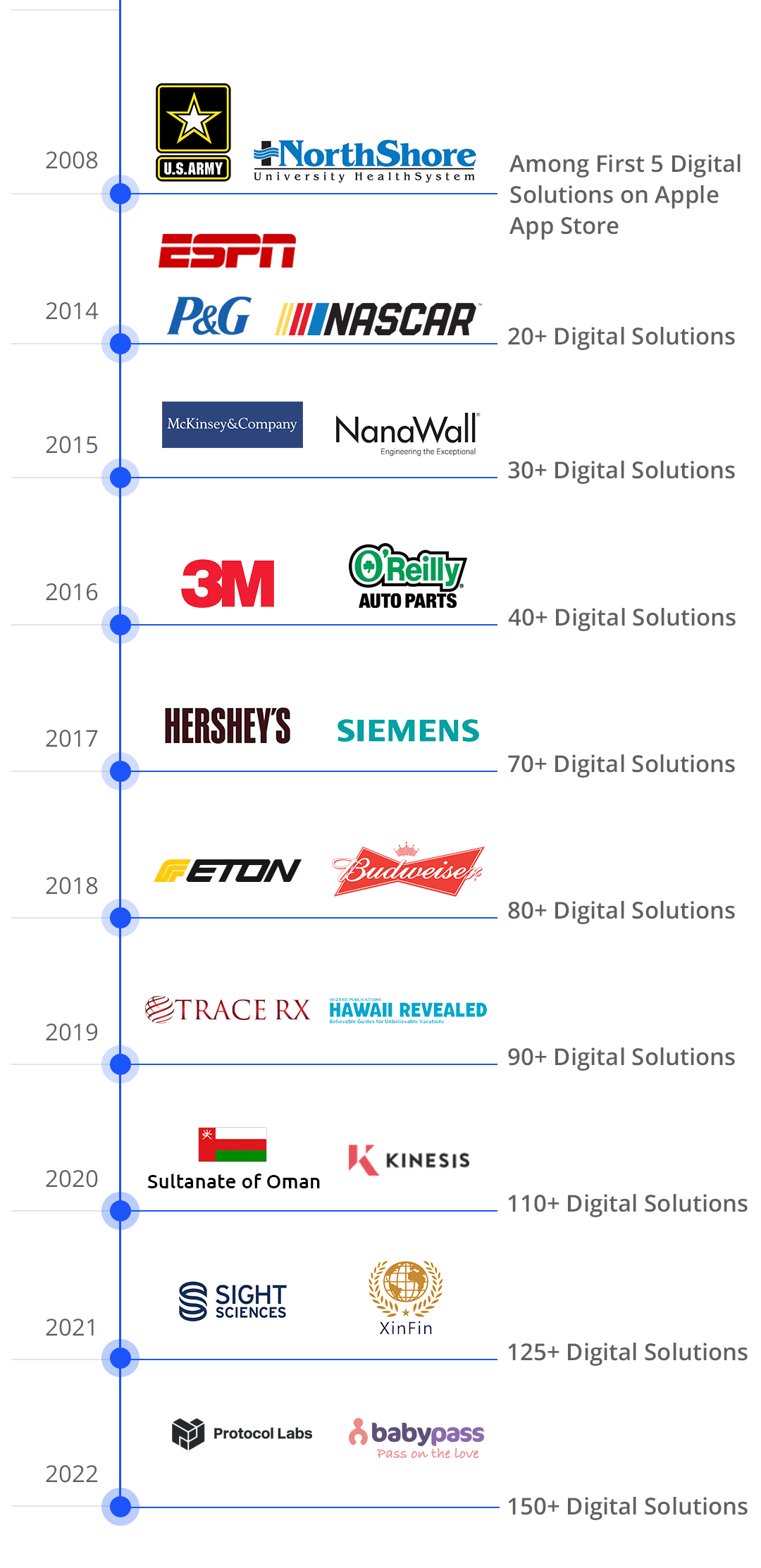 Dedicated Development Team
Our blockchain developers are hands-on the cognitive technologies to deliver high-quality services and solutions to clients.
Team Extension
Our team extension model is intended to help clients who want to extend their team with the right expertise required for their project.
Project-based Model
Our project-based model and software development specialists are there for customer collaboration and specific client project engagement.
1. Contact Us
Fill out the contact form protected by NDA, book a calendar and schedule a Zoom Meeting with our experts.
2. Get a Consultation
Get on a call with our team to know the feasibility of your project idea.
3. Get a Cost Estimate
Based on the project requirements, we share a project proposal with budget and timeline estimates.
4. Project Kickoff
Once the project is signed, we bring together a team from a range of disciplines to kick start your project.
Start a conversation by filling the form
Once you let us know your requirement, our technical expert will schedule a call and discuss your idea in detail post sign of an NDA.
All information will be kept confidential.
How does AI work?
AI systems use large data sets using advanced, iterative algorithms to gain knowledge. They continuously evaluate their performance and acquire new insights as they process information. The ability to constantly learn without rest allows AI to quickly perform an enormous amount of tasks, becoming highly skilled in whatever they are programmed to do. However, it's important to note that AI is not just a single program or application but an entire field of study. AI science aims to create computer systems that mimic human behavior, solving complex problems using cognitive processes similar to those of humans. This is accomplished through the use of a variety of techniques and technologies.
Which AI tools do you use for AI application development?
We use multiple AI tools for building AI software applications. Following is the list of tools that our AI development team uses to develop AI software applications:
PyTorch
Chainer
Theano
Microsoft Cognitive Toolkit
Core ML
OpenNN
Tensorflow
CNN
Bayesian networks
How long does it take to scope, plan and execute an AI project?
Each business has its business goals that impact project complexity and viable solutions. The time to scope, plan and execute a project depends on the client's requirements. To undertake any project, our AI software development team provides a detailed project timeline with the deliverables to be delivered within a specific interval.
Why choose LeewayHertz as your AI development company?
Our AI experts work with clients to build future-ready solutions and realize the potential of automation through real-world use cases
We utilize the best AI models and adapt to changing needs while ensuring on-time project delivery
We are flexible in AI project development methodologies to meet client requirements
We have partnered with leading AI technology providers and platforms to make AI technologies available to clients
Our skilled team has built remarkable solutions for technology startups, financial institutions, and Fortune 500 enterprises
We specialize in delivering high-quality AI services to drive more business value.
Do you also sign NDA?
Yes, we can sign an NDA and ensure that your information is kept confidential.
What does an AI Consultant do?
Our team of 
AI consultants
 helps you to solve complicated business challenges using AI and analytic algorithms. We use structured decision-making models to execute projects. Starting from an AI strategy roadmap to developing a scalable AI solution and production-grade AI deployment, our AI consulting team will help you at every step of AI project execution.
AI is not one thing. It is a constellation of several technologies that enables machines to perceive, understand, act and learn with human-like intelligence.
read more