Enterprise AI Development Company
Eliminate workflow pain points and accelerate your digital transformation journey with our enterprise AI development services. We use advanced AI techniques like machine learning, predictive analytics, deep learning and NLP to develop robust AI-powered solutions. Our solutions, deployable at scale, enable enterprises to handle diverse tasks from predictive maintenance, fraud detection and inventory optimization to optimizing securities lending and improving customer services.
Software Products Delivered
Total Years of Experience
Enterprise AI Solutions We Develop
Empower your enterprise with our comprehensive suite of AI-driven solutions.
Conversational AI Solutions
Ensure heightened customer interactions around the clock through our advanced conversational AI solutions. With advanced capabilities, our enterprise AI chatbots understand user behavior, preferences, and inquiries, creating natural and engaging conversations. This fosters brand loyalty while providing you with invaluable insights into customer trends.
AI Image & Speech Recognition Solutions
We specialize in developing robust speech recognition solutions, ranging from voice-activated virtual assistants to accurate speech-to-text transcription tools. Our expertise also extends to image recognition, encompassing capabilities like object detection, classification, image segmentation, and facial recognition for comprehensive visual analysis and enhanced insights.
Predictive Analysis Solutions
With a deep commitment to enhancing operational efficiency, we craft advanced AI solutions that leverage data analytics and predictive modeling to foresee maintenance needs before they arise. Our predictive analysis tools empower businesses to make informed decisions, ensuring timely equipment upkeep, minimizing downtimes, and optimizing resource allocation.
Fraud Detection & Prevention Solutions
Our fraud detection and prevention solutions are meticulously designed to safeguard your business from potential threats. These tools leverage advanced artificial intelligence algorithms to swiftly identify irregularities, anomalies, and suspicious activities within your operations, ensuring your business is shielded from fraudulent activities and financial losses.
Customer Service Automation Solutions
Boost your customer service operations through our enterprise AI-powered automation solutions, optimizing response times, reducing errors, and boosting customer satisfaction. Our custom solutions help streamline tasks like email responses, appointment scheduling, managing support tickets, tracking orders, facilitating self-service options, and gathering feedback through surveys.
Recommendation Systems
Elevate your business strategy with our robust recommendation systems that empower you to connect with your audience on a whole new level. From e-commerce to content platforms, our systems learn from user behaviors, preferences, and trends, enabling you to enhance user engagement, boost conversions, and deliver exceptional user experiences.
Our Enterprise AI Development Process
Our AI enterprise development team follows strict protocols and processes to ensure that all of our projects are delivered on schedule while maintaining the highest standards of quality and efficiency.

Our Enterprise AI Development Technology Stack
Data Warehousing and Management
Integration and Deployment Tools
Cloud Computing Platforms
Data Visualisation and Reporting Tools
Machine Learning Platform
Algorithms
Supervised/unsupervised learning
Clustering (density-based, Hierarchical, partitioning)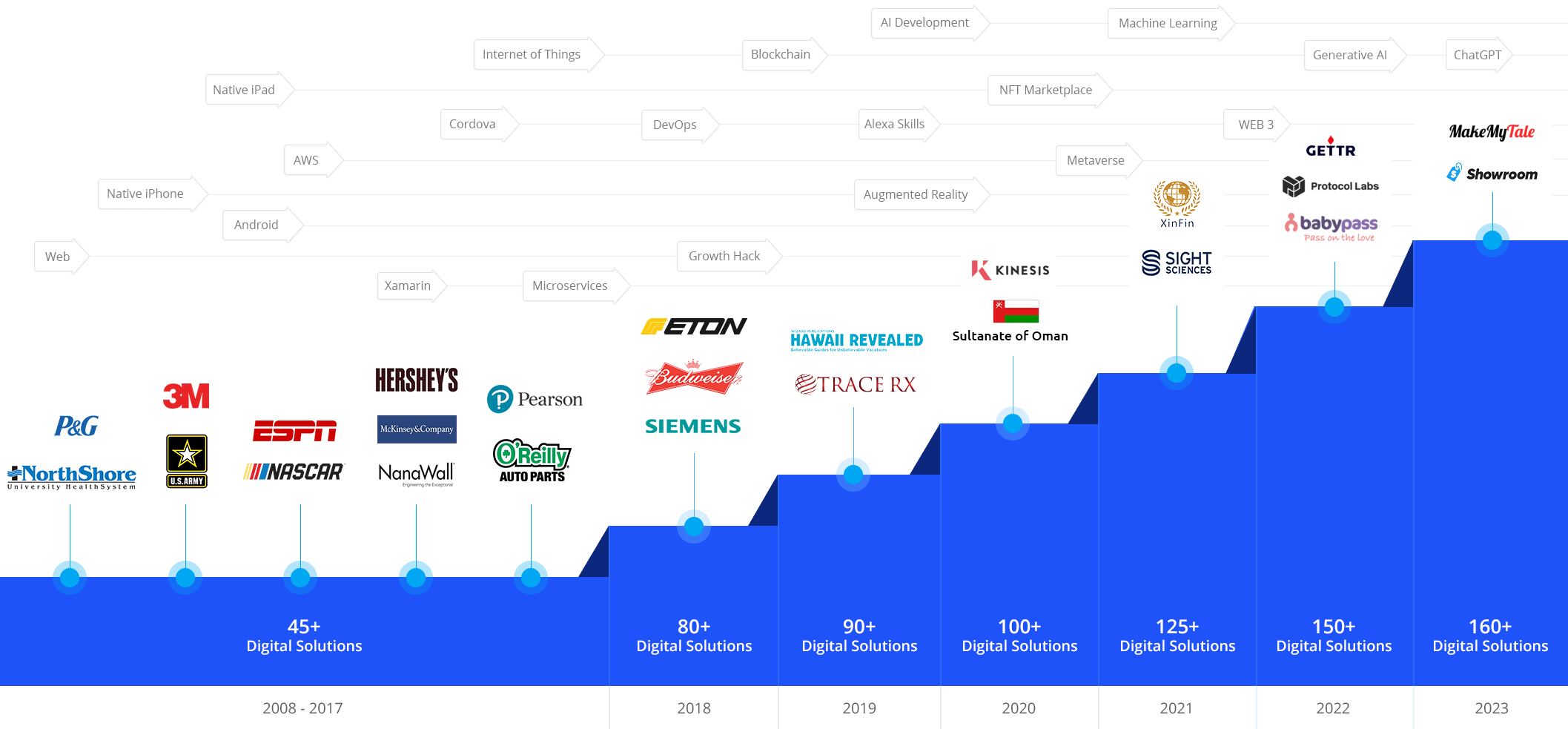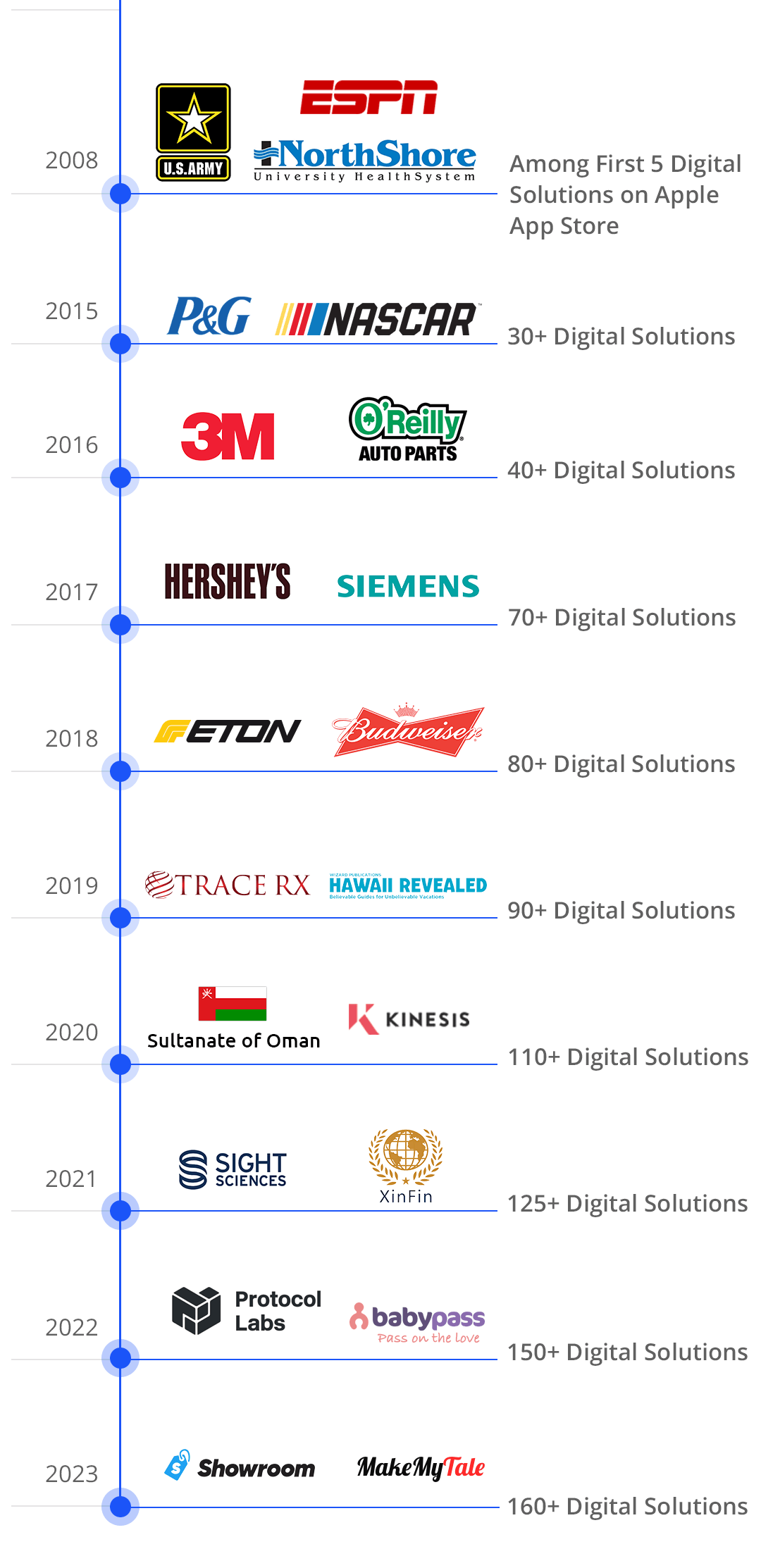 Dedicated Development Team
Our developers leverage cutting-edge cognitive technologies to deliver high-quality services and tailored solutions to our clients.
Team Extension
Our team extension model is designed to assist clients seeking to expand their teams with the precise expertise needed for their projects.
Project-based Model
Our project-oriented approach, supported by our team of software development specialists, is dedicated to fostering client collaboration and achieving specific project objectives.
1. Contact Us
Fill out the contact form protected by NDA, book a calendar and schedule a Zoom Meeting with our experts.
2. Get a Consultation
Get on a call with our team to know the feasibility of your project idea.
3. Get a Cost Estimate
Based on the project requirements, we share a project proposal with budget and timeline estimates.
4. Project Kickoff
Once the project is signed, we bring together a team from a range of disciplines to kick start your project.
Start a conversation by filling the form
Once you let us know your requirement, our technical expert will schedule a call and discuss your idea in detail post sign of an NDA.
All information will be kept confidential.
What is an enterprise AI solution?
An enterprise AI solution is a software system designed to provide artificial intelligence capabilities to businesses, organizations, and other entities. These solutions can be used to analyze large amounts of data, automate processes, make predictions, and improve decision-making in various business areas, including finance, marketing, customer service, and operations.
Enterprise AI solutions often incorporate machine learning algorithms, natural language processing, computer vision, and other AI technologies. They may be cloud-based, on-premises, or a hybrid of both and may integrate with existing software systems.
The goal of an enterprise AI solution is to help businesses operate more efficiently and effectively by leveraging the power of AI to gain insights, automate tasks, and make better decisions. Some examples of enterprise AI solutions include chatbots for customer service, predictive analytics for supply chain management, and fraud detection systems for financial institutions.
What industries can benefit from enterprise AI development services?
Enterprise AI development services can immensely benefit industries like banking, finance, retail, healthcare, supply chain, logistics, insurance, and automotive.
What AI technologies do you use in your enterprise AI development process?
In our enterprise AI development process, we leverage a wide array of cutting-edge AI technologies to ensure we are crafting solutions that are both innovative and robust. Below are the key technologies we utilize:
Machine Learning (ML)

Supervised Learning
Unsupervised Learning
Reinforcement Learning

Deep Learning

Convolutional Neural Networks (CNNs)
Recurrent Neural Networks (RNNs)
Generative Adversarial Networks (GANs)

Natural Language Processing (NLP)

Sentiment Analysis
Language Modeling
Named Entity Recognition (NER)

Computer Vision

Image Recognition
Object Detection
Optical Character Recognition (OCR)
In leveraging these technologies, we are committed to adopting an agile approach that fosters collaboration, innovation, and the rapid development of AI solutions that can smartly address the unique needs and aspirations of your enterprise. Our proficiency with these technologies allows us to offer a broad spectrum of AI services, including predictive analytics, intelligent automation, and AI-powered insights, ensuring that your enterprise remains a step ahead in a competitive landscape.
What is your process for developing enterprise AI solutions?
Our process for developing Enterprise AI solutions involves several stages, including consultation, data analysis, model development, testing and validation, deployment, and ongoing maintenance and support. Our team of experts will work with you to understand your business needs and goals and develop a customized solution to meet those needs.
What security features do your enterprise AI solutions have?
Our enterprise AI applications incorporate various important AI security features to protect your business against potential threats. The most important ones are data encryption, access controls, authentication, auditing and logging, anomaly detection, adversarial machine learning, explainable AI, and regularly updating and patching the system. Essentially, we implement a comprehensive security strategy incorporating multiple layers of protection to keep your sensitive data and systems safe.
Why select LeewayHertz as an Enterprise AI development company?
Our experienced AI experts are well-versed in the latest AI technologies and trends like generative AI.
We follow a human-augmented approach to developing AI-enabled solutions, ensuring that our solutions are tailored to the specific needs of each business.
We offer a wide range of services, including automation, data analysis, and business security, to help businesses streamline operations and improve decision-making.
We offer a wide range of industry-specific solutions, such as banking and finance, retail, healthcare, supply chain and logistics, insurance, and automotive.
Our comprehensive support extends beyond the deployment phase of your project.
Cybersecurity refers to the comprehensive practice of safeguarding devices interconnected through the internet, including the protection of hardware, software, and data from malicious cyber threats.
read more