Enterprise Blockchain Development and Consulting Services
We offer enterprise blockchain development and consulting services that drive innovation, enhance efficiency, and boost security for your business. Whether you need to build dApps, tokens, DEX, bridges or other custom solutions, our expertise in blockchain development can equip you with a highly scalable and robust solution that streamlines your business operations.


Total Years of Experience
Our Enterprise Blockchain Development Services
Blockchain Consulting Services
We build future-ready decentralized solutions on the blockchain ecosystem, helping enterprises automate their business, impart transparency across various processes and reduce overhead costs.
Smart Contract Development
We help automate your repetitive workflows by designing and deploying tamper-proof smart contracts secured via thorough auditing, which are carefully built to assist businesses in executing faster and cheaper transactions with minimum errors and fraud.
Decentralized Applications Development
Our team of experts specializes in planning and developing cross-platform dApps using advanced tools like Ethereum Geth, Zeppelin, React and Truffle, among others, for various industries and integrating them into existing business workflows.
Custom Solutions Development
Be it payment, identity management or storage solutions, we have the expertise to develop secure blockchain solutions tailored to your industry-specific use case. Our end-to-end development process covers all stages, from design to deployment and ongoing maintenance services.
Token Development
Leverage our QA team's expertise in implementing the best software testing methodologies, such as performance, automated and functional testing, to boost your software's security, usability and quality.
Security Audits
Be it code review, penetration testing or vulnerability assessment, our team of security experts performs a comprehensive analysis of your blockchain-based system to identify the potential vulnerabilities and offer actionable recommendations to mitigate risks.
Permissioned Blockchain Development
From configuring the network topology to building and launching a highly scalable and secure blockchain, our one-click blockchain launch service allows you to seamlessly deploy permissioned custom chains on your preferred frameworks, including Substrate and Cosmos.
Blockchain Integration
Our blockchain developers identify the areas of improvement in a business environment and build the necessary APIs for clients to integrate the existing system with blockchain infrastructure to bring trust and transparency to the business ecosystem.
Our Blockchain Industries
Smart Contracts enable ownership of patients data by offering controlled data disclosure to every involved member of the network.
Smart contracts allow every member involved in the blockchain platform to measure the impact of social projects at every step of the process.
Smart Contracts in Media industry ensures content's ownership and fair evaluation along with the elimination of intermediaries.
By enabling control over the identity and personal information, blockchain identity management allows people to create a self-sovereign identity.
LeewayHertz has deployed Blockchain on supply chain which offers an updated and validated shared ledger with each network participant.
Integrating Blockchain to the current P2P lending system can reduce delays, make quick approvals, eliminate the need for middlemen, and bring transparency.
Redefining Industries with Enterprise Blockchain Development 
Companies dealing with data and stakeholders can significantly improve their performance with blockchain implementation. Our enterprise blockchain solutions help companies to acheive:
Speed and Efficiency
Blockchain applications eliminate the need for intermediaries, increasing the efficiency of business processes.
Reliability and Trust
The transparent nature of blockchain-based applications generates trust when the companies trade with each other. Enterprises are attaining the client's trust with blockchain migration.
Security
Blockchain-based platforms are extremely secure as hacking would require simultaneous access to every system on the network.
Cost
Blockchain removes the need for multiple parties involvement in transactions. This simplifies business processes and reduces the costs related to reconciliations and disputes.
Over the last 10 years, we have engineered 100+ digital platforms for startup and enterprises, are now used by millions of users.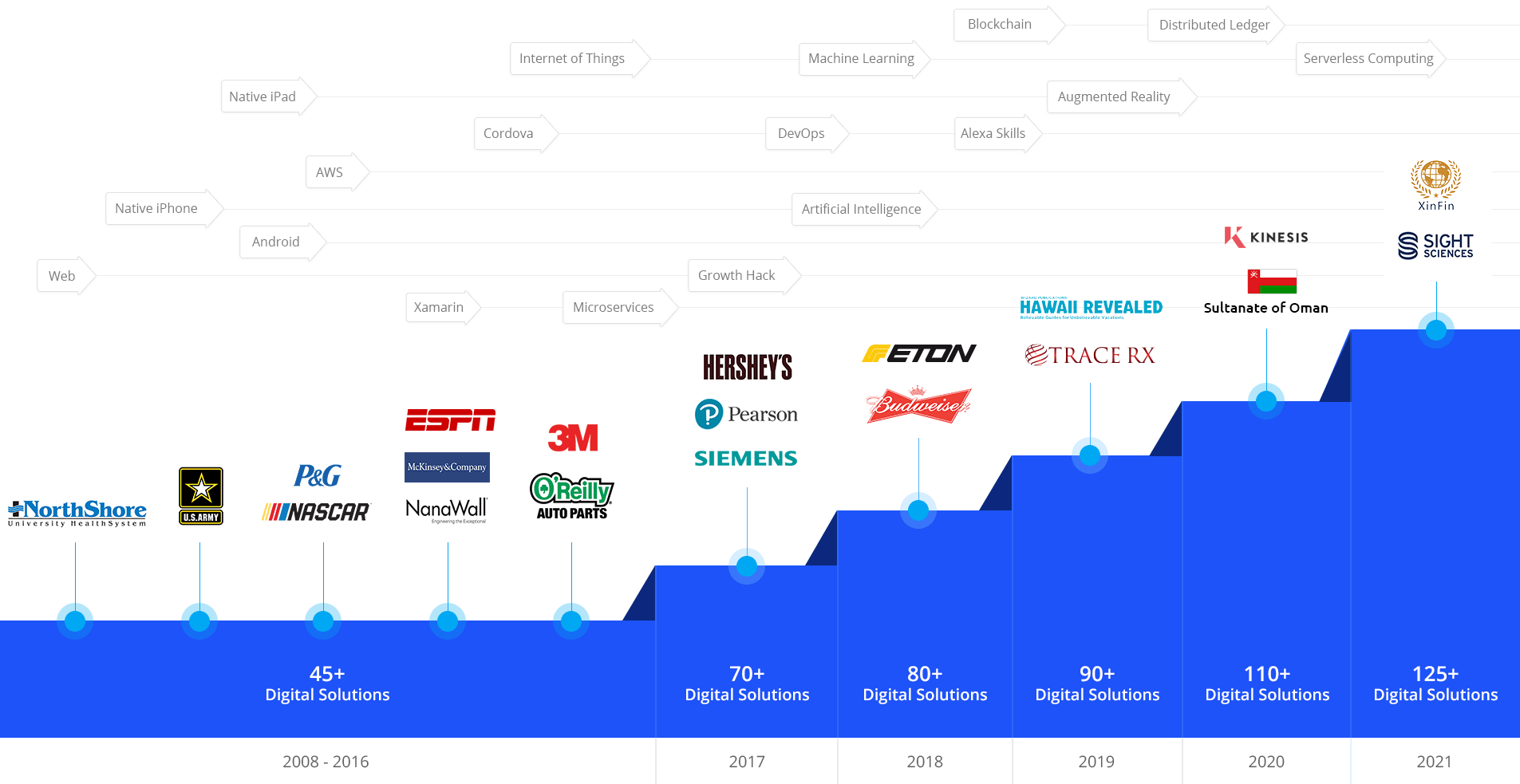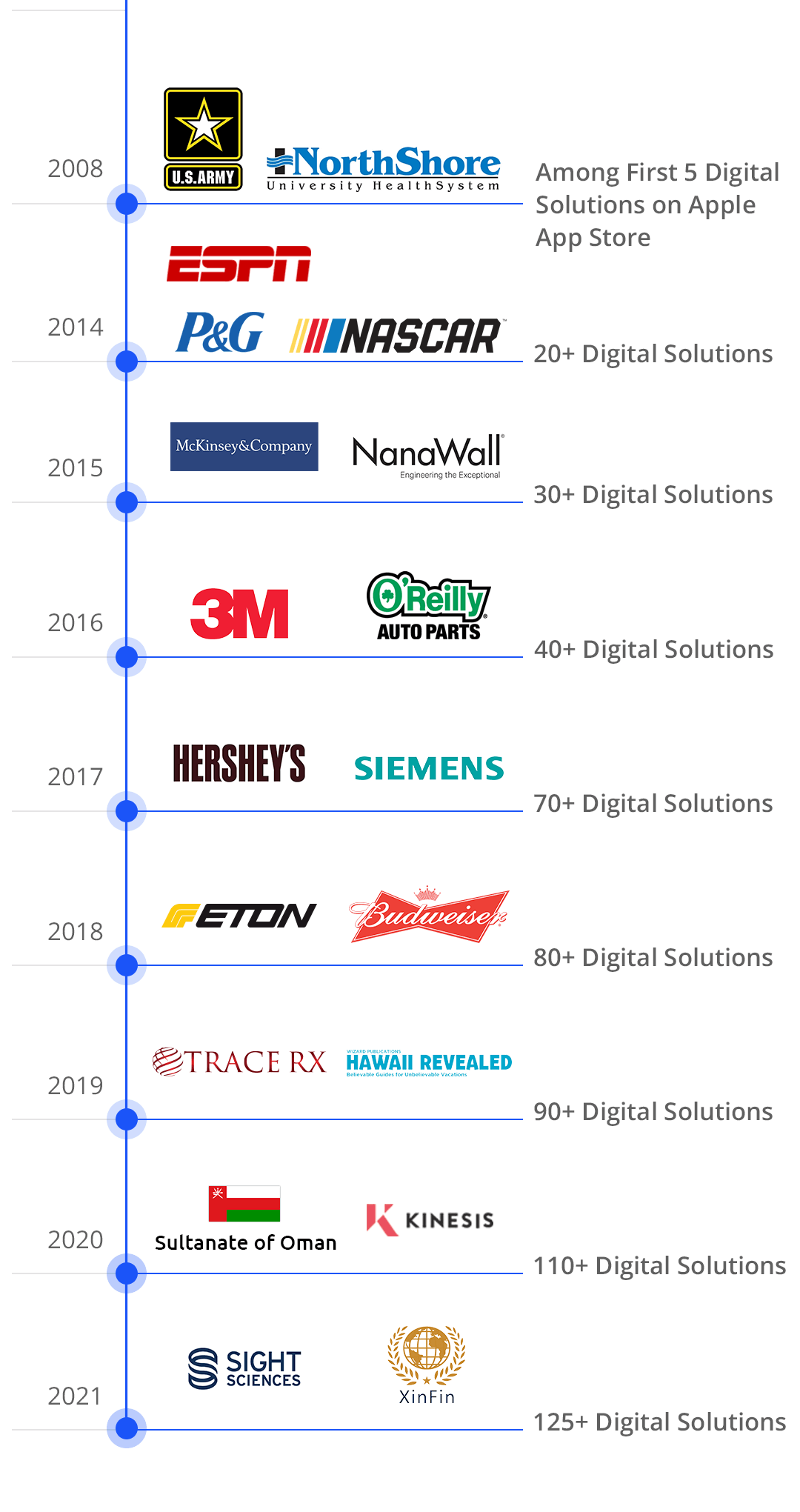 Blockchain Development Platforms We Work On
Dedicated Development Team
Our developers leverage cutting-edge cognitive technologies to deliver high-quality services and tailored solutions to our clients.
Team Extension
Our team extension model is designed to assist clients seeking to expand their teams with the precise expertise needed for their projects.
Project-based Model
Our project-oriented approach, supported by our team of software development specialists, is dedicated to fostering client collaboration and achieving specific project objectives.
1. Contact Us
Fill out the contact form protected by NDA, book a calendar and schedule a Zoom Meeting with our experts.
2. Get a Consultation
Get on a call with our team to know the feasibility of your project idea.
3. Get a Cost Estimate
Based on the project requirements, we share a project proposal with budget and timeline estimates.
4. Project Kickoff
Once the project is signed, we bring together a team from a range of disciplines to kick start your project.
Get FREE consultation from experienced enterprise blockchain partners
Once you let us know your requirement, our technical expert will schedule a call and disucss your idea in detail post sign of an NDA.
All information will be kept confidential.
A permissioned blockchain bridges the gap between public and private blockchains by allowing users' data to flow safely and transparently.
read more