Top Digital Transformation Companies 2023
Digital transformation, as the name suggests, is a process to digitize all business processes of an organization. It requires transforming real-time analytics data into meaningful information the organization can deliver perfect and crafted solutions to the consumers. Enterprise-level digital transformation requires diving deeper into organizational information, knowledge, systems and culture. As digitization services are so connected to organizational core values and systems, finding a reputed and trusted partner is the first and foremost need.
Here is a list of digital transformation providers you can rely on with your eyes closed.
Here is the list of the leading digital transformation companies you can work with
LeewayHertz is a top-notch digital transformation services provider that helps companies achieve a high degree of digitization in real-time. The company has a vast knowledge of emerging technologies, including blockchain, IoT and AI that makes it a leading digitization service provider.
They have worked with some major brands, such as SIEMENS, P&G, and 3M, showing its brand strength and the quality of service it offers to its clients.
LeewayHertz offers Digital Transformation Consulting, Customer Experience Transformation, Intelligent Automation, Digital Risk Management, and Security Transformation in the digital transformation business. The company's leadership capabilities that contain highly experienced and skilled employees make it one of the best choices for digital transformation services providers.
$25-50/hr
50-249
2007
San Francisco, CA
TraceRx, Armanino
Hakuna Matata is a globally renowned digital transformation services provider with a portfolio of trusted clients, including Saint-Gobain, TVS, L&T and Maersk. The company offers real-time, scalable project management that is the backbone of smart and successful companies in the digital transformation services domain.
< $25 / hr
50-249
2006 
Chennai, TN
Caterpillar, Vanguard, GE, TVS Motors

Digital Transformation is a core competency of Modus Create, Inc, based in Virginia, US. The company believes in providing its clients an enriching experience by creating a mix of technological know-how, creativity, a smart approach and systematic enhancements. The company's services are dynamic, and they offer a perfect combination of advanced technology and timely results.
Undisclosed
101-250
2011
Virginia, United States
Kaplan, Burger King, Bright MLS
Flexsin Inc. is a leading digital transformation service company based in Dallas, TX. It has been offering digital solutions for more than a decade and has completed more than 2500 projects. The company delivers cutting-edge digitization services by a mix of innovation, clarity, simplicity and vision. It is a highly trusted company delivering services in more than 15 countries.
$25 – $49 / hr
251 – 500
2008 
Dallas, TX, United States
CocaCola, Disney
Fingent offers solutions that are beyond digital transformation. With a focus on digital transformation that creates customizable solutions, Fingent delivers enterprise-grade digitization services to its clients. With 14+ countries served and more than several hundred projects delivered, the company is one of the most trusted names in the digital transformation services business.
$25-49/hr
50-249
2003 
White Plains, NY, United States
Sony, Johnson & Johnson, PwC
Asperbrothers is a ten years old software development company from Poland. It provides quick and easy digital transformation services that show results. The company believes that a good software company should be based on trust, experience and creativity. Asperbrothers is a dedicated and trusted digital transformation service provider that offers web development, front-end development, API integration, and software cost estimation services.
$50 – $99 / hr
10 – 49
2007 
Warszawa, Poland
EXIDE Technologies (Europe), CaseMGR (USA)
Valtech is a global digital agency focused on business transformation. It offers a host of services, including digital transformation globally, operating from the more than 15 locations where it is based in. Valtech's core competency is in leveraging emerging technologies to offer cutting-edge software solutions. The company is reputed for its trust-ability and lean framework, and its services are spun across these values.
Undisclosed
1000 – 9999
1993 
NY, United States
Profoto, Loreal, Heineken
Fueled is a New York based digital transformation services provider that offers a host of other services, such as enterprise application development, app development, web development etc. With a supportive and attentive support staff and a skilled marketing team, Fueled is one of the top digital services companies in the world.
$150 – $199
50 – 249
2007
NY, United States
MGM Resorts International, 9Gag, Harvard
Blue label labs believes in offering bolder choices and uncover transformational change through its award-winning service portfolio. The company has an experienced engineering team that makes business transformation quick, smooth and seamless. With a growing base of global clients, Blue label Labs is an organization that is all set in its upward growth trajectory.
$100 – $149
50 – 249
2009 
NY, United States
Google/Alphabet, PayPal
Kellton Tech believes in offering services in a simpler yet powerful manner. With offices located in Asia, Europe, and North America, Kellton Tech serves clients with varying needs. Since its establishment in 2009, the company has created a niche and has served some of the best brands in the market requiring digital transformation services. 
$25 – $49/hr
1,000 – 9,999
2009 
Reston, VA
ABO, PayTM, Colchis Capital, Bajaj Capital, McDonald's 
Softeq is a Houston-based company offering digital transformation services for more than 20 years since 1997. The company has a good portfolio and is one of the first digital services providers from the US. The company provides services in IoT, blockchain DevOps as a part of its digital transformation service.
Undisclosed
251 – 500
1997
Houston, TX
Intel, Nike, Epson, Omron, AMD, NVIDIA, HP
Founded in 2007,
 LeewayHertz
 is one of the best custom software development companies that has built and delivered over 100+ digital solutions using emerging technologies. With 10 years of experience, their expertise in delivering end-to-end custom software development services can help businesses reach the pinnacle of success.
They have worked with 30 Fortune 500 companies and more than 100 enterprises to provide them with the customized solution to grow on a large scale. Their dedicated team developed many big projects likeTraceRx, WeeSign, TrustExplorer, iCruise and ESPN.
Their cross-functional team of developers can build a variety of digital solutions using the latest technologies, including Blockchain, AI, IoT, Mobile, Web and Cloud.
Clients: TraceRx, WeeSign, Armanino

Founded: 2007

Hourly Rate: $25-50
Established in 1997 and located in the hun for AI and innovation, Whitecap has the right expertise to transform businesses for the digital future with their custom software development services. With the team of software architects, developers, QA, project managers, UI/UX designers and business analysts, they have built software across various industries over the past 20 years.
Whitecap adopts Agile development process to organize their custom software applications into iterative phases, with each iteration comprising of software development stages.
Clients: WOODBINE, Miele

Founded: 1997

Hourly Rate: $10-25
With more than two decades of experience, Konverge is specialized in developing dynamic custom software and therefore, has been able to get featured among top custom software development companies.
From technology consulting to business analysis, application development, QA, maintenance and integration, Konverge's team help your business vision to achieve the maximum ROI with digital solutions.  They have worked with more than 268 clients and delivered approximately 312 projects that cater to various industries.
Clients: hmv, BOSCH

Founded: 1994

Hourly: $30-40
Formed in 2003, BluEnt is a technology consulting and custom software development company. They have a team of skilled programmers and designers who deliver a robust and user-friendly design, development and maintenance services to help clients experience the digital revolution with the latest technologies.
Clients: HBO, CiTRIX

Founded: 2003

Hourly Rate: $25-50
Founded in 2005, Prog4biz Software Ltd. provides custom software development solutions to their global customers along with testing, support and quality maintenance.
They follow an agile methodology to deliver the key enterprise solution, based on the client's requirements.
Clients: DHL, UNBC

Founded: 2005

Hourly Rate: $15-25
Belitsoft, the Europe-based company, established in 2004, provides well-designed and custom software development solutions.
They are partnered with global clients based in the United States, UK, Europe and Israel. The team of developers at Belitsoft is specialized in e-learning software development, voice/speech software development, custom mobile app development and financial software development.
Clients: Insly, Honeywell

Founded: 2004

Hourly Rate: $25-49
Intellectsoft is a multi-skilled and experienced custom software development company that develops high quality and functional custom software solutions. Using the latest technologies, they have been able to stand among the reputed software development companies in the world.
The company has been researching new technology innovations to provide organizations with cutting-edge IT solutions, driving real value to their businesses.
Clients: NHS, EY

Founded: 2007

Hourly Rate: $50-99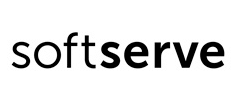 Softserve is a top-notch custom software development company that is specialized in product engineering, AI and ML, big data and analytics, IoT app development, blockchain development and Extended Reality Solutions. Their team builds enterprise-grade software to allow enterprises to run the business processes efficiently.
They have developed custom software solutions for many industries such as healthcare, retail, finance and media to accelerate their business operations.
Clients: Cisco, KRONOS

Founded: 1993

Hourly Rate: $100-150
The company is known for the development of the dynamic custom software that helps businesses improve business functionalities.
With profound technological expertise in a wide range of industries like financial, advertising, marketing and real estate, Perfectial has implemented innovative ideas that allow every size of businesses to evolve, scale and prosper.
Clients: AYASDI, DataXU

Founded: 2010

Hourly Rate: $25-50
With more than 20 years of experience in software development, Trigent has successfully delivered 300 applications projects.
They understand businesses needs and business goals that make it possible for them to deliver innovative applications. The approach to building a customized solution helps their clients to run the businesses in a better way.
Clients: eLaw, AON

Founded: 1995

Hourly Rate: $25-49
We have considered qualitative and quantitative parameters to choose top companies in the digital transformation industry.
Digital transformation is a continuous process that occurs over a certain time period. It helps companies realize their potential and update their basics at the same time. Given there is a good amount of relevant data, digital transformation can be a real game-changer.
The companies listed above have a vast knowledge of the digital transformation domain, and they can offer you the best solutions depending on the criteria you seek. To learn more about the processes a company initializes to digitize information, consult with the trusted and tested names mentioned above.
We have a team of digital transformation experts who can assist you from ideation to estimation to a real digital solution that best suits your needs.
Start a conversation by filling the form
Once you let us know your requirement, our technical expert will schedule a call and discuss your idea in detail post sign of an NDA.
All information will be kept confidential.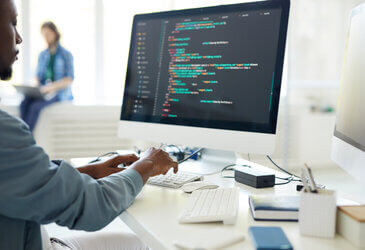 Serverless Architecture is a software design model where a third-party service hosts applications and removes the need for server hardware and software management.
read more