EHR Interoperability: What are the challenges and how to overcome them?
Digitally powered healthcare systems such as Patient portals, patient engagement platforms, telemedicine applications and EHRs are among the most common healthcare systems. Interconnection and interoperability of all these applications are what make the entire system connected. However, integrating one solution with another and leading a successful deployment of the system is quite challenging, especially when the EHR system is concerned.
Today, healthcare organizations understand the need and benefits of interoperability and are turning rapidly towards interoperability solutions. The global digital healthcare market is anticipated to grow up to $500 billion by 2025. The global market of healthcare interoperability solutions is expected to reach 4.2 billion USD by 2024 from 2.3 billion USD in 2019, reports MarketsandMarkets. Even with all the benefits, interoperability is not that straightforward to implement. Health-tech workers are struggling to handle the PHIs and manage the diversity of EHR systems. Moreover, some hesitations are also involved among people about the privacy of personal information and data systems' security. Leveraging the new and more secure technologies like Blockchain can ensure the protection and confidentiality of data.
This article focuses on developing the understanding of EHR interoperability, exposing the challenges involved in healthcare interoperability, and highlighting ways to overcome those challenges.
What does interoperability in healthcare imply?
For over a decade, interoperability has been an important topic in healthcare. The introduction of the HITECH Act in 2009 was the turning point when healthcare workers were highly encouraged to use EHR instead of paper-based records.
Interoperability can be most simply defined as the software's ability, information systems and the devices to connect and integrate within and outside the healthcare organization boundaries to facilitate the access and exchange of patient data to address health issues in general.
HIMSS defines interoperability at four levels:
Foundational interoperability (Level 1): The ability to establish an interconnection between two information systems allows the exchange of information from one HIT system to another and does not require the receiver's system to interpret the data.
Structural interoperability (Level 2): This level defines the format, syntax and organization (structure) of data exchange. Ensures the ability of information systems to interpret data at the data field level.
Semantic interoperability (Level 3): It is the highest and most desired level of interoperability that supports data exchange and fully interprets received data. Facilitates standard underlying models and codification of data comprising data elements so that the receiving system can analyze the data.
Organizational interoperability (Level 4): Appended in March 2019, this level includes social, legal, policy, governance and organizational considerations to facilitate seamless, secure and timely communication and use of data within and outside the organization.
What are Healthcare interoperability challenges?
Sharing information across products and organizations is possible only by introducing interoperability in the HIT (Healthcare Information Technology) ecosystem. EHR interoperability is achieved by integrating disparate EHR systems, enabling access to clinical information from within and outside the health system.
It has become a goal for the US Health and Human Services Department to achieve this plug-and-play interoperability. The HHS has demanded interoperable health IT ecosystem by 2024 that delivers the correct data at the right time to the concerned people across products and organizations.
However, various technical and administrative challenges are involved in integrating an EHR system with other EHR systems and even with other healthcare software like patient portals, telemedicine applications, etc. Let's discuss these challenges in detail:
Standardization of Information


Different healthcare organizations follow other standard formats. This difference in standards makes the exchanging of data a difficult task. Therefore, it is necessary to maintain similar standards amongst organizations. HL7 and FHIR standards must be used as conventional standards for information exchange in EHR systems to maintain integration standards.




Fast Healthcare Interoperability Resources (FHIR) is a standard known to provide high bandwidth, efficiency, speed and security to data, which further proves to be beneficial for real-time data exchange. Moreover, when real-time data exchange is not required, Health Level Seven International (HL7) v2 and v3 are accepted standards.

Unique Patient Identifier


Organizations use multiple information systems to gather, track, and analyze patient data, which further creates interoperability challenges. The absence of a unique patient identifier increases the difficulty of efficiently exchanging medical information and patient health records. Therefore, whenever planning for the healthcare data exchange system, make it a priority to standardize patient identification.

High integration cost


The cost associated with the integration process is reasonably high, which becomes another challenge for interoperability. Traditional integration models are generally of high price, which only large organizations can afford. At the same time, new affordable integration models are also available that a mid-or-small-sized organization can implement.

Privacy and security challenges


To ensure data security, healthcare organizations make their systems compliant with HIPAA standards and impose limitations on whom and how the data is shared. To ensure that the security standards do not create any further challenge in data sharing, a relevant HIPAA Business Agreement is implemented to enable third-party integration.

Malformed or Missing data


The system may not be able to locate or intercept the data in a sender-specific format. It may lead to malformed data or missing data fields. The reason for this issue is the lack of compliance with standards. Therefore, organizations need to comply with international standards to handle data exchange between variant systems correctly.

Use of outdated legacy systems


When used to connect the middleware for exchanging data, the old and outdated systems often cause structural damage to the existing data. This issue leads to the involvement of high costs to repair it.

Interface discrepancies


Systems at the sending end and the receiving end must exchange EHRs correctly and clearly without the data getting lost in the translation. An integration engine must exist in an interoperable system dedicated to correctly routing the information and transforming it from one format to another.

Existence of multiple medical records


Multiple medical records of one patient for a single condition may exist. This situation arises because whenever a patient visits a hospital or clinic, a new patient entry is created. Each separate individual and the independent task must be pulled together in one record to make the system interoperable.

Patient ID Errors


Patients with similar first and last names, birthdate or zip codes have a high probability of getting misidentified. In some cases, their PHI, demographic data and even their insurances and claims may get merged. To avoid such errors, the data management staff must closely monitor the data and prioritize using the Master Patient Index (MPI) for patient identification.

Human Errors


Errors may even arise from improper and incomplete data collection during inpatient registrations or outpatient referrals.

NCBI

(National Centre for Biotechnology Information) reported in a study that over 13 percent of identified errors occurred during patient registration and about 22 percent errors raised during procedures and tests.
How to overcome these challenges?
The actions that could significantly speed up the progress towards achieving interoperability in healthcare systems include:
Common interoperability standards


As discussed earlier, healthcare organizations must follow common integration standards to minimize interoperability issues. HIT vendors must be proactive in defining interoperability standards and quickly adapting to these.




The common Health IT interoperability standards are:


FHIR:

It stands for Fast Health Interoperability Resources. HL7 International develops this standard for exchanging information electronically. The "resources" which describe exchangeable health data format and elements are the basic building block for FHIR. It also provides the standard for implementing APIs. FHIR supports various transport mechanisms, including HTTP-based transfer and MLLP (Minimum Lower Layer Protocol). It is a universal standard used with cloud-based systems, apps, server-based communication and EHR data sharing.


Direct Standard:

It is a set of standards and protocols that allows users to authenticated and encrypted healthcare information directly to known and trusted recipients over the web. This standard contributed to the transition from paper-based to EHR records.


DICOM:

This a standard for managing and exchanging medical images and related information. DICOM enables the transfer of pictures and facilitates the expansion and development of picture archiving and communication systems.

Develop a master patient index


An interoperable master patient index implemented with an engine that aggregates and matches data and identifies patients correctly would help healthcare providers locate and access the correct patient record.

Collaboration across alliances


Mobilizing healthcare information exchange (HIE) across state, regional and local alliances to implement common EHR interoperability standards will allow healthcare providers and organizations to achieve interoperability on a larger spectrum.
How to proceed with the implementation of EHR interoperability?
Determine use cases


Identification of specific clinical use cases, type of data and parties involved is necessary to tackle interoperability. It will enable users to determine the most appropriate technical approach for data sharing.

Strategize execution approach


Along with all the interoperability project stakeholders, make a strategy to achieve interoperability depending on your specific use cases. Develop a plan and prepare a written document on it. Ensure everyone is on the same page about the requirements, implementation timeframe and the value expected from the project. This document will help identify the steps to be taken, outline the measurable intermediate goals and assign priorities.

Perform gap analysis


Gap analysis is conducted to have a clear vision and measure the difference between the point you are and the point you need to cross. It helps to provide a clear picture of the future.

Communicate ROI


Always document ROI expectations and their value for every participant, including patients, doctors and the organization as a whole. It helps to identify short-term and long-term expectations.
What are the benefits of EHR interoperability?
Secure Patient Data


Interoperability helps to enhance patient data security and privacy by limiting the access grants and continuous tracking and assessment of PHIs. EHR interoperability provides healthcare organizations the power to assess and manage access rights, identify authorized users and track the PHIs. The fewer people who touch and update patient's data, the lesser the chances of data going into criminal hackers' hands.

Supports Research


The data gathered during the ordinary course of events while diagnosing and treating patients can prove to be a goldmine for scientists and researchers. Interoperable systems allow you to share and make the patients' data accessible to scientists to carry out their research. In this way, you use patients' data within the organization and share the data more readily with the researchers for a good cause because of interoperability.

Improved Productivity


It has been known that working with digital documents alone saves time and helps improve productivity. And now, with interoperability, productivity tends to increase manifolds. A reduced amount of the same data being entered redundantly can accelerate document processing and provide a noticeable increase in productivity.

Easy Sharing


Interoperability enables easy communication and easy sharing of data electronically. It allows the sharing of clinical reports, lab reports and other PHIs with the intended user.

Better Patient Experience


Patient satisfaction is the main focus of any healthcare organization. Interoperability helps to achieve this goal efficiently. With interoperability, patients do not need to perform repetitive paperwork, or they do not need to explain their health situation to every doctor repeatedly. Thus, EHR interoperability aims to provide patient satisfaction.
This detailed discussion on EHR interoperability has led us to conclude that besides all the pertaining challenges, it is virtually possible to seamlessly exchange healthcare data between clinical systems, multiple health record systems (EHRs) and other third-party applications.
If you're looking for a company to integrate your healthcare software systems or develop healthcare software from scratch, we are ready to help you. Get in touch with our health-tech experts and get a free consultation.
Start a conversation by filling the form
Once you let us know your requirement, our technical expert will schedule a call and discuss your idea in detail post sign of an NDA.
All information will be kept confidential.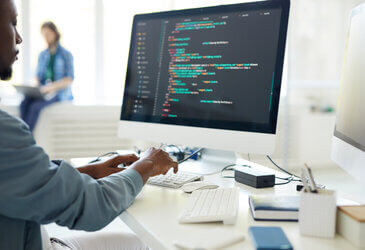 Serverless Architecture is a software design model where a third-party service hosts applications and removes the need for server hardware and software management.
read more