The current real estate market is not on scenic coastlines or metropolitan cities. It resides in the Metaverse realm, where many investment firms spend huge sums to acquire digital real estate properties. The concept of Metaverse real estate is not that different from the concept of property in the real world. It fundamentally has a digital existence in 3D cities where users can enjoy stimulating real-life pursuits like meeting, gaming, partying and trading. The existence of real estate in Metaverse is increasingly for sale, and ownership is verified by means of non-fungible tokens, i.e. NFTs.
The main focus behind investing in digital real estate properties is that once people own them, they can make money by developing virtual properties and leasing them out. Like every investment, owning properties and trading in Metaverse real estate has its own risks. But then the question is, what led to the boom of virtual land in the current times? What are the major factors that make real estate in Metaverse so valuable?
Metaverse is a constantly evolving virtual space that consists of various immersive and digital worlds in which users can participate using their avatars. Many of these digital worlds appear like virtual recreations of the real world with photo realistic avatars. Now the question arises how does the land look in Metaverse space? Real estate property and land in Metaverse look similar to a monopoly board in which there are parcels of land which the players or participants of Monopoly want to acquire.
There are some well-known platforms like Axie Infinity, Decentraland, Somnium Space, where investors can trade real estate with their distinctive cryptocurrencies. Each platform has a limited number of land parcels for purchase which is tracked with the help of blockchain technology. With so much to explore in this innovative and evolving concept of Metaverse real estate, let us find out what it has in store for us.
What is real estate in Metaverse?
Real estate in Metaverse includes different parcels of land located in the virtual world. Basically, they are pixels but work in a more immersive way and not just digital images. Real estate properties in Metaverse are programmable spaces where people can connect to buy, sell or rent their virtual properties using metaverse tokens or cryptocurrencies. Early investors are quickly getting their hands on the major Metaverse real estate properties before all the land parcels are taken.
Digital real estate in Metaverse is secured in the form of unique non-fungible tokens (NFTs). Every purchase or trade is securely recorded on the blockchain to buy a parcel of digital land, and all the NFTs are transferred to the digital wallet where the Metaverse participant stores their cryptocurrencies. The process of trading digital real estate property is quite similar to property trading in the real world. People get a title for each parcel of land, securely recorded in a registry, and they are also issued an ownership copy to prove their dominance over the digital land.
Every real-estate Metaverse has a native currency that helps the users facilitate the digital asset trade. It allows the users to purchase lands and properties at a regular price. The digital land trade price can fluctuate because of the high volatility of the native token. Within the Metaverse platform, 'Land' is an NFT that represents a digital piece of land on the platform map.
Gamers or the users of the platform can purchase the parcels of tokenized land to create different experiences on top of it. Once they own the Metaverse land, they can create various games on it. They can also merge their various parcels of land to develop an estate which is also known as an amalgamation of connected lands on Metaverse. Users can build wider and more immersive land properties with the help of the connected combination of Metaverse land parcels.
Let us now see how this Metaverse real estate is useful for digital investors and gamers.
How is the digital land in Metaverse useful?
Metaverse landowners can create various buildings and gaming experiences on their parcel of digital lands. These game creations, buildings and other land developments are quite similar to the real world. Once the Metaverse participant has acquired dominance over a land parcel, they have the authority to build any gaming experience and make that available for the other gamers to try their hands on. For instance, the land owner can create a free game or can also decide to charge the players.
The land owner can also create billboards to advertise or design a museum to display all the NFTs the person owns. All of them need to create such experiences considering the factor of location, as the players and users will want to explore all the innovative places inside the Metaverse. Metaverse landowners can rent their lands for others to design their games and host different events and social activities. These benefits are the same as real-world land properties and estates.
Let us now see why one should explore trading real estate on Metaverse.
Comprehensive development services to help you lead the future-ready Metaverse projects.
Launch your metaverse project with LeewayHertz
What are some of the avenues for real estate investors in Metaverse?
Metaverse real estate and digital parcels of land have immense potential in NFT trading. This is how Metaverse contributes by providing an innovative and profit-yielding way of participating in virtual reality. The world is at a stage where people can now purchase and earn regular rental profits from their parcel of land in the Metaverse eliminating the geographical barrier of the real-world property trade. Metaverse has completely transformed real estate and properties by tokenizing lands into NFTs. Some of the fundamental avenues for real estate investors in Metaverse are as the following:
Digital storefronts
Major brands and company outlets with Metaverse integrated into their system have digital storefronts. These storefronts allow the participants to enter the Metaverse and go through the virtual stack of various NFTs displayed on the Metaverse store. Participants and users can then select whatever they wish to purchase and click on the digital commodity to make payment via chosen payment method. The payment method is already registered in the Metaverse system.
Metaverse gaming
Metaverse enhances the credibility of decentralized gaming by providing unlimited games after logging into the platform. It provides an entire gaming universe with a lot of innovative options where participants can even create buildings and other in-game commodities. These creations are then stored in unique NFTs and yield high profits. This sort of gaming and in-game creations are embedded in the P2E model, which means play to earn real money.
Entertainment
Metaverse plays an impactful role in the entertainment industry as it connects various talent hubs and the respective clan of the audience to witness the entertainment in an immersive environment. In the recent and near-future, people will opt to watch cinema and attend concerts in the Metaverse. They will want to avail themselves of virtual theme parks and cinema halls for entertaining activities. People can also invest in taking ownership of these land parcels consisting of parks and theatres in Metaverse.
Now that we have explored some of the major real estate avenues in Metaverse let us understand how to purchase property in Metaverse.
How to purchase real estate in Metaverse?
Buying property digitally in Metaverse is done in the same way as it is done in the case of NFTs. It requires people's unique deed of land NFT ownership, and it is a unique code that stores the actual face value of the property by tokenizing it on the blockchain. This NFT ownership deed validates the owner's originality and dominance over the digital property.
Start with the Metaverse real estate portfolio and a personal digital crypto wallet. Some of the Metaverse platforms use specific currencies for regulating transactions. Check what currencies the platform supports before signing up for a new crypto wallet. After selecting the wallet, go for the Metaverse platform and create an account by signing up for the same. Then link the crypto wallet to the Metaverse platform; this will help the participant purchase and sell assets and land on Metaverse. Once done with the wallet and platform selection, pick a parcel of land available on the chosen Metaverse platform and buy it.
Now, one of the major factors in Metaverse real estate is the selection of land parcels. Similar to real-world property trade, location plays an integral role in land parcel selection. When planning to invest or purchase in metaverse real estate, one should always look for areas that showcase the immense potential for development on them. These are the untouched parts of the Metaverse platform where the network participants can effectively congregate their innovative skills and build dynamic properties with unique attributes.
Plots and parcels of land near but not inside the developed areas are of value to the Metaverse real estate investors. These parcels can be easily purchased at a lower price and participants can innovate properties on them. They can then wait for the land prices to increase based on the unique features of their developments on the land parcels. Two most renowned examples of real estate Metaverse where people can invest in digital lands are Decentraland and Sandbox. These platforms provide the users with a highly immersive environment for real estate trade and helps them to avail of P2E model using their respective tokens like MANA and SAND for acquiring land parcels, playing games and creating in-game commodities on the Metaverse.
Endnote
The real estate industry has recently been subjected to significant technological upheavals. As virtual land sales gain traction, technology breakthroughs are poised to alter the real estate industry. The rapid adoption of technology has increased the appeal of the Metaverse across the world, and real estate in the Metaverse is the hot new thing!
The Metaverse's real estate is a virtual landscape that replicates real-world situations. It integrates technologies like augmented reality, virtual reality, and video to create a digital realm in which users may engage, play, and converse digitally in the same way they do in real life; but with a superior motive to yield profit by trading their real estate and property NFTs.
Looking to develop your custom Metaverse platform? For further guidance, connect with our Metaverse experts!
Start a conversation by filling the form
Once you let us know your requirement, our technical expert will schedule a call and discuss your idea in detail post sign of an NDA.
All information will be kept confidential.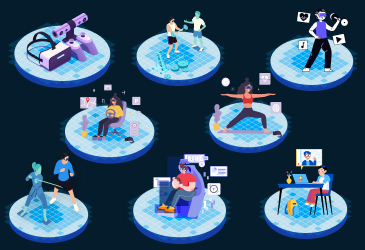 The disruptive innovation of metaverse mixed-reality learning environments can dramatically improve training, development and real learning.
read more