Blockchain Development Consulting Company Singapore
We help you leverage the benefits of blockchain technology for your business applications with our complete set of blockchain consulting and development services.

Our Blockchain Consulting Services
Our blockchain consultants in Singapore help you analyze the potential of blockchain for your business use case, identify the right blockchain platform that meets your requirements, create a POC and a roadmap for development. We have helped enterprises and startups achieve success with our ideation workshops, prototype design and blockchain POCs.
Strategy workshop and training
We provide you blockchain workshops to give you the basic knowledge about its potential applications and workings. We demonstrate how the blockchain can revolutionize your industry with case studies of our projects.
Quick PoC
We create a Proof of Concept (PoC) to demonstrate the practical potential of your blockchain project within 4 weeks. PoC built by our team helps clients understand how their blockchain ecosystem will work.
Blockchain Consultancy
We assess your existing solution, identify the need for a blockchain solution for your idea and analyze how blockchain will add value to your business. We suggest the ideal technology and the possible solutions for the proposed project.
Once you understand the blockchain feasibility for your project, you can move it into development. We build and deliver scalable blockchain apps that will transform your business operations.
Our Blockchain Development Offerings
Our Blockchain Development Team based in Singapore has experience deploying complex smart contracts on different blockchain platforms, including Stellar, Hyperledger, Tezos, EOS and Hedera Hashgraph.
Asset Tokenization
Whether it is a digital or a physical asset, our team of blockchain developers can help you convert any asset into a digital token. We have helped many businesses unlock new avenues with tokenization of assets.
dApps Development
We design, develop and provide support for peer-to-peer scalable and secure decentralized applications for various industries, including supply chain and logistics, healthcare, startups, utility and fintech.
Decentralized Exchange Development
We understand how to create a robust and hack-proof decentralized exchange platform to enable the real-time exchange of digital currencies or stablecoins securely. The platform built by our team enables buyers and sellers to trade efficiently.
Dedicated Development Team
Our developers leverage cutting-edge cognitive technologies to deliver high-quality services and tailored solutions to our clients.
Team Extension
Our team extension model is designed to assist clients seeking to expand their teams with the precise expertise needed for their projects.
Project-based Model
Our project-oriented approach, supported by our team of software development specialists, is dedicated to fostering client collaboration and achieving specific project objectives.
Blockchain Solution Platforms
Stellar
Stellar is a decentralized protocol that aims to connect financial institutes and reduces the time and cost needed for cross-border transactions.
Corda
Corda is a blockchain platform designed to develop permissioned and distributed applications that deliver scalability, security and privacy.
Tezos
Tezos is an open-source blockchain platform that can perform peer-to-peer transactions and is used for deploying smart contracts.
EOS
EOS is a blockchain platform designed to build blockchain applications that can process free and fast transactions.
Tron
Tron is a blockchain platform used to build high-performance blockchain applications. It aims to create a content entertainment system with blockchain and DLT.
Hyperledger
An umbrella project of open-source blockchain platforms to build and deploy enterprise-grade blockchain apps for various industries.
Hashgraph
Fair, Fast and most secured acrylic graph DLT.
Ethereum
Ethereum is a distributed public blockchain network that focuses on executing the code of any decentralized application.
Featured as Top Blockchain Development Company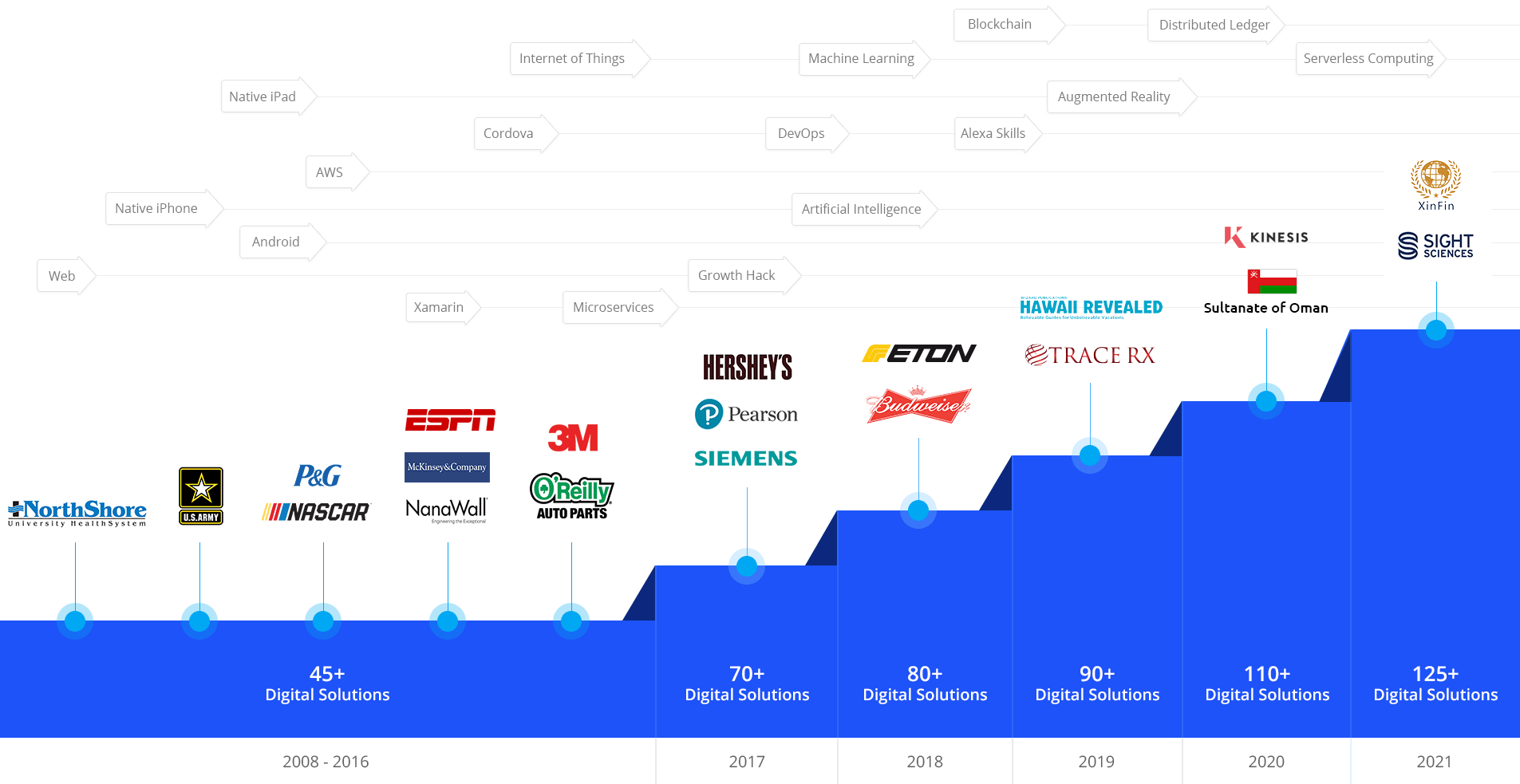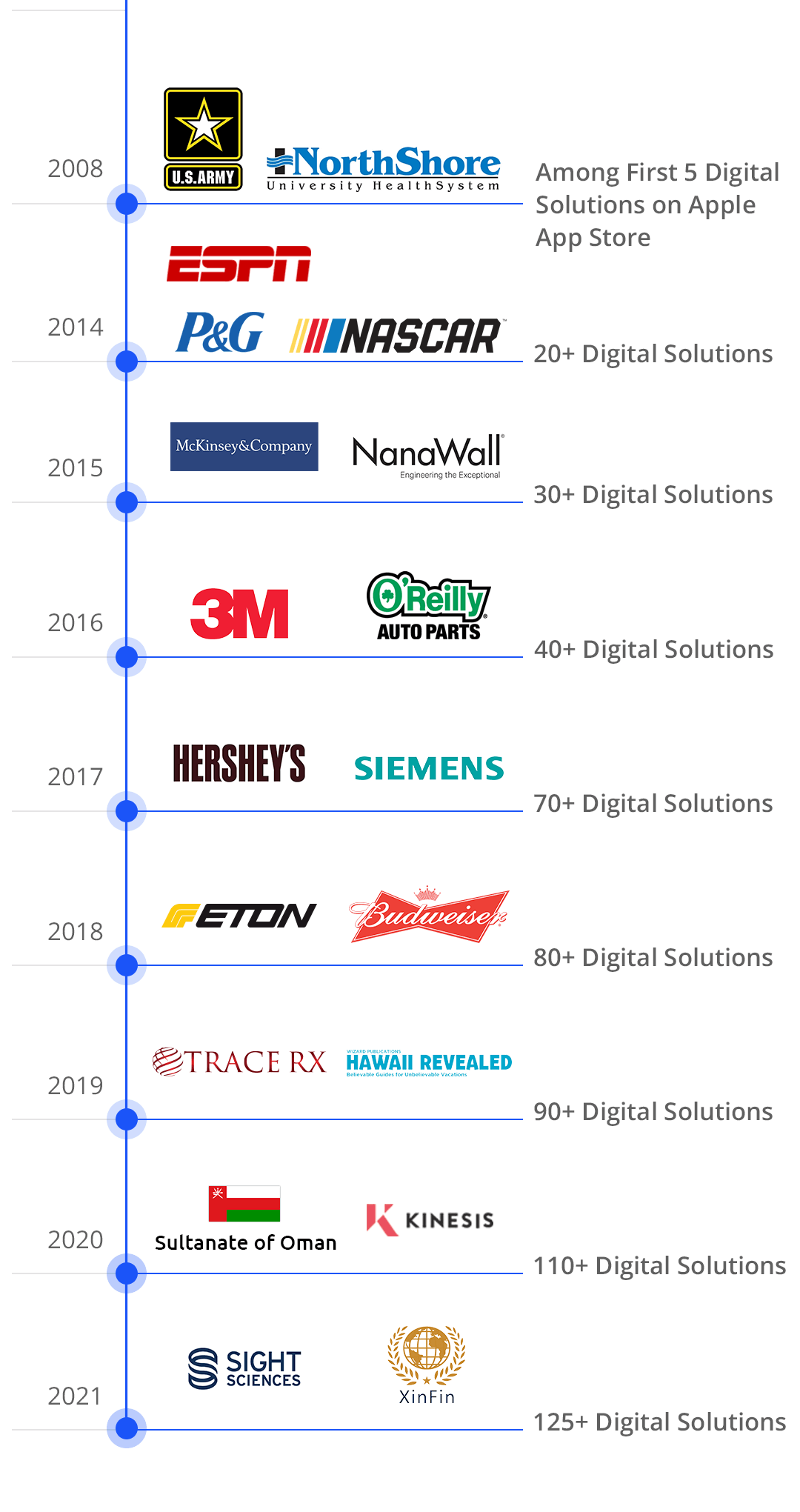 Our approach to providing Blockchain Development Services
OUR BLOCKCHAIN DEVELOPMENT WORK
We have successfully built a web-based application on blockchain for TraceRx. TraceRx is a Platform for Tracing the Shipment of Drugs. It allows the UNO to trace the distribution of free drugs and identify inefficiency and losses.
Redefining Industries with Blockchain Development
Blockchain in healthcare can help manage electronic medical record data by providing patients complete control over their data.
FinTech
Blockchain in fintech industry helps streamline cross-border transactions, enable peer-to-peer payments and improve the credit scoring process.
Manufacturing
Developing a blockchain-based solution for manufacturing companies can streamline operations and bring visibility across supply chains.
Retail & E-Commerce
Blockchain in retail and e-commerce enables loyalty programs and helps track transaction records and manage inventory.
Travel & Hospitality
Blockchain can streamline the travel industry by allowing travelers to track luggage movements and reduce check-in times.
Logistics and Supply Chain
Implementing blockchain in the supply chain can help drive supply chain transparency to reduce fraud and improve payment security.
Meet Our Blockchain Experts
1. Contact Us
Fill out the contact form protected by NDA, book a calendar and schedule a Zoom Meeting with our experts.
2. Get a Consultation
Get on a call with our team to know the feasibility of your project idea.
3. Get a Cost Estimate
Based on the project requirements, we share a project proposal with budget and timeline estimates.
4. Project Kickoff
Once the project is signed, we bring together a team from a range of disciplines to kick start your project.
Start a conversation by filling the form
Once you let us know your requirement, our blockchain consultant will schedule a call and discuss your idea in detail post sign of an NDA.
All information will be kept confidential.
Our Singapore Office
7 Temasek Boulevard
#12-07 Suntec Tower One
Singapore 038987
A permissioned blockchain bridges the gap between public and private blockchains by allowing users' data to flow safely and transparently.
read more